Spokane, Wash.
COVID proved to be ruinous for many races in 2020. Some ended up canceling all together, others switched to virtual events, and a few Northwest organizers made adjustments and ended up holding modified live versions of their traditional events.
Negative Split
Negative Split, which produces a number of its own races and events and helps other smaller events with timing and other services, managed to produce five live races and time eight live races across two states in 2020.
The Negative Split team instituted safe racing strategies, and the races they took on went well, says Negative Split's Ryan Hite. "I think people were nervous at first and probably thought they would more or less be running a virtual run, but our survey results post race came back really positive," says Hite.
"Even though the masses of people were not there, the races were still live races with start lines, finish lines, aid stations, finisher food, medals, and shirts. People I think felt really safe and were just excited to be able to run a live race. Many people were actually interested in running these 'socially distant' races in the future since they are less stressful than mass starts."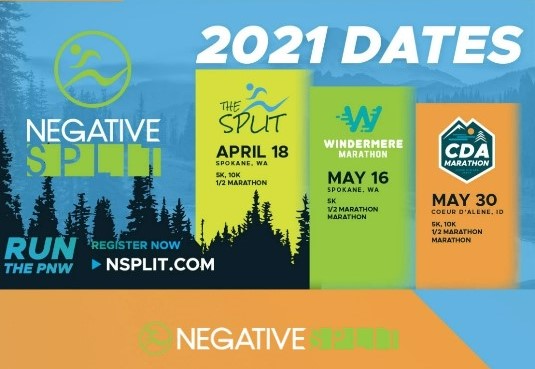 To keep racers safe in 2020 and at 2021 races, Hite says his team rigorously incorporates physical distancing in all of their live events with staggered start times, offers curbside packet pickup options, limits after-race interactions, pre-packages aid station food and beverages, and promotes runner tracking apps and online video for spectators since they have not been allowed at the start and finish lines since the pandemic began.
Hite says the Negative Split Races had just under 5,000 combined live runners in all of the 2020 post-COVID races they hosted, and to their knowledge, there were zero COVID-19 incidents connected to their events.
For 2021, Hite has two virtual events (during the snowy season) and 10 live ones planned. "We hope to be back to timing over 100 events in 2021 again. Our Run the PNW series will be a highlight during the spring months, and we are adding a new back to nature series focusing on scenic courses and some trail debuting in fall and summer 2021."
Priest Lake Multisports
Across the border in Idaho, Priest Lake Multisports race director Ken Eldore says they were able to safely hold several of their events in 2020, including the Priest Lake Marathon and 50K and the Smokechaser trail race thanks to those events happening on national forest land where runners had plenty of room to spread out.
To increase the safety, says Eldore, "we had chip-timed open starting lines to allow runners to start over an extended time window and be in control of their own personal space. Once they were in the woods and running, they are pretty spread out. As a race director, seeing smiling faces cross a finish line during the tough year of 2020 created some hope and inspiration for more great race days."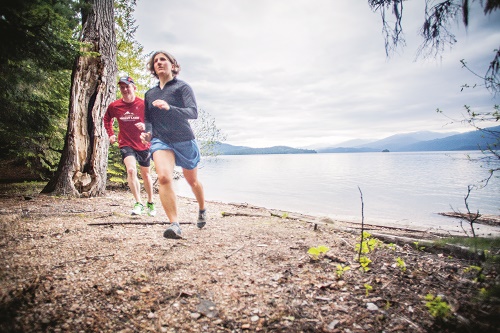 Looking ahead to the new year, Eldore says he has five events scheduled for 2021, including the Priest Lake 50K and Marathon, The Priest Lake Triathlon, Smokechaser Trail Race, and Race the Wolf. Eldore says COVID safety mitigation this year will include limited the number of participants, some kind of modified start procedure to space runners out, and reduced contact points at aid stations. "One of the benefits of being in the North Idaho forest is we have lots of space!" adds Eldore.
SNAP
Many smaller non-profit races and fun runs are also hoping to safely hold their events this year one way or another. Nicole Bishop with SNAP says they are confident that the Dad's Day Dash, a fundraising event traditionally held on Fathers' Day in Spokane's Manito Park, will happen June 20, 2021. "If it is not safe to have our event in person, we will continue with our virtual format, as we did last year," says Bishop.
Last year SNAP had participants from across the country and over a dozen states run the Dad's Day Dash virtually. "We take COVID safety very seriously, so we will not move forward with an in-person race if it does not seem abundantly safe to do so," explains Bishop. "As we get closer to the date, we will assess guidance from state and local health officials regarding safety measures we should take. If it is safe to congregate at Manito Park, we will still include a virtual element so we can have broader reach and a more customizable experience."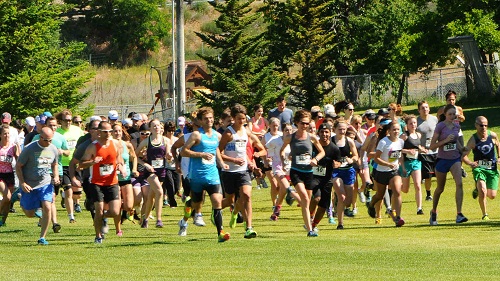 Eldore emphasizes that more than ever, this coming year will be important for the endurance sports community to support their local races. "All the local races work on tight budget margins and depend on sponsorships, civic groups, and volunteers. A great asset in the Inland Northwest is that we have so many great events to choose from, and I fear we will lose some of them this year."
Eldore urges racers to step up and support local races however they can. "A few hours volunteering at your local 5k, becoming a shirt sponsor, or some emails of encouragement to your local race organization go a long way."