Spokane-based company creates apparel to reflect PNW beauty
Dustin Repp was tired of seeing Clipart-style mountains saturate the clothing items that were supposed to represent the Pacific Northwest he called home. He was tired of seeing #pnwvibe clothing that he didn't connect with. As an avid outdoors person, Dustin wanted to find clothing that reflected his authentic love of mountains, lakes, and all the recreational activities that went with them.
Dustin couldn't find a brand that reflected that love.
So he made one.
PINE Sports Company, founded in 2017, is a brand that's committed to making products with a real northwest vibe.
"We want to depict the features of our beautiful surroundings, and not just express our love for camping, hiking, etc," says Dustin.
This dedication to creating a different brand can be seen in PINE Sport's Co's name and logo. PINE, an acronym for Pacific Inland North-West sports company, uses a unique sideways letter to simultaneously represent the word West and to spell "pine," connecting the porcuPINE mascot of the company, Quilly.
The versatility in the name hints at the versatility of the company: creating stylish clothing and a Pacific Northwest brand that folks can connect with.
And Quilly, the company porcupine logo, has its own detailed history. It took Dustin nine months to get Quilly fully trademarked. The logo bristled through the process, coming back several times for precision-checks, but now, Dustin says, every time he sees the logo he smiles.
Quilly's back represents the mountains of the Pacific and Inland Northwest, regions which Dustin is reluctant to differentiate.
"We understand that Pacific Northwest encompasses the Inland Northwest. We wanted a name, and a product, that emphasizes the outdoor sporting treasures we have in both regions," he says.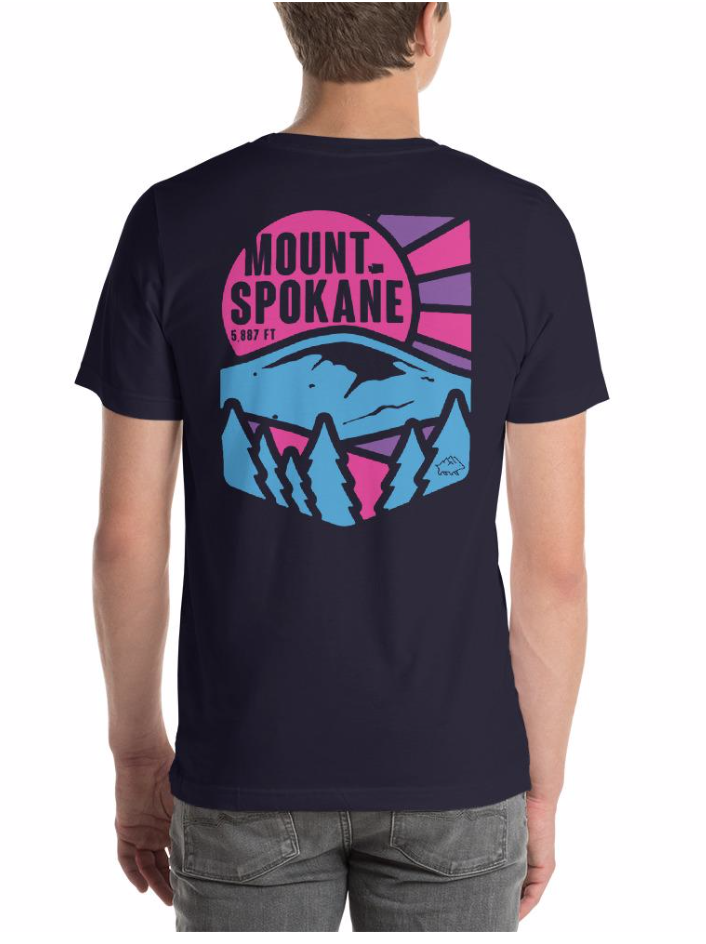 As PINE is a Spokane-based company, those in the Inland Northwest will recognize some special designs, such as the retro-style Mount Spokane tee or linear-type Bowl and Pitcher shirt.
True to Dustin's distaste of stock images, these local and limited designs are each created by local artists. Who better to reflect the one-of-kind beauty of our region?
You can see all of PINE's unique and personable designs on their website, currently the only platform for the apparel. You'll find Quilly and other designs that rep the northwest on shirts, hats, beach towels, and more.
[Photos courtesy of PINE Sports Co.]