Your Guide to Indoor Fun and Fitness for the Fall Shoulder Season
Resist the urge to hibernate during the colder, grayer "shoulder season." Perhaps easier said than done. After all, it's often too ______ (fill-in-the-blank with current nasty weather condition) for ________ (whatever you most like to do outside). And there's not enough snow in the mountains for alpine sports. But take heart – indoor fitness activities and adventure await and abound in the Inland Northwest. Be creative, be bold – try something new. Thrive this fall and winter. Here are some ways to do that.
Climb the Walls
"Climbing is one of those sports where you can make it as easy or as hard as you want. Sport climbing can be cardio intensive, and it helps build endurance, whereas bouldering is more of a powering workout – where you experience a shorter but more intense muscle workout," says Todd Mires, Wild Walls' general manager, who has been rock climbing for 18 years now. Climbing improves your grip, flexibility, balance and overall body awareness, says Mires. "It's a full-body workout." Additionally, a climber engages his or her core muscles while working to keep one's body close to the wall – "so that is good cross-training for anything," he says.
If you're new to rock climbing, no worries. Wild Walls, in downtown Spokane, offers four Vertical Introduction Classes a week, specifically for beginners. "Our walls have various degrees of difficulty. If you can climb a ladder, you can climb at our gym," Mires says. "Climbing gyms used to be an intimidating environment, but we've worked to make it a more welcoming and friendly one for beginners." You can rent a climbing harness and shoes ($6.50/package), and an adult day pass costs $15. For more details, go to wildwalls.com.
In Cheney, Eastern Washington University's 30-foot indoor EPIC Climbing Wall is open to EWU alumni and community members who purchase a $7.00 day guest pass or a monthly or annual membership. Day passes allow use of all amenities at both the University Recreation Center (URC) and the Sports & Recreation Center (SRC). More details at www.ewu.edu/epic/climbing-wall.xml.
Sandpoint Rock Gym, a new non-profit, co-op bouldering gym, is open Monday, Wednesday and Friday afternoons for members and day-pass visitors.
Get CrossFit
"At its core, CrossFit is a strength and conditioning program. Better cardiovascular endurance and stamina and increased strength will…benefit any winter recreational or sporting activity," says Kevin Longmeier, owner and head coach at CrossFit Dūrātus.
"CrossFit workouts are great training for any and all outdoor pursuits. Over the last 6-8 years, I have developed a great passion for mountaineering and backpacking. Having spent a lot of time in the North Cascades and Selkirks, I can honestly say I am not only stronger physically, but also mentally because of my CrossFit training. The functional movements and intensity of CrossFit workouts have helped increase my strength, endurance, flexibility, efficiency and mental toughness in the outdoors."
A CrossFit (CF) workout uses minimal equipment to create a diverse, high-intensity workout. Affiliated with the global organization, there are now three locally-owned gyms, or "boxes" (CF lingo for a training facility), in Spokane: CrossFit Spokane in the University District, Predation CrossFit in east central Spokane, and CrossFit Dūrātus near downtown (located next door to Fleet Feet). North Idaho boxes include Coeur d'Alene CrossFit, Lotus CrossFit, CrossFit Lake City and CrossFit Sandpoint.
Farmgirlfit also offers functional, creative, and challenging workouts in an upbeat atmosphere specifically designed for women (inspiring videos and more info: www.farmgirlfit.com).
Balance Your Body and Mind with Yoga
"Yoga is amazing for mind-body awareness – meaning, the connection between your mind and what it wants the body to do. And how quickly and efficiently the body reacts is improved," says Sara Johnson, yoga instructor at North Pines Yoga and Pilates. "This can cross over into many sports by increasing reaction times and decreasing the chances of injury when using poor body mechanics. Yoga is also great for increasing strength and flexibility. This will allow you to participate in activities longer with less soreness at the end of the day."
Yoga is zero to low impact and is safe for most anyone, she says. "For more active people looking to increase agility and flexibility, I would recommend a more dynamic or 'flow' style class. The 'flow' classes have more movement and you can get some good cardio training. There are usually balance poses that will work on core strength. The beauty of Yoga is that any time you are in a pose that works on strength, you are also getting length in the muscles."
You can also look for a Yoga workshop that is specifically geared for winter sports conditioning, such as the one offered at North Pines Yoga and Pilates studio from Nov. 7 through December (Thursdays at 6 p.m. and Saturdays at 10 a.m.). "We have this wonderful thing called proprioception that basically tells us where we are in space and time. Meaning if I close my eyes and hold my arm out in front of me, I know where my arm is even without looking at it. Yoga helps fine tune your proprioception," says Johnson. Improved proprioception, core strength, and flexibility from pre-season yoga training will make a big difference on the ski slopes.
With so many different Yoga studios and class options in the region, Johnson recommends giving different ones a try. "Each yoga student will have a different experience at each studio. Find a studio that you feel connected to, one where you enjoy going and feel like they know you. Make sure that you feel heard when you are speaking with the instructor about specific wants and needs," she says.
Spokane's South Perry Yoga is a collective movement arts studio offering Hatha Yoga, Tai Chi and dance for all levels and ages. Instructors emphasize safe structural alignment in the Iyengar tradition and incorporate a variety of yoga styles and movement arts. They offer private and semi-private classes, Therapeutic Yoga, and Massage with certified staff. www.southperryoga.com.
Harmony Yoga, on Spokane's South Hill, offers eleven different classes, from gentle yoga to classes specifically for men and women age 50+ of all ability levels.
At Mellow Monkey Yoga Studio, in the Spokane Valley, your first yoga class is free. If you like it, purchase a studio membership or a punch pass. The studio also provides community yoga days where all classes are free and open to the public – last ones for this calendar year are Nov. 6 and Dec. 3.
Garden Street Yoga in Coeur d'Alene offers a "Tri Yoga" class for serious triathletes looking to cultivate the edge of faster recovery, enhanced mental focus, and fewer injuries.
Yarrow Hot Yoga & Wellness Studio in Spokane offers both Bikram style, where the yoga room is 105 degrees, and Baptiste flow, which is 97 degrees. In Sandpoint, Zest Inspired Living offers hot yoga classes.
And Wild Walls climbing gym offers power and flow yoga classes. "I've noticed a definite improvement in flexibility [when I'm climbing]. It's more like going to therapy—it feels really beneficial mentally," says General Manager Todd Mires, who has been taking the flow yoga class the past few months.
Spin Your Wheels – Stay in Biking Shape
Spinning, a stationary bike workout, can help you maintain cycling and cardio fitness when weather and road conditions aren't inviting.
Large fitness facilities, such as the YMCA and Oz Fitness, offer spinning classes – as do small fitness studios like Precision Pilates in Spokane and Xhale Pilates Studio in Sandpoint
The Bike Hub has a "Spin Room" in its Spokane Valley store location (and hopes to offer one at its downtown location by this winter) that hosts free group spin classes. Bring your own bike and trainer (the shop also has some available to use). Check their schedule at www.thebikehubspokane.com or call (509)-443-4005.
For ultimate convenience and schedule flexibility, you can use a bike trainer at home. A trainer mounts a bike's back wheel, which provides resistance, and the front wheel is placed on a block, which can be anything durable and steady, such as a phonebook, according to Zach Hettinger, The Bike Hub's valley store manager. Or you can buy a specific trainer block ($10-50+).
"Magnetic and fluid are the two most popular types of trainers," says Hettinger. "Magnetic are slightly noisier, and if you want to control the resistance you either get off your bike and manually adjust it, or use a remote that attaches to your handlebars." ($150 and up). "Fluid trainers ramp up the resistance as you're pedaling, to better mimic outdoor riding. They're also the quietest," he says ($250+). At-home trainers make it easy to cycle while watching a movie or listening to music. "When spring comes, you're in cycling shape and ready to go," says Hettinger.
Make the Gym Your Fitness Friend
Want to hit the slopes on opening day without sucking wind at the end of each run? Consider taking a Ski Conditioning class at Physical Therapy Associates (ptassociates.net), located on Spokane's South Hill. Hour-long classes run Nov. 4-Dec. 12 on Tuesdays and Thursdays at 6 a.m. or 6 p.m.
"This is a circuit type class focused on the muscles used on the hill," says Lisa Dittmar, certified personal trainer and fitness instructor. "Building on our philosophy of bridging the gap between physical therapy and daily fitness, we offer a multitude of classes … for most any level fitness," including TRX (Total Resistance Exercise), Pilates and yoga classes.
Boot Camp—without the dog tags or buzz cut—may sound intimidating but really isn't. Training Ground (t-ground.com) offers weekday classes at its unique South Hill facility, which opened September 3rd after being remodeled and transformed from its original 1930's schoolhouse layout.
"Our Boot Camp classes are really mat-style…an intense 45-minute workout and something to do at your own pace, at your own skill level, whether you're a beginner or an extreme athlete," says Tyler Dickerhoof, one of the Training Ground co-owners. As a bodyweight centric workout using minimal equipment, Boot Camp provides improved strength for people looking forward to the alpine sports season, according to Dickerhoof. This means crunches, push-ups, frog squats and sprints combined with the use of bands, sandbags and curls with kettle bells—to name a few activity examples.
"Our real focus is that it's personal training in a group atmosphere. For people looking to be involved in winter sports, Boot Camp is not only specific to certain conditioning types but it has a multi-faceted sport level. After people stop being active outside in the fall, Boot Camp keeps you going," he says. Training Ground will also begin offering TRX classes in November.
The Stronger Runner 12-week training program at Fleet Feet Sports begins Nov. 18 for "runners, walkers and fitness enthusiasts to focus on functional and core strength," says Wade Pannell, owner of Fleet Feet.
At the Fleet Feet Sports Training Center – which is also the home for CrossFit Duratus –there will be twice weekly, one-hour gatherings for TRX and CrossFit classes, running form drills, stretching and occasional runs.
Fleet Feet is also organizing a Winter Warrior program—a point-based, friendly yet competitive social running and event program, according to Pannell. For details about these and other upcoming events, go to www.fleetfeetspokane.com/training.
Women seeking a non-traditional fitness routine with a "keep it simple, get it done" attitude should check out Farmgirlfit, a women-only gym located in the University District. Founded two years ago by Gonzaga alumni Jenni Niemann, women receive personalized training during "The Grind" classes.
If you want an indoor winter workout to feel more like a party, try Zumba. Go online to zumba.com and use the search tool to find classes near where you live or work. One drop-in option, for example, is Jenny Angell's 30-minute Zumba class on Mondays, Wednesdays and Fridays at the Dance Center of Spokane. Class starts at 10 a.m. and costs $3. Spokane Parks & Recreation and many other gyms also offer Zumba classes.
Swim Laps, Train for a Triathlon
Train for a spring triathlon, swim laps or enjoy family swim time inside while it's cold, dark and dreary outside. Here's where to go.
With three YMCA locations in Spokane County – Central (near downtown Spokane; close to REI), Spokane Valley, and North Spokane – it's easy to get to a pool for a lap swim, open swim or a water fitness class. Annual memberships and day passes are open to anyone –
$8 for children (up to 18), $15 for adults, or $30 for a family. Or find a friend with a membership and be a guest for a day! Hours are Monday-Friday, 5 a.m.-10p.m., Saturday 7 a.m.-10 p.m., and Sunday 9 a.m.-8 p.m. And you get more than the pool – check online for aquatic schedules and group fitness classes. Your day pass fee can be applied towards annual membership, should you decide it's where you want to spend more of your days this winter (day pass users, bring your own towel). More info: www.ymcaspokane.org or (509) 777-YMCA.
Eastern Washington University's aquatic center in Cheney offers both lap swim and open swim times every day except Saturdays. The pool has diving boards and an 18-foot diving tank, one of the deepest in the northwest. To use the pool, community members can purchase a $5 day pass, a 10-visit pass ($25 for individual or $50 for family) or annual pass (prices vary). Day passes provide access to all amenities in the Sports & Recreation Center, usually referred to as "the Phase," which includes indoor tennis and racquetball courts and more. If you opt for the University Recreation Center's (URC) $7 day pass, you'll also be granted access to the fitness center, climbing wall, ice arena and more. EWU lap swim schedule hotline is 509-359-2888. For other info, call 509-359-6923 or visit www.ewu.edu/campus-recreation/sports-and-recreation-center/aquatic-center.xml. And if you're interested in improving your swimming skills, EWU offers a Stroke & Skill Clinic every Wednesday from 12:30 p.m. to 1:30 p.m. included with a pool admission fee.
Other indoor swimming pools for public lap swim or water exercise classes include Whitworth University, Spokane Community College, the Kalispell Tribe of Indians' Camas Center for Community Wellness (near Cusick, Wash.), and The Kroc Center in Coeur d'Alene.
Want to run or walk on an underwater treadmill? Swim against a current? Physical Therapy Associates can help, thanks to their 13'x15' pool with two underwater treadmills and available resistive current. Thirty-minute pool sessions can be scheduled in advance after paying a membership fee for the fitness studio and pool.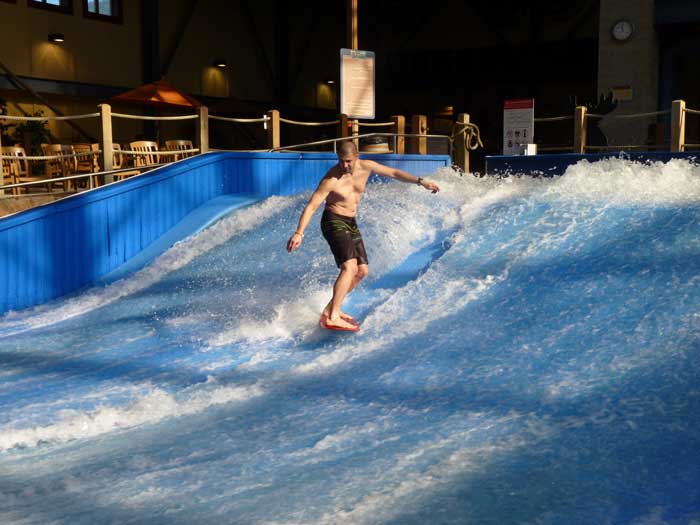 Surf Silver Mountain
Surf's up at Silver Rapids Indoor Waterpark Resort at Silver Mountain. Bodyboard or surf the FlowRider® continuous wave, thanks to 60,000 gallons of water per minute flowing at 35 miles per hour. Surfing lessons are offered on weekend mornings before the waterpark opens ($19/person, one-hour), but the FlowRider lifeguard attendant also offers tips and a safety line to help beginners establish balance by providing tension when one gets the wobbles. "People compare it to snowboarding in deep powder," says Katie Sullivan, who's been a lifeguard at Silver Rapids for two years. Sullivan offers three tips for surfing the FlowRider: keep your shoulders squared, put 80 percent of your weight on your back foot, and relax.
Besides surfing, the rest of this waterpark isn't just lazy river and water slides. Getting to the top of the three major slides alone requires climbing 81 stairs. The "Moose Sluice" family raft ride is the longest ride, and may also be the most thrilling. You can also play water basketball at the "Hoop Lagoon." And at the end of the day in this 84-degree building with its sky-light roof, you can feel happily exhausted – just like a summer day at the beach – with time left to ponder your upcoming powder days. Silver Mountain's first day of operations for its gondola, chairlift, trails and tubing is scheduled for Nov. 29.
Although Silver Rapids is an exclusive amenity for guests staying at the Morning Star Lodge, admission can also be purchased for groups of 15 or more people. Winter hours are Fridays (1-8 p.m.), Saturdays (10 a.m.-8 p.m.) and Sundays (10 a.m.-7 p.m.), with weekday openings during the Thanksgiving and Christmas vacation seasons.
Bounce Off the Walls at Sky High Sports
Energetic music sets the tone at this massive indoor trampoline place in east Spokane. Enjoy a fun, low-impact workout bouncing off and around the trampoline floors and walls, play dodge ball, or join a 50-minute AIRobics class. Cost to jump is $10 for the first hour, and $5 for the second hour Monday-Thursday only. Jump with your family, even your little kids – every Monday from 11 a.m. to 1 p.m., is "Munchkin Mondays" where kids age five and younger can jump for $6/hour (ages 2 and under are free). For a complete schedule and pricing information, go to www.spo.jumpskyhigh.com.
Inspire Yourself for Adventure at a Mountain Film Festival
Get stoked for high adventure at the Banff Mountain Film Festival World Tour, renowned for its exciting and inspiring films that highlight mountain culture, climbing, travel and nature. This collection of award-winning films – usually short ones, or shorter versions of longer films – will be shown in Spokane on Nov. 15-17, hosted by Mountain Gear at the Bing Crosby Theater. $14 tickets and $40 festival passes are available at Mountain Gear. If you miss these dates, Mountain Fever in north Idaho will host the Banff Festival in Sandpoint on Jan. 23-25 and in Coeur d'Alene on Jan. 26-27.
Or perhaps take a road trip to Canada for the Teck Rossland Mountain Film Festival, Nov. 13-17, in Rossland, B.C. – home to Red Mountain Resort and the Seven Summits mountain bike trail. The historic landmark Miner's Hall is where most of the festival events and film screenings will occur. More info at: www.rosslandmountainfilmfestival.com.//