Want your kid to enjoy dirty hands and knees as they experience challenges and excitement in the great outdoors? Here's our annual list of regional summer camps that provide unique opportunities for adventure and hands-on learning about nature, science, and outdoor skills – with something for every child, any age, and every family.
Art of Nature Day Camp
Kootenai Environmental Alliance's annual camp in July combines art, science, and nature adventures for children, grades 2-6. This summer's theme is "Underwater Adventure" and focuses on fish habitat and biology. Kealliance.org.
Between the Rivers Gathering
At this 6th annual Primitive Skills & Self-Sufficiency Workshop, parents and children can attend a week-long experience, May 28-June 2, with hands-on daily classes to learn wilderness survival, primitive, and homesteading skills, among other related subjects. Kids program is provided, and when families register for the full event, children under age 8 are free. Includes primitive camping sites and two daily meals. Daily registration also available. Between the Rivers is based in Valley, Wash., north of Deer Park. Betweentheriversgathering.com.
Bloc Yard Climbing Day Camp
The Bloc Yard Bouldering Gym, a family-friendly climbing space located in north Spokane, offers 5-day indoor climbing camps for ages 6-17. Bouldering doesn't require ropes or climbing equipment other than climbing shoes, and walls are no higher than 15 feet. Camp includes lessons about climbing technique, safety, and etiquette, and kids get a free t-shirt and pizza party at the end. Blocyardgym.com.
Camp Sweyolakan
Camp Fire Inland Northwest's secluded Camp Sweyolakan (Swe-o-la-kan) on Lake Coeur d'Alene—accessible only by boat—offers a variety of overnight camp sessions. Options include Outbacker Day Camp (grades 1-6), and a "You and Me Kid Family Camp." Recreation and activities include canoeing, kayaking, fishing, low and high ropes challenge courses, archery, and STEM activities. Science and nature-based education includes learning about forestry, native fish species, how to clean and cook fish, and outdoor skills like campfire building and cooking. American Red Cross swim lessons are also available. Campfireinc.org.
Camp Spalding
Camp Spalding, located at Davis Lake near Newport, Wash., offers a unique Pioneer Camp, where kids sleep in authentic 18' Sioux tepees, cook meals over campfire, and hike to an overnight campsite. Sessions are offered for different age groups (grades 2-4, 5-6, 7-8, and 9-12). Spalding, a Presbyterian-affiliated Christian camp, hosts other camp sessions where kids stay in cabins and eat in the dining hall. All campers enjoy nature program and waterfront activities, such as canoeing, along with other recreation options such as horseback riding, rock climb rappelling, archery, and more. Family sessions include a "Mom, Dad, & Me Overnight" in June (children entering grades K-2) and an all-ages 4-night Family Camp in August. Campspalding.org.
Camp Four Echoes
It's all about G.I.R.L. Power – "Go-Getter, Innovator, Risk-taker, Leader" – at this beautiful resident camp along Lake Coeur d'Alene in Worley, Idaho. Girl Scouts of Eastern Washington and Northern Idaho offers a full summer of programs for girls entering 1st-12th grades. (Troop membership is not required.) Activities include waterfront recreation like kayaking, canoeing, sailing, and windsurfing; nature exploration, hiking, biking, and outdoor skill-building; and STEM activities. For grades 10-12, there are leadership camps and counselor-in-training opportunities. There are also 3-day weekend Family Camps in May and August, and a "Just the 2 of Us" camp for a girl to attend with mom, dad, grandma, or aunt, etc. At Camp Four Echoes, girls will enjoy staying in whimsically-named campsite sections, such as Teepees in Sky Meadows, Treehouses in Smugglers Cove, and Cabins in the Singing Pines & Sherwood Forest. Gsewni.org.
Camp Gifford
At The Salvation Army's camp at Deer Lake, campers stay active with swimming, paddling, fishing, hiking, archery, climbing, and zip-lining. Discovery camp sessions are for children ages 7-12, while teens, 13-17 years old, experience the Camp Cougar wilderness program, which provides age-appropriate challenges and adventures. Located just a 15-minute walk away from Gifford's main camp, Camp Cougar resembles a primitive site (no electricity or running water) but includes cabins, bathrooms, and a dining hall. Campers learn wilderness, camping, and survival skills, and about flora and fauna identification and foraging. Swimming, paddling, and high and low ropes course activities are also included. campgifford.org.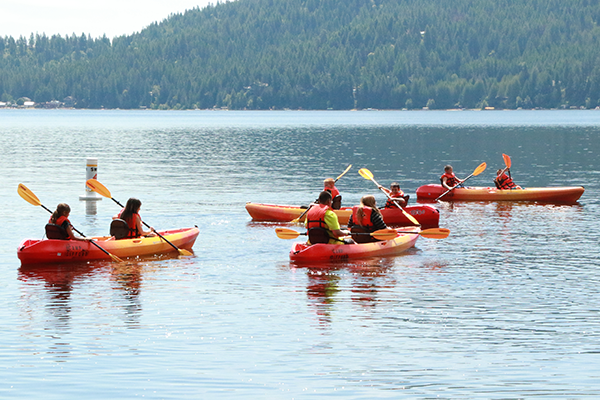 Dart-Lo Day Camp
Camp Fire's 51-acre forested camp along the Little Spokane River offers nature-based outdoor fun for children ages 3-18. Recreation includes swimming in an outdoor pool, low ropes challenge course, and archery. Campers are also provided environmental education and activities to learn about leadership and team-building. American Red Cross swim lessons are also available. Transportation is provided to and from camp from locations around Spokane and Spokane Valley, or parents can personally drop-off and pick-up. Extended hours are also available. Campfireinc.org.
Girl Scouts Day Camp
At the regional Girl Scouts program center, near downtown Spokane, day camps are offered from June 18 through August 24 for girls, ages 5-17. Different sessions include STEM activities and swimming, and learning about survival skills, geology, physics, and much more. Gsewni.org.
Idaho Discoveries Day Camp
Hosted by Kootenai Environmental Alliance, "Meet the Mammals" is the theme for campers (ages 4-10) as they explore forest, field, and wetland habitats at Fernan Family Farm in Coeur d'Alene. Kealliance.org. 
KEENs Pond to Pines
Based in Ellensburg, Wash., the Kittitas Environmental Education Network (KEEN) is offering 9 weeks of summer day camps for 1st-9th graders – plus a half-day preschool camp – at Helen McCabe State Park. Each week offers a different theme, such as Survivor Kid, Outsider Art, Dirty Jobs, and Junior Ranger. Ycic.org.
Lutherhaven
A variety of outdoor-centric programs, for all ages, are offered by this Christian camping organization at its three properties. At Camp Lutherhaven on Lake Coeur d'Alene, recreation includes watersports on the lake, a climbing tower, zip line, mini golf, low ropes course, and more. At Shoshone Creek Ranch Camp, kids who like horses and riding can enjoy a western dude ranch experience. And at Shoshone Mountain Retreat, kids will swim, hike, float down the North Fork of the Coeur d'Alene River, and ride horses. Lutherhaven.com.
Spokane Parks & Recreation Outdoor Adventure Camps
Spokane Parks & Recreation offers day camps for youth and teens, ages 8+, with sessions organized according to recreation focus: hiking and paddling, rock climbing, horseback riding, and disc golf. Some camp options provide a mix of activities like rafting, rock climbing, and learning outdoor survival skills. Spokanecity.org.
Peak 7 Adventures
Experienced outdoor teens, 15-19 years old, who are ready for a hardcore challenge can apply to join the Bower Adventure Course (BAC) – a 50+ day outdoor expedition leadership program to learn backpacking and mountaineering skills, experience rock climbing and whitewater rafting, and become certified in Wilderness Medicine. Based in Spokane, Peak 7 also offers Junior Guide Training (ages 15-18) and a 5-day North Cascades National Park backpacking trip. Peak 7 also helps families and youth groups plan an unique, personalized adventure trip – such as rafting (April-August; min. 12 people, age 5+), rock climbing (April-October, age 8+), or backpacking (May-August). They also provide multi-day rafting trips that includes camping. Peak7.org.
Selkirk Outdoor Leadership & Education (S.O.L.E.)
Based in Sandpoint, Idaho, this non-profit organization offers in-depth, hands-on Junior Naturalist day camps at Round Lake State Park—Nature Detective (ages 4-6+) and Nature Explorers (ages 7-10+). Transportation provided from Sandpoint to and from camp. These outdoor science camps balance experiential education with outdoor free-play, with daily theme lessons. For ages 14-17, there is S.O.L.E. Teen Trek—6-7 day backcountry expeditions to Montana's Cabinet Mountains and Idaho's Upper Priest Lake, with different trips for males and females. Participants learn outdoor travel and living skills, as well as leadership. The experience culminates with a service-project. Soleexperiences.org.
St. George's Adventure, Science, and Soccer Camps 
St. George's School, located along the Little Spokane River in north Spokane, offers an Adventure Camp (3rd-5th grade) that includes hiking, rock climbing, geocaching, kayaking, fort building, and more. A "Rock, Dirt & Mud!" Camp (grades K-3) focuses on dirt-science with hands-on learning activities and rock art. Science Camp is designed to be fun yet rigorous as campers (grades 3-6) use field- and lab-based scientific methods to learn about organisms, biological communities, current issues about local wildlife and plants, and more. There's a 6th-12th grade Soccer Camp as well as a session for children in grades 2-6) that includes fun activities like tie-dying shirts and making ice cream, in addition to soccer instruction and skill development. Sgs.org.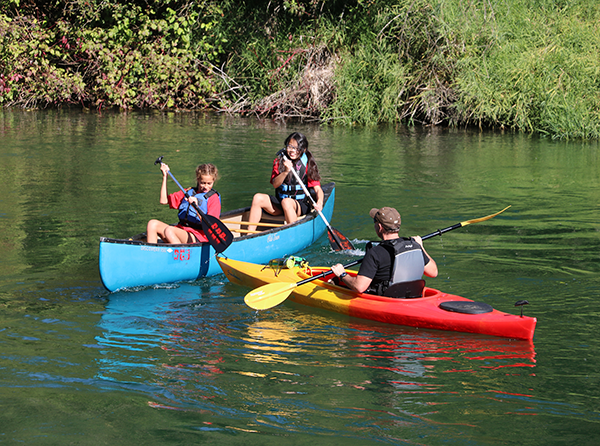 Twin Eagles Wilderness Adventure Camps
Based in Sandpoint, Idaho, Twin Eagles Wilderness School specializes in helping children connect with nature, develop self-awareness, and participate in a strong community. Guided by adult mentors, campers experience nature-based activities and wilderness and adventure challenges, and learn survival skills, such as foraging, wildlife tracking, natural shelter building, making fire by friction, and much more. Day camp sessions (ages 6-13) in Spokane and Sandpoint (plus 1 session in Coeur d'Alene) are offered according to three different themes: Nature Adventurers, Wilderness Survival, and Nature Ninjas.  Overnight camps (ages 10-18; 5-6 nights) include challenging activities such as nighttime scout games, wilderness survival camp-outs, and archery games. Older teens can experience wilderness survival solos. This spring, the Father-Son Wilderness retreat, for boys age 7-12, is May 4-7. Twineagles.org.
West Valley Outdoor Learning Center
Learn about animal adaptations, nature's engineers, and how birds fly during a June 25-28 day camp for ages 7-13. Kids can come for one day or all four. Olc.wvsd.org.
Wild Walls Indoor Climbing Camp
Youth ages 9-14 will experience bouldering, top roping, knot typing, belaying, ascending, rappelling, slacklining, and crate stacking at day camps hosted by Wild Walls Climbing Gym, in downtown Spokane. Wildwalls.com .
WSU Cougar Kids Camp 
Sponsored by Washington State University (Pullman campus), in partnership with the Outdoors Program, children entering grades 3-6 can experience morning, afternoon, or al-day camp sessions. One of the weekly themes is "Nature Unleashed Week." Optional overnight adventures include a camping trip in June, among other choices. Urec.wsu.edu.
YMCA Camp Reed
Located at Fan Lake, north of Spokane in Pend Oreille County, this wilderness-setting camp offers 2-night mini (entering grades 1-2 in the fall) and traditional camps (grades 3-9). Campers stay in rustic cabins and enjoy waterfront activities such as canoeing, hiking, mountain biking, climbing wall, a ropes course, and more. Horse camps and trail rides are also available. Older campers also get to experience an overnight camp-out under the stars. There are also 2-week Counselor in Training (CIT) programs for teens entering 10th grade. The second CIT week is a 200-mile bike trip to North Idaho with overnight stays at lake locations. There are also a Junior Counselor program (grades 11-12) and a Family Camp in August. Ymcaspokane.org. // (Amy S. McCaffree)
Benefits of an Overnight Camp Experience
"A quality camp provides awesomely-fun summer camp adventures in…a safe, supervised outdoor setting where kids can experience a degree of independence away from home, allowing them to gain confidence that they have what it takes to successfully navigate their world," says Andy Sonneland, executive director of Camp Spalding. Preparing for his 27th summer as director (he was also once a young camper and summer staffer at Camp Spalding), Sonneland personally knows how spending a week at camp "will be among your son or daughter's fondest childhood memories."
In particular as a Christian (Presbyterian) camp, he says that because Spalding campers and college-aged staff talk daily about life from a standpoint of faith, Spalding is where many campers feel like they truly belong. "Peers and staff come to know and genuinely care about them." //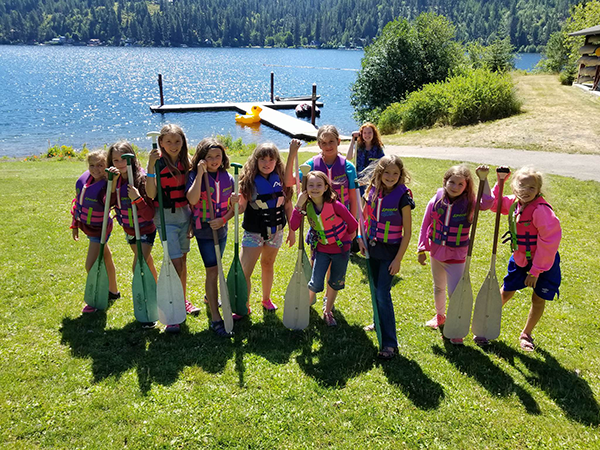 Encouraging Girls to Explore the Great Outdoors
Girls are already drawn to the outdoors, and today's modern girls want "more high-adventure experiences," says Nicole Wood, director of marketing and philanthropy for Girl Scouts of Eastern Washington & Northern Idaho. Whether it's rock climbing or backpacking, she says, "Girls'-inclusive programming works in a way that co-ed doesn't, especially when girls are in the [self-conscious] pre-teen phase. It provides a safe place that frees girls to take risks, learn leadership skills, gain confidence in themselves, and feel powerful and strong and able to be themselves. They're not afraid when they're with an all-girls group…and they're not competing with boys" for activity time and opportunities.
These skills carry over to their school and classroom experiences and "prepares them for adulthood," according to Wood. Courageous outdoor girls become brave women who continue those active pursuits.
In addition, with near epidemic levels of obesity and diabetes in youth nationwide, Wood says that "Addressing these health issues is critical—promoting body positive images and making sure girls are healthy and safe. Outdoor programming offers a fun way for girls to be healthy and fit." //
Feature photo: Game time for young campers at Camp Spalding// Amy McCaffree