Planning a wedding can generate stress and anxiety for many couples—and not just because of the expense. In an industry where an extravagant version of perfection is expected, some people are choosing to simplify and dig deeper. They want their venue to be more than a beautiful backdrop, and they want their memories to be rooted in what matters most.
Here are two stories from couples who love the outdoors so much that public lands were integral to growing their relationships, framing their wedding days, and inspiring their ongoing love stories. Their nuptials show that while identity is grounded in friends, family, heritage, and tradition, it can also be rooted in place—the geography of hills, lakes, trees, and ridges that inspire us.
An Elopement Among the Larches
Ryan Craig describes his elopement in October 2020 as "a scene out of a Nordic warrior film. Misty and stormy, windy with tall granite peaks over us and a really cold lake below."
His wife, Alyssa Chamberlain, continues, "The big focal point was all the larches. I don't know how we timed it so perfectly. It was all beautiful gold."
The only person at their self-officiated private ceremony in the Lake Chelan-Sawtooth Wilderness was a friend and professional photographer, Brighton. Their plucky and adoring pup, Harold, also made the hike in. Harold was one of the reasons they picked that spot, since most places with larches don't allow dogs.
Many couples experience a lot of pressure regarding where they should host their wedding. But Alyssa explains that the people who are closest to her know that "I've always wanted to elope. I think the ceremony is more about the person you're with." She feels that she's not a strong public speaker and that saying everything in front of a lot of people would have been hard.
"COVID-19 gave us a nice cover." She explains that they decided together, "Oh, now we really have to elope!"
The foursome hiked up together the night before the intimate ceremony. Ryan hung his suit on hanger in a garbage bag and attached it to the outside of his backpack. Alyssa folded her dress into a packing cube. She had hand dyed the bottom gold with the help of a friend to match what she hoped would be a stunning stand of fiery larches.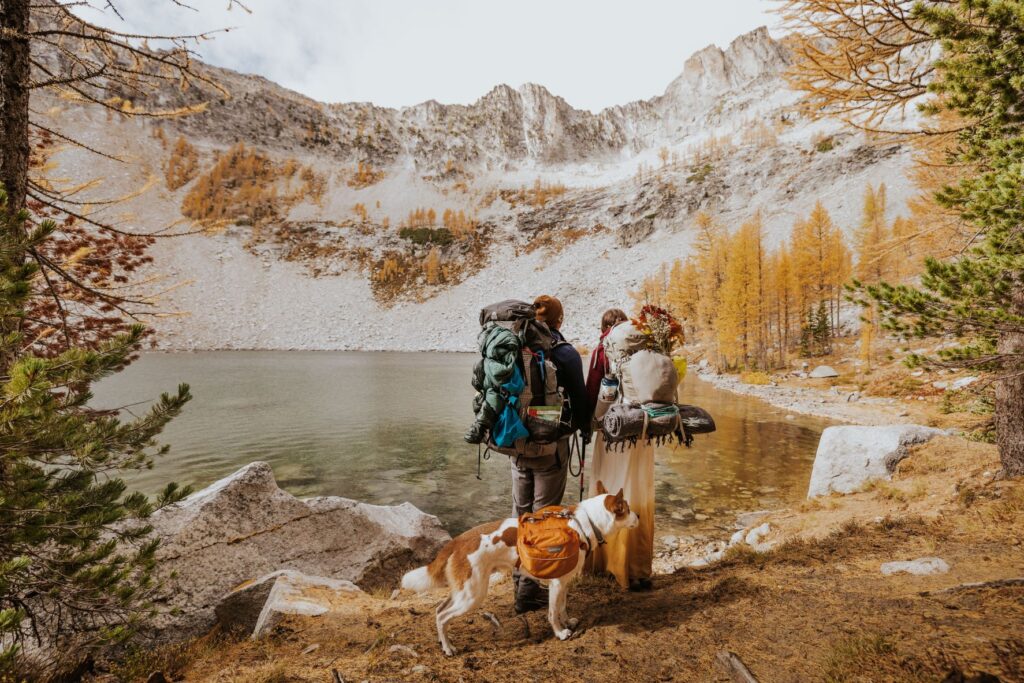 "When we hiked in, it was 55 degrees and beautiful and calm. We woke up to 35 degrees and rapid dropping temperatures and wind. It was pretty cold," remembers Ryan. Alyssa wore leggings under her dress, hiking boots, and wrapped a warm blanket around her shoulders.
The words they shared that day were for each other, lifted up by the wind and carried over the hills and valleys. The symbolisms fits what their love is built on. For example, the dried flowers in their bouquet and boutonnière were plucked during hikes they had taken together on both the East and West coasts. Even her wedding ring represents their love of wild places, with a mountain skyline carved into it.
The couple just returned from a week in Vermont, where they celebrated their commitment to each other with East Coast family. It was a beautiful celebration, but after dealing with the stress of COVID-era travel, they are happy to be back hiking around local public lands with Harold.
Local Hike to a Wedding
Ella Kerner's description of the weather on her November wedding day in 2015 is most brides' nightmare: "It rained a little bit. It was windy." Then, there was the tardiness of the guests. "We had to wait for 45 minutes for a couple stragglers to make it up the hill." But, in her eyes, "It was perfect."
She married Nathan Leach (now Nathan Kerner) "huddled behind the wind break of the boulders" at Rocks of Sharon, which is one of their favorite Spokane hikes.
"[Rocks of Sharon] is a very excellent viewpoint," says Nathan. "It's gorgeous and expansive." It's a view that both of them love in the summer and winter. Nathan continues, "On one side you can see Spokane Valley and the freeway leading to Spokane. You can also see the Palouse, and there are just a few barns and houses out there."
About 40 people joined them for the hike and ceremony, and dozens more met them at their reception in town afterward.
The couple's friends and families were not surprised that they chose a hike to commemorate their lifelong commitment to each other. Ella explains, "We knew we wanted to get married on a mountain, but one that was accessible to most people. I had done the hike a dozen times before we got married. It's such a great trail. It's a great reward for not much work."
One of the best parts of the day was watching guests mingle in an unconventional setting. "Everyone got to chat on the way up," she says. "It was fun. Even [the stragglers] talked about that as a good day."
At first, Nathan jokes about getting married in one of the bleakest months of the year. "I'd rather be cold than be hot." But then he reflects on why it was so special to get married up there. "Buildings are temporary, but the outdoors is permanent. If we want to revisit the place we got married, it will still be there."
Ella explains how the location has become a place of importance for their entire young family. "We took [our firstborn] Charlie (age 4) up when he was a baby. He was 6 months old, and we carried him up."
They haven't yet taken their newest arrival, Del (age 2), but they will soon—perhaps this November. They plan to do the hike every year on their anniversary, even though they missed it last year due to COVID-19 and child chaos.
As Nathan points out, it will always be there for them when they need a refresh and to get a perspective on what matters most.
Originally published as "Love in the Outback" in the September-October 2021 issue.
Summer Hess is the former managing editor of OTO. She still contributes content from her new home in Wenatchee.