Christmas is right around the corner, and if you're still looking for the right gift for that "outdoorsy" type on your list, never fear. We have put together a list of some of the hottest holiday outdoor adventure gift ideas that you can find at local shops throughout the Inland Northwest. We've included a wide range of gear to make sure there is something for everyone, regardless of the current state of your bank account. If you're like me, you'd rather be skiing than shopping, so why not get the shopping over with at one of our many local gear, bike or ski shops and get back to what's really important, like getting fresh tracks on a powder day or hitting the bike trails on a cool December's morning?  The following gift ideas – recommended from local experts who live and breathe this stuff – are covered in descending order by cost: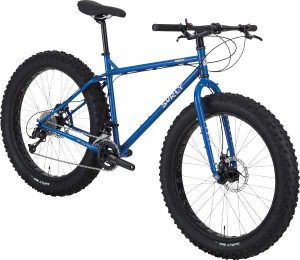 Fat Bikes: aka Snow Bikes
Do you have a bike fanatic on your list that has 6 bikes hanging in the garage? I would be willing to bet that they don't own a fat bike – yet. Fat bikes are the latest and greatest in the two wheel world, and they are catching fire here in the Inland Northwest. Fat bikes utilize oversized knobby tires with a low PSI (think motocross) that can give the rider legitimate grip on snowy winter trails. "Fat bikes have seriously expanded my training options for winter trail riding here in Spokane," says Simon Hartt, Sales Associate at Spokane's Wheel Sport Central. The larger size and low PSI combine to increase the tires' overall footprint, which gives these bikes a distinct advantage over traditional bikes when it comes to winter riding. Fat bikes are equipped with tires that are 3.7″ or larger and rims wider than 44mm. These bikes are also built around frames with large forks and stays to accommodate the wide rims required to fit these tires. Schweitzer Mountain Resort in Sandpoint, Idaho has even begun renting fat bikes for use on the resort's Nordic trails this winter. Surly, Specialized, Kona, Trek, and other bike companies make fat bikes for winter riding. Most of the bike shops throughout the region are now carrying at least one type of fat bike. ($1500-$2500).
Alpine Skis: Line Sick Day 95s
Who wouldn't love to see the Skiing Magazine ski of the year sitting underneath the holiday tree? The Line Sick Day 95 is the perfect gift for that all mountain shredder on your list. The Sick Day floats like a powder ski yet rips like a carving ski for riders who want the best of both worlds. Its innovative, lightweight construction makes it one of the lightest alpine skis on the market, while maintaining 100% of its downhill performance and, most important, its durability. "We're super excited to be offering a ski of the year in our line-up," says Ben Owens, Owner of Spokane's Sports Outlet. "The Sick Day is setting a new standard for all-mountain versatility," he adds. Whoever is lucky enough to score these boards will be carving, floating, slashing, smearing, and spraying their way to the best sick day of their life. www.lineskis.com. Local Line dealers: Sports Outlet/REI (suggested retail: $600).
POV Video Cameras: GoPro Hero3
POV (point of view) video cameras exploded onto the action sport retail market a few year back, and the technology is progressing rapidly. What outdoor fanatic wouldn't love to recount some of their best adventures in stunning high definition?  POV cameras are mounted on the user's body and allow them to share their outdoor conquests with family and friends. GoPro, the POV market leader, has recently released its Hero3, the most feature-rich POV camera to date. "The Black Edition Hero3 features a remote control, so you don't have to dismount your camera from your helmet to see if it's on or off," says John Schwartz, Store Manager of Spokane's Mountain Gear. The GoPro Hero3 is the perfect way for anyone to capture, re-experience and share some of life's most amazing outdoor experiences. www.gopro.com. Local GoPro dealers: Mountain Gear/REI (suggested retail: $400).
Winter Apparel: The North Face ThermoBall Vest
Always on the cutting edge of performance apparel technology, The North Face has developed a new insulation innovation called ThermoBall. This high-loft synthetic insulates, packs and feels like down, but delivers total versatility. It achieves the warmth equivalent of 600-fill down, while maintaining exceptional wet-weather insulating performance. The North Face ThermoBall Vest makes a great gift for anyone in the family. "This is one of my favorite insulating pieces in the store," says Taylor Hauf, Selling Supervisor for The North Face Spokane. "It's light, warm, and packs down very small," she adds. The ThermoBall vest provides uncompromising warmth even when wet, making it the perfect go-to vest for any adventure. This thermal vest can be worn as a mid-layer for added warmth on the coldest winter days, or it can be packed for emergency protection in the backcountry. www.thenorthface.com.  Local The North Face dealers: The North Face Spokane/Mountain Gear/REI (suggested retail: $150).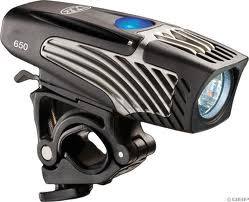 Bike Accessories: Nite Rider Lumina 700
Got a dedicated commuter or diehard night trainer in the family? Nite Rider's Lumina line of bike lights are aimed at just those types of folks. The range-topping, cordless Lumina 700 satisfies specifications that'll also win over trail riders, especially given the included helmet mount. "The lamp and battery are one unit making this a very compact light that's still powerful," says Mack Blackpine, Shop Mechanic at North Division Bicycle Shop in Spokane. The lightweight Lumina 700 uses a USB cable to charge a lithium-ion (Li-ion) battery, taking six hours to top off from your laptop at home or at the office. The high setting on the Lumina 700 produces – you guessed it – a bright 700 lumens of light, and along with the helmet mount, the Lumina kit includes a handlebar mount that is compatible with 31.8mm clamp diameter bars. www.niterider.com. Local Nite Rider dealers:  North Division Bicycle Shop/REI (suggested retail:  $125).
Climbing: Petzl Grigri 2
Climbers are always a tough group to buy for considering that their safety literally depends on the function and performance of most of their gear. But even the most discriminating climber will appreciate the Petzl Grigri 2, a belay device with auto locking capability that's designed to facilitate belay maneuvers. "The Grigri 2 makes long belays way easier," says Sara Noeser, a Sales Associate at Mountain Goat Outfitters in Spokane. "It handles a wide range of ropes too – from 8.9 to 11 mm," she adds. Both compact and ultra-light, the Grigri series have become welcome company on climbs around the world for many years. Voted the Editor's Choice Award by Outdoor Gearlab, the Grigri 2 is among the easiest devices to lower a climber with, is intuitive to use, and is durable. Whether rappelling down ropes 3,000 feet up El Capitan or lowering someone in the gym, the ease of handling is hard to beat. www.petzl.com. Local Petzl dealers: Mountain Goat Outfitters/Mountain Gear (suggested retail: $100).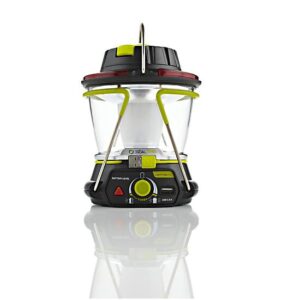 Camping: Goal Zero Lighthouse 250 Lantern
Goal Zero is this cool new outdoor gadget company that prides itself on making products for off-the-grid activities. But their new Lighthouse 250 Lantern brings a taste of their technology to anyone's stocking. This solar powered lantern is equipped with a USB power hub to keep gadgets fully charged while relaxing by the fire. If you don't have devices to power up, the rechargeable battery keeps the Lighthouse 250 Lantern aglow for up to 48 hours. "It's got a dim control switch that makes this little thing pretty cool," says John Schwartz, Store Manager of Spokane's Mountain Gear. The Lighthouse Lantern looks a lot like traditional kerosene lanterns, keeping the spirit of camping alive, but with a modern sustainable twist. The lantern can power up all day with Goal Zero's solar panels, or with the built in hand crank, which can be used when on the go or in the field. www.goalzero.com. Local Goal Zero dealers: Mountain Gear/REI (suggested retail: $80).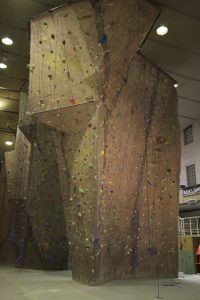 Outdoor Education: Vertical Introduction Climbing Package at Wild Walls
If you have an aspiring climber on your shopping list, Spokane's Wild Walls climbing gym has created the perfect stocking stuffer with their Vertical Introduction Package that can be purchased as a gift certificate for later use. With this package, students will learn the fundamentals to climb indoors: fitting the harness, knot tying, and proper belay technique. This class serves as a prerequisite for top roping at Wild Walls. The total package includes equipment, two hours of instruction and a one week trial membership at the gym. "It's a great course for anyone who is curious about climbing and wants to learn how to properly use the ropes," says Chelsea Murn, a Ladies Night Instructor at the gym. The class is offered on Tuesday and Thursday from 6-8 p.m. and Saturday from 4-6 p.m. throughout the winter months. www.wildwalls.com ($35).