Local Unicycle Rider Represents at National Events
"I'd been riding my unicycle for miles in the middle of the desert. My legs were on fire. I had no water. I couldn't see anyone ahead of or behind me. And I was like, 'this is the greatest moment of my life'." Phil Sanders, a competitive unicyclist who lives in Spokane, is a glutton for physical punishment. That's what I concluded after he told this story and several others about his adventures in unicycling. The 30-year-old has ridden unicycles for more than half of his lifetime, and he's racked up several medals at every competitive level.
When we spoke, Sanders had just returned from the North American Unicycling Convention and Championships (NAUCC), an annual, weeklong event, where he served as director of the trials events. He also competed, winning a gold medal in the flatland trick competition.
NAUCC is a place for unicycle enthusiasts and athletes to get together and hang out, but it's also a place for them to compete. "It's pretty much the Olympics of unicycling," Sanders says. "Every event in the unicycling world is represented there."
He's not exaggerating. Unicyclists compete in track and field events including sprints, relays, one-footed races (where riders use only one pedal), backward races, long jump, and high jump. Freestyle events are similar to figure skating: costumed riders compete as singles, doubles, and teams and perform choreographed routines for nine-judge panels. Trials events require riders to clear several obstacles, or lines, within a specific time block, all while being judged. Trials riders have a scorecard and get one point for every line they clear. Cyclocross athletes ride as many laps around an obstacle-ridden course as they can in a given amount of time, dismounting and carrying their unicycles over unrideable obstacles. Flatland unicyclists ride in an urban setting, executing tricks and competing in battle format: two riders take turns doing tricks, one-upping each other as they go. Unicycling even embraces team sports: hockey, basketball, and an unofficial game of "flaming hockey," where athletes wait until the sun goes down before they set a puck on fire and proceed with their game.
Before his trials events began at this year's championships, Sanders and his team spent two days building obstacles and marking courses. Around 400 riders participated in the event this year, which was in Seattle, but other years have attracted more than 700 riders. "Big events like this are by and for unicyclists— they take a lot of grassroots effort and passion," Sanders says.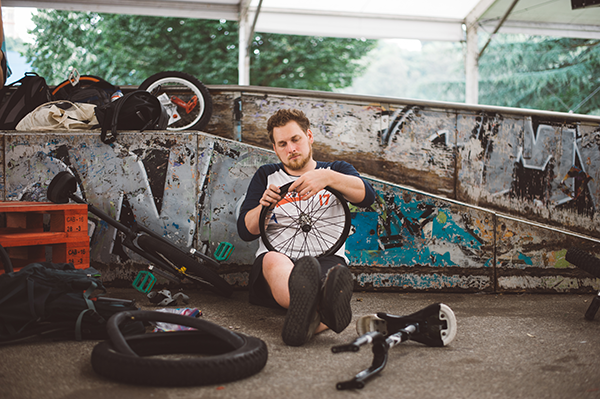 Sanders, however, was not born with this passion. Seventeen years ago, he was a distractible seventh-grader when his gym class teacher at Glover Middle School taught a two-week unit on unicycling. "I was right in the middle of that childhood phase where I'd pick something up, try it once, and never try it again. I had a guitar, a keyboard, a pogo stick, and juggling stuff, so when I asked for a unicycle for Christmas, my parents were like, 'uh, what else do you want?' I said, 'Nothing. A unicycle is all I want.' So they got me one and to their surprise, I just never stopped. I don't know what it was—but I just got addicted to it."
A few years later, a friend gave Sanders a VHS of the movie "Universe I," a movie about extreme unicycling tricks in urban and off-road environments. "I lost my mind," he recounts. "The first year after I watched that move, I ruined 10 unicycles trying to take them off drops, going down stairs, everything. But I haven't broken a single bone yet!"
Sanders went to his first unicycling event, the Moab Mountain Unicycle Festival, in 2006. There, he met dozens of unicyclists, including Kris Holm, a rock star in the unicycling community. "One day, on the Porcupine Rim Trail, I ran into Kris Holm, who'd just stumbled on an obstacle in the trail. I rode past him and hit it just right, and I couldn't believe it. Two seconds later I crashed. He picked my unicycle up, sat down next to me, and we had a nice little chat. When I got home from that trip, everything took a back seat to unicycling."
Finally, Sanders decided to compete. In 2008, he went to the national championships for the first time and promptly won a medal: third place in his age group in the trials events. Since then, he's won several bronze, silver, and gold medals at state, national, and world championships. At the 2012 world championships in Italy, Sanders won a bronze medal in his age group for the high jump, which involved jumping his unicycle over a bar 90 centimeters high—a half-inch shy of a yard.
"I like the pressure of competition, but I don't really like the competitiveness," Sanders reflects. "When I'm out trying to do tricks and obstacles, I'm really just competing with myself and my own abilities."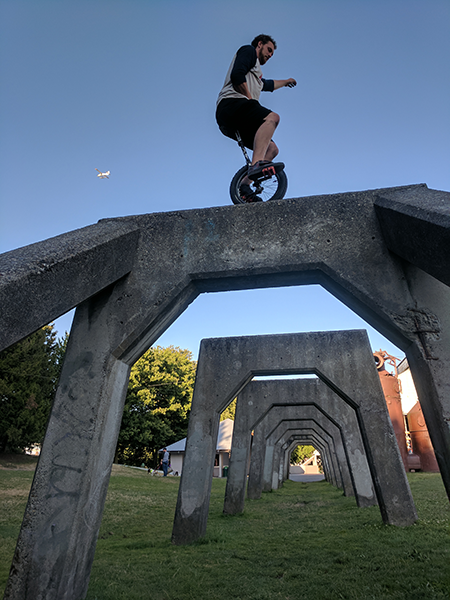 Sanders doesn't sugar-coat it: unicycling is hard. It's not the initial learning that's hard, he says, but everything beyond that. "If you're not looking for an activity that's pretty much hard all the time, unicycling might not be for you. I've been doing this for 17 years, and I'm still learning new skills and tricks, but that's what I love about it—I like that it's always hard, always challenging, and I never feel like I've maxed out my skills." Unicycling works your legs and core, and that's exactly why many regular cyclists and other athletes use a unicycle to cross-train.
Age is not a limiting factor. "I've met kids as young as three who could ride unicycles," Sanders says, "and several riders in their seventies. I've met families where every member could ride. I have also met men and women who started riding in their fifties and sixties, and now I see them at every event I go to. You really can't be too young or too old to start."
Entry-level unicycles are available for $70-100, and Sanders says they're sufficient for learning basic skills. He recommends Spoke 'N Sport in downtown Spokane. "At their shop, Justin does all the work on my wheels, and he does an amazing job. He even got a specialized unicycle truing stand adapter to work on my wheels so he can make them perfect every time." For unicyclists looking for a more specialized ride, Sanders recommends unicycle.com.
Equally as important as the unicycle is the protective gear, and Sanders' voice grows emphatic when he describes the importance of shin pads and plastic pedals. "When you're learning to ride," he says, "your shoe often slips off the pedal, and you hit either the front of your shin or the back of your calf on the pedal. If you aren't wearing shin pads, you'll have as many scars and bruises as I do." And of course, gloves and a helmet are a no-brainer. Sanders also wears ankle braces and elbow pads.
The Unicycling Society of America has established 10 skill levels that progress from mounting and dismounting to riding backward and one-footed to completing a 180-degree spin. Sanders agrees that beginning unicyclists should first learn to mount without assistance, and then add skills like turning in both directions, hopping in place, and idling (rocking back and forth in place).
"Everything clicks eventually," Sanders insists. If you're struggling, keep practicing. It's going to click. Every unicyclist has had that struggle where you try and try and try a new skill, and then one day, you get it. And then you move on to the next challenge." //
Janelle McCabe is the former managing editor for OTM. She wrote about the Leavenworth Half Marathon and the Spokane Marathon Relay in August.