For all of its 37 years, a special group of men and women has held Spokane's 7.46 mile Lilac Bloomsday Run sacred. Since 1996, a Bloomsday tradition has been to honor these perennials—now 99 people strong—who have completed every race since its inception. Without fail, despite significant personal hardships and challenges, and because of their grit, positive attitudes and fierce determination, they lace their shoes, attach bib numbers and head to the starting line on Riverside Avenue year after year.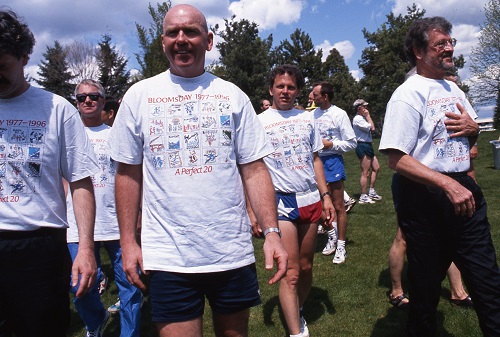 Ken Hill
"To complete every Bloomsday takes a lot of luck, and I am a very lucky guy!" says Ken Hill, age 67. He was vice president of the Spokane Jaycees organization when race founder Don Kardong "presented his vision for Bloomsday" in February 1977.
"About a month before Bloomsday, I decided that since we were working so hard on this project, why not participate? I was not a runner – except for short distances in high school track – and had never run a mile before."
After completing the race, Hill volunteered by passing out sandwiches to runners, alongside his wife, Mickey. "Bloomsday is a rite of spring for our family," he says. "My daughter and friends come over from Seattle and my son and his wife [come] from Moscow. To get in shape for Bloomsday helps get us ready for spring outdoor activities…And it's important to keep the streak alive, despite health problems that start to catch up with us as we get older."
Two years ago, for the first time ever, Ken had to walk Bloomsday instead of run. "I was diagnosed in 2011 with Multiple Myeloma, a cancer of the blood that can weaken your bones. This led to compression fractures of my spine," he says. "In March 2012 I had a stem cell transplant and spent a couple weeks in the hospital. After the intense chemo and long recovery time, I was uncertain whether I would be able to do Bloomsday under my own power. Luckily I was able to walk Bloomsday that year. I have been in remission for about a year (Thank you God!), and am able to ski and hike as my back has improved with treatment…My doctor indicates that my medical outcome may not have been as favorable had I not been somewhat in shape. I have the motivation of 37 Bloomsdays to thank for that."
Sylvia Quinn              
The oldest perennial female at age 77, Sylvia Quinn, was a runner but not a competitor until the first Bloomsday. "I had always said when I started that first Bloomsday, God willing, I would do it every year until I die, whether I'm fast or slow or in a wheelchair," she says. "I have always won my age group, every year. Now there aren't very many people in my age group."
For her first 30 Bloomsday races, she ran them all in less than an hour. "Now I run it in about 1:07. But I also don't do the training I used to do. Now I have to work for every step I take. But I enjoy running; it's my social life," she says.
The main threat to her streak is advanced osteoporosis. "One year I ran it with a stress fracture, and then I ended up with two of them."
Quinn's husband, Patrick, is also a perennial – they've been married for nearly 54 years. He now walks the race. "When you're a perennial, it doesn't matter how you do Bloomsday – you can run or walk it or even be in a wheelchair," she says.
"Every Bloomsday, as far as I'm concerned, has been a gift to be able to go out there and do it." No matter the weather, she considers it a perfect day.
"I always told my daughters that they couldn't get married on a Bloomsday weekend. That was going to be my day for the year," says Quinn, who served as Bloomsday race director from 1983 to 1991.
Every race day since 1992 she has completed the course twice. "I register twice, using a fictitious name the second time," she says. "I go to the back when I finish and run-walk it again – visit with my friends, see them with their families. It's a different atmosphere at the back. I try to be competitive the first time through, for my age group. The second time through I pay more attention to the bands and the music."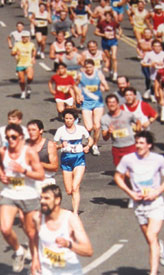 Gary Selwell
Bloomsday made Gary Selwell into a runner at age 38. "[The first Bloomsday] was fabulous. My whole family – my wife and three kids – ran it," he says.
Now 76 years old, Selwell has been healthy for most Bloomsdays with his fastest finish "about an hour and seven minutes," he says. "I never got close to that again. The past three years I started getting slower and slower. I started walking because my body told me it wanted to walk. A year ago, I found out I had Parkinson's."
Despite his diagnoses, Selwell says, "I still work out, and do everything but run…You just deal with it. The last two times I came across the Monroe Street Bridge after the race, I said, 'I'm not going to do that again' – but I do. I'm going to do it until I can't."
Last year he finished Bloomsday with his three granddaughters, ages 16, 18 and 30. He toes the start line with his fellow Perennials, to avoid the crush of the crowd, but his granddaughters eventually find him, and they all walk together. "They're taking care of Grandpa," he says.
"Bloomsday kept me training for years. And that time of year I always train better. And it had to have benefited me in physical ways…If you're smart at this age, you wear your perennial shirt that says 'I've done them all.' And people talk to you along the course – last year I wore that shirt, and I met more people than I'd met in the past 30 years."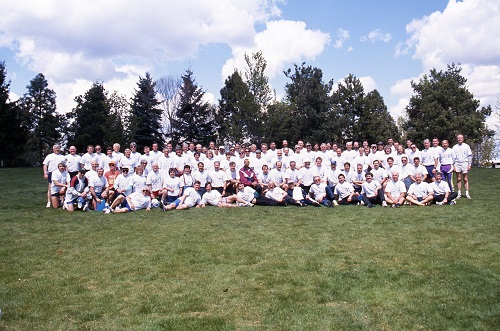 Mike Hogue
In 1977 Mike Hogue was only 14 years old. "I was a distance runner for Shaw Junior High in Spokane. My 9th grade track coach, Bob Issit, wanted all his distance runners to sign up for this new road race in town. His roommate at the time was Don Kardong."
Now 52 years old and living in Mead, he remembers the first time he finished as the first-place perennial. "Now it's my goal to try to be the first perennial to cross the finish line. It motivates me to try and get back into shape after winter," says Hogue, whose all-time personal record is sub-47 minutes.
"Staying healthy is always the number one goal," he says. "I try to jog every other day, sometimes every third day. I mix in some biking or an elliptical workout on the odd days when I'm not running."
A couple times Hogue has waited to register the day before the race. "Now, I simply will not miss the first Sunday in May," he says. "The ultimate goal is to be the sole survivor perennial of Bloomsday. That motivates me into staying active. God willing, it just might happen!"                     
Mike and Marji Arnold
Bloomsday has been important to Mike Arnold, 65, and Marji Arnold, 59, for their entire romance. As only one of two married perennial couples, they were in their 20s and had only recently begun dating when they both registered for the first Bloomsday. They married the following year, on May 14, 1978.
"I'll do anything to keep my streak alive – if I have to be pushed in a wheelchair or pushed on a gurney," says Mike.
For the 1984 Bloomsday, Marji was pregnant and stayed active running throughout her pregnancy. "But my back kept hurting me the whole time (running Bloomsday)," she says. Her daughter was born less than three weeks later, on May 26.
"Bloomsday has made me more conscious about being healthier with food choices and staying active," she says. "I don't run every day, but I do Zumba, go on regular walks with Mike, and hike." Marji and Mike now have four grandsons and are members of Spokane's Flying Irish Running Club.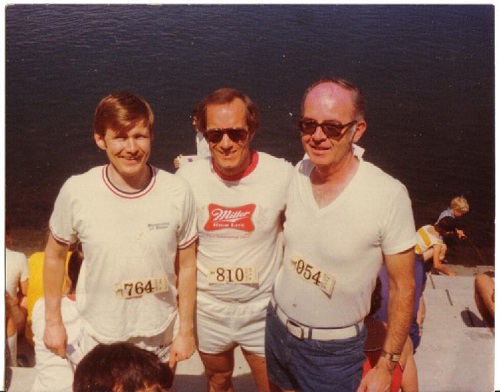 Larry Gorton             
Now 66, Larry Gorton became a runner at Washington State University because of jogging and weightlifting classes. "I remembered I was questioning myself if I can sign up for the first Bloomsday Run, because I thought it was only for the national fast runners."
But he did. And he kept running. "I felt the benefits of running and it was a way of working out stress from my engineering desk job."
Larry's challenges to his streak include two thyroid removal surgeries, 20 years apart from each other, but each took place a few months before Bloomsday. He also had a heart stent implanted after nearly four years of sluggish running.
Tom Leonard
After hearing that U.S. Olympian Frank Shorter was going to be there for the first Bloomsday, Tom Leonard, 69, signed up to run. Leonard had competed against Frank in college as a cross-country and track runner for Clemson University. Drafted into the Air Force after college, Leonard was stationed at Fairchild, and thereafter made Spokane his home.
"Back in the old days, when you're younger and in better shape, it was real easy to run under an hour…It used to be way more competitive for perennials than it is now. Now we readily cheer each other on," he says. "Even though I'm not in the shape I used to be, I still get out and do Bloomsday. It bonds people in a unique way."
Leonard finished in 19th place in the first Bloomsday, and his fastest time ever was 41 minutes. He almost missed a Bloomsday in the late 1980s because of a work emergency – for the City of Spokane's water department – the night before the race. "I didn't get off work until 8 a.m. on race day," he says. "That was the closest I came to missing the starting gun."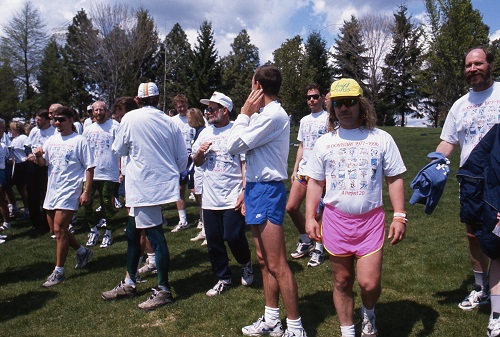 Joe McManus
For 67-year-old Joe McManus, who lives in Ephrata, Wash., the race is a family tradition. "Bloomsday has been part of my life and our whole family's life for 36 years," he says.
McManus's favorite memory is doing Bloomsday, in 2010, for the first time with four generations of his family, which included his great-grandson (then three weeks old) being carried by mother Tashia (Joe's granddaughter). McManus's oldest daughter, Chandra, age 44, has completed every Bloomsday except the first, and his wife, Marilyn, has done all but the first two. As many as 20 members of his family participate together.
He typically completes the Bloomsday course in under 70 minutes and often finishes among the top 15 perennials.
In 1991, he thought he finally had to skip a Bloomsday. He was managing a Safeway store near Tacoma at the time, and there was a grocery strike. He had to return to work at midnight Saturday. "I got as far as Ritzville and called again," he says. No longer needed in Tacoma, he turned around and got a few hours of sleep before the race.
Besides Bloomsday, Joe stays active as a USA Track and Field official and volunteer coach for Ephrata's middle school cross-country program.
Bruce McDavis
For Bruce McDavis, 66, Bloomsday is key to his overall wellness. "Once you get past 15 years, you want to keep your Bloomsday streak going," he says. "And I think the personal reason is because everyone is getting together to do something, the larger Bloomsday community."
McDavis teaches martial arts at his studio, Jundokan South, and for Gonzaga University's physical education department, which he's been doing for 25 years. (He also taught at EWU for 33 years).
Keeping his Bloomsday streak alive hasn't been easy. "Two years ago, I had a hip replacement a month before Bloomsday. For the first time, I couldn't line up with the perennials, because I didn't want to slow anyone down. I had to line up in the back and use a walker," he says.
This was actually the second hip replacement for McDavis. His first one took place the year before, in 2011. "One leg's longer than the other now, but I don't find myself walking around in circles," he says.
"I tried to break 50 minutes when I was in better shape. As you get older, your time tends to get slower, so I'm at about an hour and 20 minutes. But that's fine for me – I'll take it," he says. "Now I'm glad if I run 13-minute miles. You have to adjust your expectations."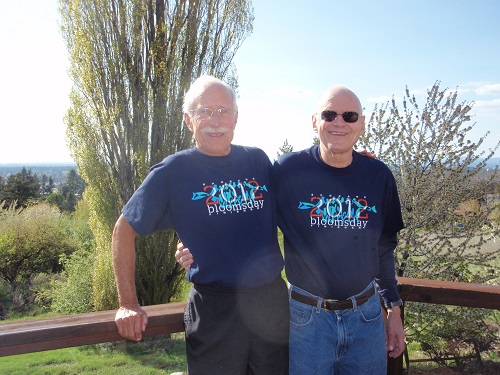 Jim McArthur
"The first Bloomsday was a hoot!…My buddies and I used Bloomsday as a warm-up for the Coeur d'Alene Marathon, and it served well as a speed workout. I trained with one-pound weights in each hand, or taped to the top of my shoe," he says. McArthur readily admits he's a former obsessive runner.
"Keeping my Bloomsday streak alive was not much of a challenge until I had my knee scoped and complicated with blood clots. On crutches for a while, I got off them just in time to hobble through the race. Then a decade later I had to get a heart pacemaker – the direct result of not 'warming down' after races or hard workout runs, some up to 25 miles. My ticker wanted to keep beating at race pace and above, making it a challenge to sleep.
"Now 70, I don't even run, due to legs that betrayed me more than a decade ago, but walking briskly with three contemporaries, I keep in touch with the news of the day and tip my hat to those days of pain and fulfillment when training, strategy and guile kept me competitive."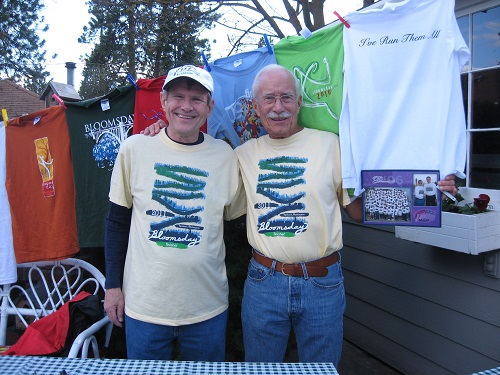 What's a Bloomsday Perennial? Race founder, director, and perennial runner Don Kardong explains.
OTM: Where did the group concept of Bloomsday "perennials" come from?
DK: I don't know whose idea it was, but it was in the lead-up to the 20th edition of Bloomsday in 1996 that we first decided to start identifying and tracking those who had done every Bloomsday. I believe it was one of our board members, Lori Shauvin, who did the heavy lifting in combing through the printed results to compile our first file of all the qualifiers. There were 140. We didn't call them the perennials. As far as I remember, we didn't call them anything. In 2001 we called them the "Silver Stars." In 2006 we first used the term perennials. There were 140 identified in 1996. Going into this year's Bloomsday there are 99.
OTM: What types of recognition do the perennials get?
DK: Every year the perennials receive special seeding at the front of the starting crowd. We also make available (for purchase) a special perennials shirt that says, "I've Run 'Em All!" on the back. And every five years we have a luncheon for the Perennials on the day before Bloomsday.
OTM: What makes the Bloomsday perennial group special and unique?
DK: I think the unique thing is that there are so many in the group. When you think of all the things that can happen to keep someone from participating, it's amazing that nearly 100 still have their streak alive. The main impact being a member of the group has had on me is that I feel increasingly connected to them. They were there at the beginning, and they've kept at it. They're Bloomsday loyalists. One year I broke down when I was asked to speak to the group. //