Young skiers and snowboarders (in years and experience) need to venture off the bunny hill to steeper terrain once they have a comfortable grasp of turning, controlling their speed, and stopping. Especially with an alpine seasonal sport, in order to improve form and establish muscle memory, it's important to experience steeper slopes. And this applies to rookie skiers and riders of all ages, from grandparents to preschoolers.
If your kid skis faster down the bunny hill than it takes to ride the chairlift, then that kid is ready for intermediate trails. In order to transition to the intermediate skill level, kids (and adult skiers) need to go beyond their comfort zone—steeper terrain and greater speed for practicing balance and form while turning and stopping.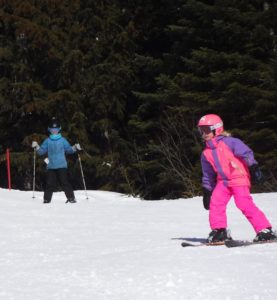 But nothing freaks out a young skier like feeling too overwhelmed or scared on a challenging run, whether it's being too intimidated by the slope angle or rough snow conditions. Which is why a sunny day on the mountain with soft snow, like a quintessential bluebird day, is a great time to venture beyond the bunny hill. Soft snow allows for smoother turns and a more forgiving cushion for falls, whereas with crusty or icy snow conditions on that same run, not having edges be able to dig well into the snow for turns and stops can feel (and be) dangerous to young skiers. With the approach of spring, take advantage of softer snow conditions, and with only a few weeks left in the Northwest ski season, every day counts.
NOT ALL INTERMEDIATE RUNS CREATED EQUAL
At Schweitzer Mountain Resort, families with children of varied ability will find lots of diverse terrain and options to keep children excited during a day on the slopes. In fact, 40% of the downhill trails at Schweitzer are designated as intermediate runs. (Difficult terrain—black and double black diamonds—comprise 50% of the trails at Schweitzer.)
Slope ratings are relative to each individual mountain—to distinguish the difficulty level of a specific mountain's terrain. For example, while most beginner terrain (labeled with a green circle) is relatively similar among ski mountains, there is a much broader spectrum beyond that as to what distinguishes intermediate and difficult runs.
As a ski mom, I always want to maximize my family's time on the mountain and ensure my kids have a positive, safe experience that keeps them enthusiastic to ski and wanting more. This was especially true during their first three years of skiing. My husband and I first started teaching our kids to ski when each was 2.5 years old. Our daughter, now 8 years old, sometimes feels intimidated by steep terrain—more than she did a few years ago when she first skied down groomed black diamonds at Mt. Spokane. Meanwhile, our son, almost 10 years old, is basically fearless on the mountain and can ski essentially any terrain with his expert-skier dad (who's been skiing for 41 years). One of our son's favorite runs at Schweitzer is Whiplash, a double-black on the backside. Schweitzer's diverse yet accessible terrain means our family can split off at the top of a chair and take different runs down—guys on a black diamond, girls on a blue square—and meet again at the bottom to load the chair together again.
Here are my recommendations for a blue square adventure day at Schweitzer, based on my family's experiences:
First, become familiar with Schweitzer Mountain's trail map and keep a paper copy of the resort trail map in your jacket pocket, or consult a trail map signage board so you know where you're going and how to navigate your way around the mountain. Runs are organized according to chairlift access.
Front Side – Schweitzer Bowl: Starting from Schweitzer Village, if your child has never skied anything but the bunny hill at any mountain, be sure to warm up with a run or two on Schweitzer's beginner trails, off Musical Chairs.
Basin Express: When ready for the first blue-square run, the Basin Express quad chairlift provides access to seven intermediate terrain. Begin with Gypsy, the easiest intermediate starter run at Schweitzer, which has a nice, gentle slope that's more like a cat-track. (Repeat as desired.)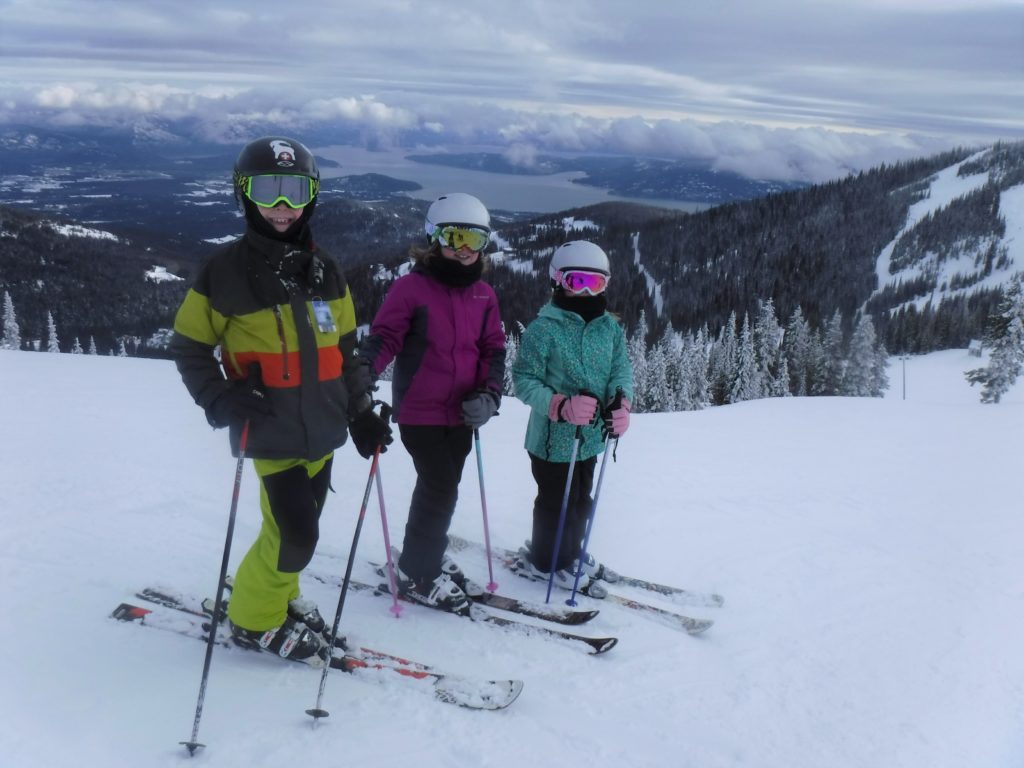 Next, try Midway, the first trail to the left off Gypsy (after getting off the Express chair). It has a slightly steeper pitch than Gypsy, and is not as long, but still a relatively gentle challenge. Other intermediate runs off Basin Express are Lower Sam's Alley, a short and steeper intermediate run; Prime Time, a narrow run that is an old chair line; and Ridge Run, a more challenging intermediate trail with a variable pitch. My husband, who's been skiing at Schweitzer since he was a young kid, says if a skier can go down Ridge Run and feel comfortable and in control, he/she is ready to go on the runs off Stella, on Schweitzer's backside. Other ways to access Ridge Run are to begin from the summit via the Great Escape Quad or Lakeview Triple, and while you're there enjoy stellar views of the surrounding peaks and Lake Pend Oreille (consult the trail map for directions).
Great Escape Quad: At the top of this chairlift, turn right and head down The Great Divide, a narrow (and busy) intermediate run that leads to the backside, Outback Bowl, or you can turn right onto Teakettle Trail and ski/ride back to the Village, connecting with Lower Stiles on the way.
If your family feels ready for the backside and the runs off Stella, follow The Great Divide to Down the Hatch (you can't miss the left turn), then turn left onto Vagabond, a popular intermediate trail that leads to Stella.
Stella: Providing access to six intermediate trails, Stella is popular with families and each chair seats six people—which means even with a line the wait typically feels short. Cathedral Aisle, Zip Down, Stella's Run, and Springboard are average intermediate runs, and some of my family's favorites.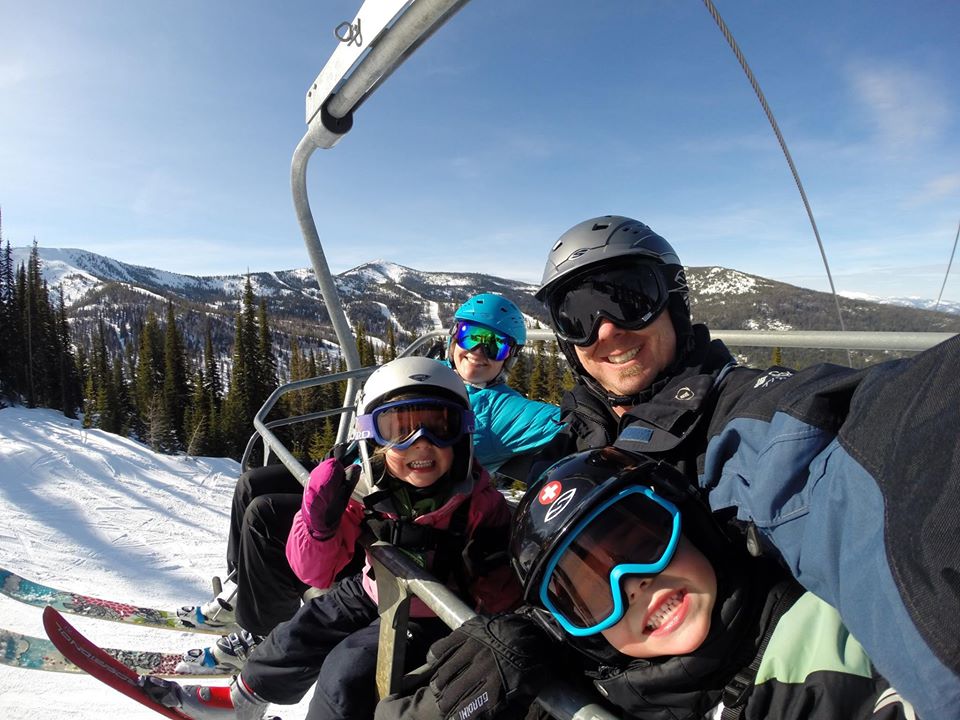 Cedar Park Express: Kaniksu, Snow Ghost, and Have Fun are three average-level blue-square trails off this new quad chairlift (installed summer 2019).
Idyle Our T-Bar: If your family feels ready for a new challenge, ride the T-bar to access Little Blue Ridge Run—the longest trail at Schweitzer, at 2.1 miles, with some steeper sections that make it a more difficult intermediate run. The T-bar can be tricky even without riding with a child, so give yourself a positive pep talk and try it. When riding with a child, take the inside position, bend your knees, hang on, and stay in your lane as well as you can. When riding with a small child, the T-bar is going to come to the mid-way area of your back thigh or even lower, like the back of your knee. Awkward? Yes. But doable. (I crashed off the T-Bar with my son a few years ago—funny story, actually. Since we were almost to the top, we just took off our skis and hiked up the rest of the way.)
There are more intermediate runs than these at Schweitzer, but this is a good list to get your kids exploring other areas of the mountain and nudging them outside their comfort zone. And maybe in a year or two or five, you'll all be going down Upper Kaniksu and Sundance together—two of my family's favorite black diamond runs (minus our daughter).
Skiing growth requires year by year improvement. Do what you can, as well as you can each season. Remember this ski mantra: "If you're not falling, you're not trying."
TIPS TO ENHANCE A FAMILY DAY-TRIP TO SCHWEITZER
Breakfast: Make sure your kids are well-fed before starting their first run of the day. Because Schweitzer is a two-hour drive from my home in Spokane, my kids are ready for a "second breakfast" when we arrive at Lakeview Lodge. We usually get a breakfast burrito from Cabinet Mountain Coffee Café, located on the main level (open Monday-Thursday 7:30 a.m.-1:30 p.m. and Friday-Sunday 7:30 a.m.-4:00 p.m.) or a hot egg breakfast option from the Lakeview Cafe. There are also bagels, cinnamon rolls, muffins, scones, and other quick, belly-filling options.
Lunch: It's better to go into the lodge too early than too late. Don't wait until your child is grumpy or has run out of energy and bonked. (Avert an on-hill meltdown by keeping some handy snacks in your jacket or backpack while on the slopes.) Even when my family brings our own lunch, we always buy an order of French fries from Lakeview Cafe—there is something about hot, salty fries that tastes really good after skiing for a few hours. And the fries at Schweitzer are some of the best ski mountain fries we've had. There is also a small microwave and cold water dispenser in the brown-bag dining area of the lodge, so you can utilize these supplies for some BYO-hot cocoa or to warm-up food you brought. Eating or drinking something warm at lunch helps a child stay warmer while skiing.
Après-Ski with Kids: Hot chocolate is always a kid favorite after skiing. You can purchase at Lakeview Lodge, but if the cafeteria food service or Cabinet Mountain Coffee Cafe are closed, you can find it a Mojo Coyote Café inside the Selkirk Lodge (lobby level). But when you don't have time to sit down and indulge—or because a kid can't carry a cup and their gear back to the car—there are hot-beverage options off the mountain in the cities of Ponderay and Sandpoint. The Starbucks drive-thru at the intersection of Schweitzer Cutoff Road and Highway 95 has helped make the drive home more pleasurable many times for my family.
Amy McCaffree didn't grow up in a ski family and only started skiing as a teenager, first taking lessons with her junior high Ski Club at Snoqualmie Ski Acres, in the Cascade Mountains. Now it's her favorite winter sport, and being married to a ski patroller inspires her to always keep learning and improving her ski skills, and to push outside her comfort zone by venturing to steeper slopes.