Mary had been there some months before, and I'd seen a map scratched on a napkin – but we were SURE we could find the freshly hewn Dishman Hills "Trail to The Cliffs." We met at the trailhead, the end of Thierman Road, north of 44th Avenue, and went through the gate into piney woods. Soon we reached an intersection where we took an old double-track road uphill, emerging into an open hillside with a fine, wide view to the west.
From here, we turned north and soon followed the road into a steep, winding dip down a heavily wooded draw, then a relentless haul back up the other side. We entered a wide and welcoming meadow (part of the recently established "Glenrose Conservation Area"), and crossed it heading for the highest knoll, a rounded pinnacle promising a stunning 360 degree view.
The Cliffs, an aptly named 50 some acres acquired this year by the Dishman Hills Conservancy, makes a good start towards closing the ½ mile public access gap between the Dishman Hills Natural Area and the Glenrose Conservation Area. The DHC is a grassroots conservation organization dedicated to establishing and protecting a conservation/recreation corridor along the entire six-mile Dishman Ridge, from Camp Caro to Big Rock. Mary and I, both DHC board members, wanted to check out the new trail, carved out just weeks before by volunteers from the Spokane Mountaineers and the DHC.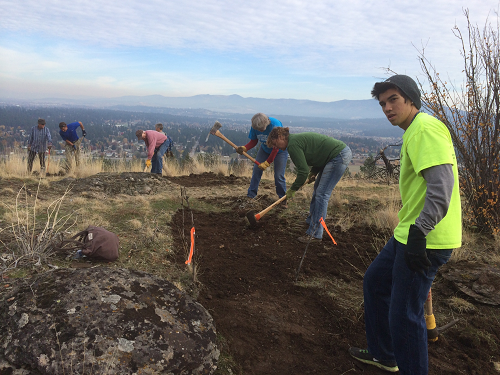 We veered to the right, onto a wide, grassy road that circles the knoll, and descended into scattered trees. Was this the way? Did we miss the new trail? Just as our road began to plunge down the forested bank towards Dishman-Mica Road far below, the new trail appeared on our left. We hiked up and down through an area burned in the 2008 Valley View Fire. With frozen, resurgent serviceberry, currant, wild rose, bunch grasses and yarrow, the land is mostly open, revealing sweeping views up the Spokane Valley and Rathdrum Prairie towards Lake Pend Oreille, as well as the high peaks of Mount Spokane, Mica Peak and the Coeur d'Alene Mountains.
True to its name, the hillside is broken by parallel faulting into stair steps and terraces of 80 million year old granite outcrops and a series of dark cliffs, all punctuated by twisted, blackened Ponderosa tree trunks with flailing branches. As November colors were fading in the frost, the brightest splash was a huge, vibrant clump of cherry-gold rose hips – and a curious echo of the same color in scat piles along the trail.
Mary and I explored to the end of the Cliffs Trail, and mostly retraced our route back to the trailhead, except for a leg over to the panoramic knoll we'd missed on the way in. When we returned to the trailhead, pooped, rosy-cheeked, and already planning a return snowshoe adventure, it was about 3 hours after we'd started.
Public access in the Dishman Hills doesn't happen by itself – it takes a lot of people working hard together. If you have enjoyed hiking in the Dishman Hills and live in Washington, consider "giving back" by calling your state legislator (800-562-6000) and asking for the Glenrose 160 ( the only public access to these trails) to be included in the "Trust Land Transfer." To find out what this means, and for maps, more information, and how to join a guided hike to The Cliffs on December 14, visit the DHC website at www.dishmanhills.org. Soon there will be new trail signs, but in the meantime it will still be great fun to find and explore the new Cliffs Trail this winter. //