By Kirby Walke
When asked, I always say my favorite season is the next. But recently, I sat and thought about this answer. Am I missing the end of each season chasing the next? Is the climbing rack collecting dust too early? Are the spring lines melting away without my mark?
Not this year. My favorite season is now!
Like so many others, for me November is filled with obsessively watching the snow forecast a month too early. Chasing baseless snow comes next for December. Tiptoeing through avy danger and pow fills much of January and February while glimpsing spring lines. And March, April, and beyond?
This is the crux of my "favorite season is next" sabotage. It's easy to miss the best backcountry riding season in spring.
The weekend before this writing in late February was no exception. While swinging my arms in a desperate attempt to gain warmth on the mountain, the clouds parted for a fleeting glimpse of steep lines and couloirs that normally just occupy my winter day dreams. It was not the day to be chasing those lines.
A menu of low angle trees and deep snow kept those demons at bay. However, plans were made to return in spring when the sun would shine a bit longer, the avy danger can be lower, and the fight to keep my fingers alive would be a distant memory.
Back at the car, as the day's effort faded, we continued with spring plans. We discussed the long valley dirt roads that open up slowly and allow deeper, easier access to those distant peaks. We joked about fishing in alpine lakes after harvesting a dream come true line. Muddy boot packs, too much sunscreen, and not enough energy are the time stamps of spring riding.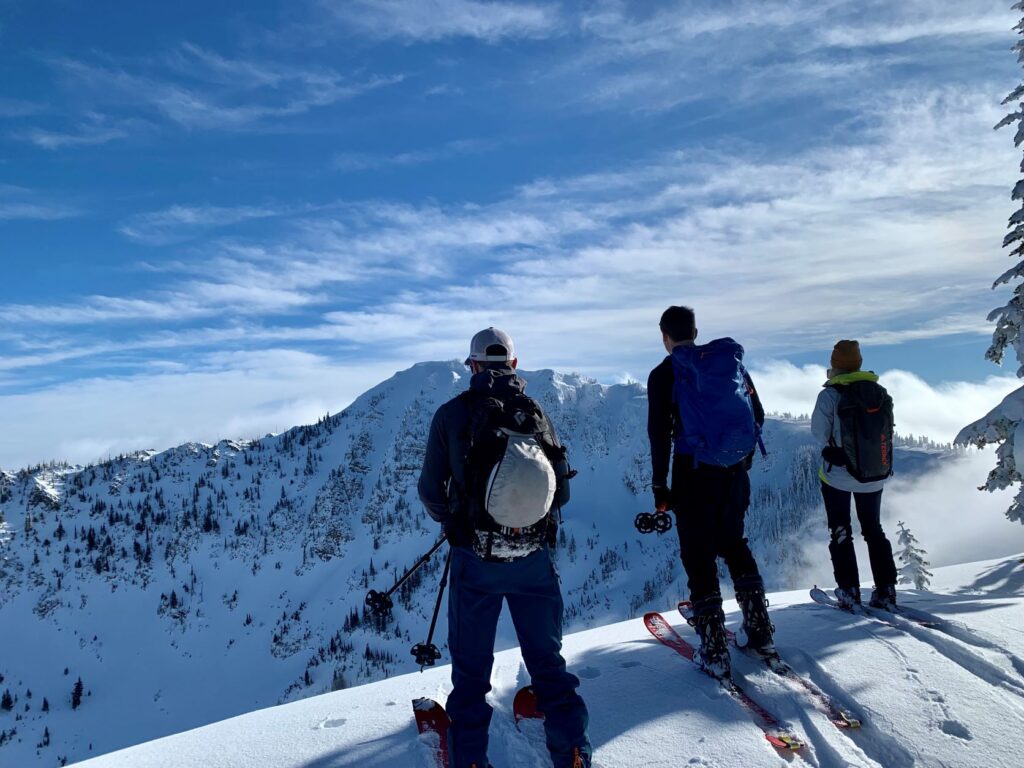 But, quickly, panic filled my thoughts as I was asked when I was headed to Smith Rock, in Central Oregon, to bask in the sun and prove to myself I am not in climbing shape this early in the year. I relayed the date and thought to myself, did I just do it again? Did I close the spring touring season before it even opened?
Writing and thinking on this has brought out two obvious storylines. The first, and very much the most important, is that I am extremely privileged. The regret of missing one way to have fun while transitioning to another is not a luxury that should be taken lightly. While it can cause me stress, that itself is ridiculous.
The other, while pulling out my warm season gear can be exciting, it doesn't mean winter has to occupy that storage space. It just so happens that the climbing rack may want to catch up with the splitboarding gear to swap some stories for a couple months.
Speaking on privilege, don't ever forget how lucky we are in the Northwest to have options—to pack both sets of gear and to have the ability to choose. We are so lucky to live where we do.
During your next best season daydream, try not to close one season before it is over, and maybe also insert a new friend into the scene. The more people we can bring into our dreams the better this world will be.
My new motto for the year? My favorite season is now.
See you out there, tired and smiling.
Originally published as "My Favorite Season is Now" in the Out There Snow special section in the March-April 2022 issue.
You are as likely to find Kirby Walke descending a backcountry stash, at the crag, on an urban trail, or supporting a local outdoor cause. He last wrote about bridging the rural/urban outdoor recreation divide in the March 2019 issue of Out There.
Find more stories about backcountry skiing or splitboarding in the OTO archives.