Most peaks in Montana's Bitterroot Range fall within the Bitterroot-Selway Wilderness boundary. Because of this, local riders rarely have the chance to experience summiting a peak. Ward Mountain, southwest of Hamilton, Mont., is an exception.
Ward Mountain Trail is a six-mile out-and-back ride with nearly 5,000 feet of elevation gain and impressive views of the nearby Goat Mountain and Roaring Lion drainage. To access the trailhead, take Roaring Lion Road from Highway 93. The trailhead is 2.4 miles up the road.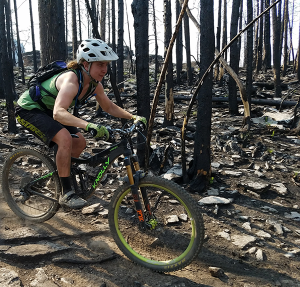 The lower third of the trail is relatively smooth and is easier to climb than the upper part, so it is a good shorter option for riders who don't want to commit to a long day. Those riding the entire trail should plan on a push to the top that feels longer than just six miles.
After the first 2.5 miles, the trail passes through an old burn area and becomes rocky, steep and almost impossible to ride up. The rest of the climb is difficult, but the sparse trees, loose rocks and sharp surrounding ridgelines make the ascent worth the effort. At the top, take a moment to look out over the rest of the Bitterroot Range before starting the descent, which will feel short compared to the time spent hiking and pedaling up.
Ward Mountain is rideable in spring, summer and fall. The dirt is easiest to ride early in the year, before it dries out too much, but snow on the trail may stop riders from reaching the top. Through the summer and fall, the loose, sandy dirt can make the ride more difficult but is part of what defines the burned area and makes it a unique adventure.
This ride is a great choice for advanced riders who want to explore a seldom traveled bike trail, don't mind working hard for a fun descent and want the chance to take their bike to a Bitterroot peak. //