The year was 1974. Carolyn Lyden and her husband Gene had just started a small barber shop on Government Way in the then small town of Hayden, Idaho. Back then, neither of them had any intention of transforming that tiny building into a booming ski shop. It's just the way things fell into place.
Two years into the barber business, Carolyn made a decision to start selling t-shirts out of the back of the barber shop as a means to earn extra money for a future family vacation to Hawaii. The venture proved successful enough that she began to sell jackets and other winter accessories. By 1978, Carolyn, who had been selling some used sporting goods on consignment, was approached by a ski rep from Crystal Mountain. "He had some low-end skis that he was trying to sell. We decided to grow the business and the building, so we bought the skis and that's when we officially started selling hard goods," she says. As fate would have it, Carolyn's 'side venture' blossomed into a successful ski and snowboard business called the Ski Shack that today is considered by many locals to be the finest shop around.
1978 was also the year that Carolyn finally achieved her dream of taking her family to Hawaii. "I decided that next summer, as long as we could fund an annual trip to Hawaii and I didn't have to keep the shop open in the summer, we would just keep the business going," she says.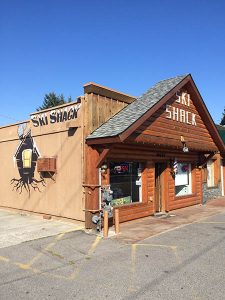 As a woman pioneer in the often male-dominated ski industry of the late 70s and early 80s, Carolyn had to deal with her share of stereotypes. While Gene managed the barber shop, he had little involvement with the ski shop. That meant that Carolyn had to wear many hats as both the salesperson and ski technician. "Back then I would sell a pair of skis, and then I would have to tell the guy that we had a tech coming in later that night to mount his skis. If I told him that I was mounting his skis, he was libel to walk out the door. Well, as soon as he left, I would run back and do the mount," she says.
As the business blossomed in the 80s, Carolyn fully embraced the trade, attending annual ski industry shows and working up to 12 hours a day, six days a week. The shop also grew in size, with new additions always being added. The result is a shop that has a good flow with a funky, log-cabin feel to it – and every inch is packed full of gear. "The winters were long, but I enjoyed having the summer off," Carolyn says. Today, at 79 years young, she is enjoying her 'semi-retirement.' "I'm still very involved with the shop, but I'm not there on a daily basis anymore." These days it's hard to catch her in the shop as she leaves management to her daughter Julie Vucinich and her grandson Rhen Lyden. Carolyn only comes in when needed during busy periods. "My family has done a great job managing it, and every year we hire a great group of people who have really just become like extended family," she says.
For Rhen Lyden, who manages the technician shop, the Ski Shack has always been a constant in his life. "I grew up in the shop and can remember helping with the rental rush and waxing boards since I could hardly see over the counter. I started tuning skis here when I was in high school, then moved to South Lake Tahoe to snowboard and work in some shops down there. I started here full time seven years ago when I was 22," he says. For Rhen, like the rest of the Lydens, the shop is a place that he takes a lot of pride in. "I learned hard work, attention to detail and persistence from my grandma, but the most important thing I learned was to be grateful that I'm able to work in an industry that I am passionate about and where I have the opportunity to help others find that passion for skiing and snowboarding every day." //