Mill Creek Trail is a fast, fun descent near Highway 12, south of Missoula, Mont. The four-mile trail can be shuttled or ridden as part of a 16.6-mile loop, with an optional extension up to Carlton Ridge.
Mill Creek is worth checking out because although it's easily accessed from Missoula and Lolo, the narrow trail and breathtaking views give it a backcountry feel.
The trail descends more than 2,000 feet through fast sections, off-camber turns, tight switchbacks and rock gardens. There are few true technical sections, but the occasional roots and general roughness of the trail warrant a long-travel full-suspension bike. However, I've ridden it on a hardtail and seen it ridden on a full downhill bike, so bike choice shouldn't be too much of a concern.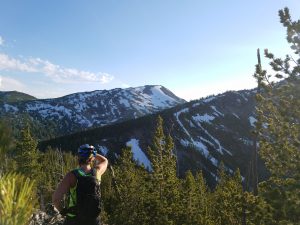 Mill Creek is a good choice for riders looking to explore outside of Missoula's main trails and experience a bit of backcountry-style riding without the commitment of spending an entire day (or longer) in the woods.
If you plan on shuttling, leave a car at the bottom of Mill Creek Road, 6.5 miles up Highway 12 on the left. Drive back on Highway 12 toward Lolo for about two miles to Mormon Peak Road, then continue 8.3 miles up the road to the trailhead.
To ride it as a loop, park at Mill Creek Road and follow the same route as you would in a car to the trailhead. Mill Creek Trail starts three-fourths of a mile up Mormon Peak Trail and ends just up the road from the car.
If you're feeling extra adventurous, continue three miles up Mormon Peak Trail to the wilderness boundary on Carlton Ridge. You can leave your bike there to continue on foot, or zip down to the Mill Creek junction. Just don't forget to enjoy the views before you reach the bottom. //