Sponsored By Ski the NW Rockies Association Resorts 
Spring Season Pass Surprises 
Mt. Spokane's spring pass sale gives early-birds the lowest price on season passes of the year until May 31. And if you're a current passholder renewing for another year, you save $40 off of these prices: adult (18-59), $449; youth (7-17), $349; senior (60-69), $349; super senior (70-79), $309; midweek, $349. Mt. Spokane is also kicking off a Pass + Five deal that includes five lift tickets for the current season for new passholders. 
Silver Mountain's pass sale starts March 1, offering new passholders the opportunity to ski the rest of this season for free with their pass purchase. Silver is also now part of the Powder Alliance, and the resort is offering three free tickets at 17 other participating resorts (plus lodging deals) with the purchase of a Silver Mountain season pass (excludes midweek, ride only, and kids under 6).  
At Lookout Pass, your 21/22 season pass purchase in March lets you ski or ride through the end of the season plus all next winter. With a massive snowpack, Lookout hopes to stay open through the third weekend of April too. Get the lowest price of the year on a season pass during the spring pass sale that lasts through April 30, 2021: adult (18-61), $319; youth (7-17), $239; senior (62-69), $239; super senior (70-79), $179, and midweek (non-holiday), $249. Lookout's 21/22 season passes are available for pickup and to start using anytime in March 2021. 
Spring skiers and riders are rejoicing at the news that 49 Degrees North is launching a new Spring Pass alongside the resort's usual season pass and relatively new combo pass that covers 49 and Silver Mountain. The Spring Pass, only $149 for adults and $129 for youth, is available March 1 and is valid for all days of operation through the end of the 2021 season, April 11. There is also the option to upgrade and apply the full cost of the Spring Pass to a 21/22 season pass (upgrade by April 11 for full credit or $100 off a season pass purchase after April 11). All new 21/22 season passholders that purchase their pass this spring will also score a free Spring Pass good for the remainder of this season. 21/22 season pass prices during the spring sale are $429 for adults or $299 for youth through May 4. Check out pricing for other pass categories online.  
Use Your Pass from Somewhere Else to Ski Lookout Half Price 
If you have a valid season pass to any other ski resort in the country, including Icon, Epic, Powder Alliance, and others, you can use it to score a half price adult or youth lift ticket at Lookout Pass this spring. This awesome offer is valid midweek in March and any day in April. No reservations are required, just show up at the ticket window with your valid season pass from another ski area. 
Spring Skiing for a Good Cause at 49
Close the season out with spring skiing and riding for a good cause at 49 Degrees North. Spring Week is a chance to head up to the mountain for a great price, with tickets only $30 for adults and $20 for youth with a donation of one food item to benefit the Chewelah Food Bank. More details at Ski49n.com. 
Hawaiian BBQ & Cardboard Boxes Invade Lookout
As Lookout Pass gets ready to send winter season downstream, what they are billing as a "responsible spring rally party" will get underway on the back deck April 11. Jimmy Buffett tunes will be blasting and barbeque and cold brews will be up for grabs as competitors and spectators get ready for the Cardboard Box Derby at 2 p.m.
To participate, make something you or your kids can slide down a short section of trail on using only cardboard, duct tape, paint, and markers and get ready to slide down the mountain and pray your contraption holds together longer than the others. Awards will be handed out for the most unique and best theme. Details at Skilookout.com. 
Ski or Ride, Bike, & Run at Silver's Leadman Triathlon April 17 
The 17th Leadman triathlon is happening April 17. Leadman is an exciting individual or team competition for those who prefer a rowdy adventure course and might be a bit softer than the traditional Ironman athlete. Ski/board, bike, and run your way to the finish line at Silver Mountain Resort's Gondola Village.
Come on out for a real thrill or to just enjoy the festivities of Leadman day at Silver. 100% of the net event proceeds benefit community projects sponsored by the Kellogg Rotary Club. 
RESORT NEWS
49 Degrees North to Install Longest Lift in Washington  
Chewelah, Washington's, 49 Degrees North recently announced some exciting news: a spring 2021 construction start on a new Doppelmayr high speed quad chairlift that will replace the existing Chair 1 (Bonanza). "With a ride time of just six and half minutes, the new lift will cut transport time to less than half of what it is currently," says director of skier and rider services Rick Brown. The new lift will transport guests up the mountain much faster, which means "less time sitting on a chairlift and more time skiing or snowboarding," he adds. The high-speed quad will also provide easier loading and unloading for all guest.
An undertaking of this magnitude has been years in the making, explains general manager Eric Bakken. "We want to thank our guests for their continued support and enthusiasm throughout the years and look forward to continuing to provide truly memorable mountain experiences for all. We would also like to thank the U.S. Forest Service for their support and partnership in making this vision a reality," adds Bakken.
Doppelmayr is the largest supplier and installer of chairlifts worldwide and operates production plants as well as sales and service centers in 50 countries. To date, they have built more than 15,100 installations for customers in 96 nations. 49's new 900 HP lift will be the longest in Washington State at 6,644 feet, over a mile and a quarter in length, and is planned to be ready by the start of the 2021/22 season. Follow the progress of this exciting project on social media.
Mt. Spokane Requests Funds to Replace Aging Chairlifts
Mt. Spokane Ski & Snowboard park has submitted a request for state funding to replace the 65-year-old chair 1 and 50-year-old chair 2 at Mt. Spokane. Escalating maintenance and repair costs have exceeded $500,000 in the past three years, creating a major financial burden, and lift shutdowns have also become a more frequent occurrence. The solution proposed by the mountain is to replace both lifts with triple passenger lifts that would add 1/3 more capacity. Moving more people more safely up the mountain with fewer interruptions would be a huge upgrade, says Mt. Spokane Ski & Snowboard Park general manager Jim van Löben Sels. The first of the lift replacements could, if all goes well with funding and construction, the first of the lift replacements could potentially be operational by the beginning of the 2021/22 season, he says.  
The proposal for replacing chairs 1 and 2 at Mt. Spokane also raises the exciting possibility of bringing lift-assisted mountain biking to the mountain. Replacing the lifts "will be a community asset that will also help us move into more summertime operations and expand our ability to serve the mountain biking and hiking communities and offer a wedding program on the mountain as well," explains van Löben Sels. "It will really make us much more viable because we can transport bikes up on these new lifts in the summer," which, van Löben Sels adds, will also help cut down on traffic from people driving to the top of the mountain.
Mt. Spokane Bids to Bring Bear Creek Lodge into Public Hands
The historic Bear Creek Lodge just outside the state park boundary on the way up to Mt. Spokane could become an iconic park gateway if a state funding proposal and partnership by Mt. Spokane and Washington State Parks gains traction. The lodge could be improved to serve as a needed location for providing state park administrative services such as Discover Pass purchase requests. An updated lodge could also provide the type of guest services the ski area can deliver, such as food and beverage services and event space opportunities, says Mt. Spokane general manager Jim van Löben Sels. "This would be an incredible addition to Mount Spokane State Park if the funding comes through," he says. 
Adding Bear Creek Lodge as part of the state park would bring an additional 106 acres to the park, including the lodge and tubing park, parking space, and opportunities to enhance trail access opportunities for hiking, mountain biking, snowshoeing, and other recreational user groups in the future.  
EVENTS IN MARCH
Banked Slalom Snowboard Race at Silver March 6 
Come race your snowboard through a banked slalom course in Silver's terrain park. The 6th annual Doug E Fresh Banked Slalom race is a benefit for the
Doug Johnson Memorial Fund. Doug was a loving father of 4 children and a fixture of the inland northwest ski and bike industry. His early passing has left a void in the local mountain culture, so this event is to remember and celebrates Doug's way of life.  
A Snowboard-only race against the clock through a hand-built banked course, this jam-format event gives contestants two timed runs each, with the fastest time counted. The beer garden at the bottom of the course is once again sponsored by Grand Teton Brewing.
St. Paddy's Day Cheers & Kids Treasure Hunt
Wear your green and enjoy a pint in the pub to celebrate St. Patrick's Day at Lookout Pass March 17, and then help your kids find a pot of gold at the treasure hunt for kids up to age 12. The kids' treasure hunt will include one treasure chest hidden on or near a green slope, one chest hidden on or near a blue slope, and one hidden along a black slope. Details at Skilookout.com.
Toyota Ski Free Fridays Happening in March
If you own a Toyota, Scion, or Lexus, head to these local mountains on the designated Ski Free Friday for that particular resort and you'll score a free lift ticket for the day (one ticket for drivers only). Tickets are limited so reserve yours in advance online and follow each resort's policy for turning your reservation into a lift ticket.
March 5 at Silver Mountain. Look for representatives from Toyota in the parking lot to claim your free ticket.
March 12 at Mt. Spokane. Bring proof of your lift ticket reservation with you and look for the Toyota representatives near Lodge 1 to claim your lift ticket before 1 p.m.
March 19 at Lookout Pass. Show up in your Toyota, Lexus, or Scion and get one free lift ticket for you (the driver) for the day. Look for the Toyota tent in the parking lot.
Toyota representatives will be in the parking lot at each resort for each event under a Toyota tent and will be handing out lift tickets to only one person per eligible vehicle, which would be the driver.  No funny stuff, Lebowski.
Women's Ski/Snowboard Clinics at 49 & Mt. Spokane
Women skiers and riders have two options in March to participate in highly popular women-only skills clinics. On March 15 at 49 Degrees North, the Mastering the Mountain Series/Women's Ski & Ride Club offers intermediate or advanced skiers and snowboarders the chance to build on skills with other women in a positive environment. The clinic runs 11:30 a.m.-1:30 p.m. and the cost is $59, with registration required by calling 509.935.6649 (x610). Mt. Spokane is hosting its second women's group clinic (the first one sold out) on Friday March 12. Led by the best female instructors on the mountain, the day includes three hours of instruction, morning coffee, lunch, and great door prizes. Participants are grouped by skill level in small pods. The cost is $79, with skiers and snowboarders welcome (equipment not included). Pre-registration online is required. 
Snowskates to Descend on Lookout Pass & Silver Mountain 
Snowskaters will ride Rolling Thunder, the winding natural halfpipe at Lookout Pass, for the 7th Annual Boyd Hill SortaNatural Banked Slalom competition March 6. A 20-year-old invention native to the Inland Northwest, the snowskate is a hybrid skateboard/snowboard that has two decks and no bindings, with the addition of a leash. The boards emulate the flow of skateboarding but on snow.
In 2009, Bryce Rich and Todd Delyea saw the need for a local snowskate manufacturer, so they partnered with TJ Sneva of Sneva Manufacturing in Spokane to build the first Boyd Hill Snowskates (boydhill.com). The annual two-day event showcases Lookout and Silver, promotes the sport, and features the Boyd Hill brand. "In snowboarding," says Rich, "banked slaloms are legendary events. We wanted the coolest banked slalom that made sense for snowskating."
And the terrain park at Lookout is the perfect place for the event, says resort marketing manager Matt Sawyer. "Rolling Thunder is a long, winding natural halfpipe leftover from the mining days in this area.  When it fills with snow, it creates an awesome banked slalom course, which is key for this fun and memorable event."
On March 7, snowskaters can then head down to Silver Mountain for Monday Fun Day where they can ride the course from the Doug E. Fresh Banked Slalom event the day before. Snowboarders and skate boarders are particularly drawn to snowskating, but because of its easy technique and simple design, the sport is a great fit for anyone. Spectators are also encouraged. "It's a spectacle, that's for sure," chuckles Rich. Register at boydhill.com and check it out on Facebook and Instagram. (S. Michal Bennett) 
Sponsored By Ski the NW Rockies Association Resorts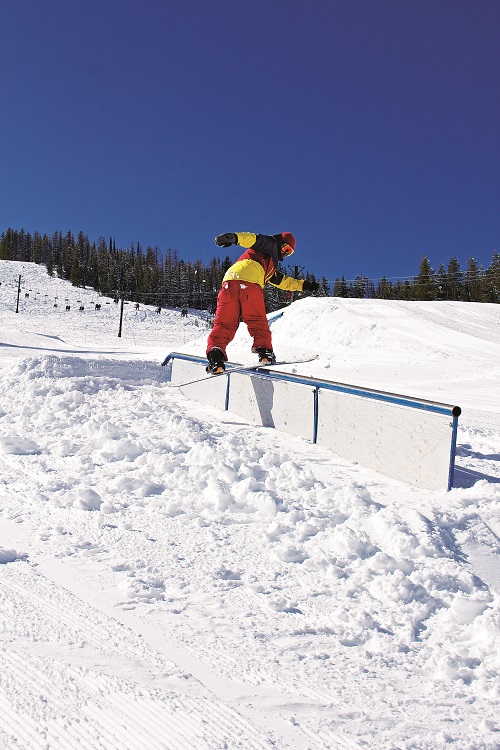 [Feature photo: Mt. Spokane's aging Chair 2 could soon be Replaced with a triple chair. Photo by Bob Legasa, courtesy of Mt Spokane.]