It's that time. Time to get out to your favorite summer spot. Time to make a weekend of it. Time to toast the great Northwest outdoors with a cold one. Unfortunately, most excellent craft beers come in glass bottles, and the brewery next door only offers glass growlers. Not the safest, easiest or even sometimes legal options for the lake, river or trail. What to do? Here are a few ways some of our local breweries are serving up backcountry and river-and-lake friendly beer containers this summer.
Plastic Nalgene Growlers
In the late 1800s, a growler was a small galvanized pail filled with beer from the local pub that patrons carried home to enjoy with dinner. Today, most breweries offer beer-to-go in 64 oz. (growler) or 32 oz. (grunt) glass containers. But not everyone.
Slate Creek Brewing in Coeur d'Alene is all about outdoor pursuits. Local owners, brewers and brothers Jason and Ryan Wing grew up outside in the Northwest, so their decision to sell Nalgene growlers and grunts was a natural extension of their active lifestyle. "Legally," says Jason, "you can't bring glass on the river, and we wanted to reduce the amount of glass being put out there." Their square, hard plastic growlers have become highly popular with regulars, even though they are clear. "Beer shouldn't be in that thing long enough to be affected by light anyway," chuckles Jason.
This summer, Slate is also running a contest for fans of their beer and the outdoors: adventure with your Slate Creek plastic grunt or growler, post an Instagram picture, and they will select a monthly winner to receive a grunt fill a week for a month. See their Facebook page for more details.
Growler Bags
A slightly different approach is the Flexi-Growler, a beverage pouch that stores flat and can fit into a smaller space, whether full or empty. An "oxygen scavenging" cap and non-transparent materials preserve freshness while eliminating light and residual air.
"I have been fly fishing with my dad since I was little, and it was always a rule to not bring glass with you camping or on the water," says Emily Schwartz from River City Brewing. "Flexi-Growlers are relatively inexpensive to manufacture and are a great substitute for glass growlers," she says. Look for River City to start carrying either Flexi-Growlers or a brown plastic 64 oz. growler sometime this summer.
Stainless Hydro Flask
On the higher end of the spectrum, double-wall, vacuum-insulated hydro flasks are a great way to keep beer cold and carbonated for a longer period of time (they claim up to 24 hours!). Made from 100% recyclable materials and food-grade stainless steel, this premium bottle prevents bacteria build up and reduces unwanted odors and flavors. While they run in the $40-$80 range, the investment can be worth it, even if just for the pure insulated joy. Find hydro flasks at Laughing Dog Brewing (Ponderay) or Pilgrim's Market's Beer Tap Station (Coeur d'Alene).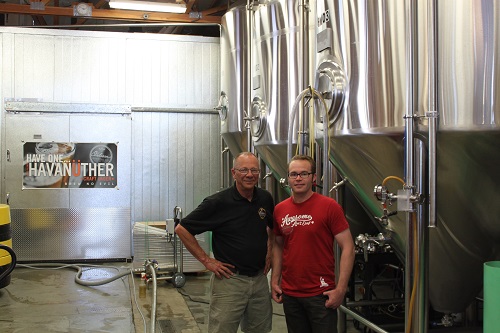 Cans
Cans are less expensive than bottles, chill more quickly, are more durable, open easily, are recyclable and are lighter for packing. If this wasn't enough, they also eliminate exposure to light, reducing oxidation, enhancing carbonation and keeping the brew fresher longer. Modern cans are lined with a special coating that protects the beer from the aluminum and unwanted metallic tastes too. There are even some who say that canned beer tastes better than bottled.
In late May, Orlison Brewing canned a new addition to their lineup of lagers: Pilsner 37. The brewery reverberated with the clamorous noises caused by Northwest Canning's massive first-of-its-kind mobile canning machine, which pulled up, opened its trailer doors, ran hoses to the tanks and was stacking pallets of full, sealed cans faster than a fraternity could chug them.
"It is significantly faster and picks up less oxygen," says Justin Brandt, who began Portland-based Northwest Canning (NWC) with Arne Hakanson in 2011. NWC also provides canning services to Laughing Dog and Crooked Fence and are looking forward to seeing more breweries in the area choose cans.
The owners of Spokane's Spokes Mobile Canning, Amanda Mead and Abbie Speer, have been operating their state of the art mobile canning equipment since February. "We have a pretty nice, fast machine here, and we love it," says Mead. They will be canning for Yakima Craft Brewing (Yakima), Whiskey Barrel Cider (Pullman), Laughing Dog (Ponderay), Slate Creek (Coeur d'Alene), Draught Works (Missoula) and 406 Brewing (Bozeman). //
Michal's Local Canned Picks:
Whiskey Barrel's Natural Cider (refreshing with bite, similar to dry white wine).
Schilling's Original Hard Cider (semi-dry and crisp).
Laughing Dog's India Pale Ale (big, bold hops).
Orlison's Pilsner 37 (NW style hoppy pilsner benefitting Team Gleason).