For decades, vans of all types have been a popular tool for outdoor adventure seekers. A van can get you and your gear out to where the fun is; give you a warm, dry place when you get there; provide a place to cook, sleep, and make memories; and enhance your adventure. In recent years, the adventure van has soared in popularity. Whether it be a fully-outfitted 4WD "overlanding" van, a self-built van with the basics, or anything in between, the appeal of "van life" is irrefutable. The Inland NW presents a tremendous amount of outdoor adventure opportunities, and a van is a great way to make the most of them. You can get in on the van life craze (if you're not already there) through adventure van rentals or going for a full custom van build. There are several companies in the Inland NW that would love to help you build out your own van or rent one of theirs. Here we feature a few of the local entrepreneurs that have turned van life into a way to pay the bills doing something they love.   
Making Van Life Dreams Come True
On the 6800 block of east Sprague in Spokane Valley, in a tidy commercial complex, you will find the headquarters of GustoVans. That's where GustoVans head honcho, the one and only Mike "Gusto" Gustafson, does his van magic. After a few minutes of talking with Mike, what may strike you is his enthusiasm for his business and his love for his beautifully-crafted creations. During our conversation, it was refreshing to hear Gustafson's eagerness to please his customers, whether it be with one of his spec or custom vans, a commercial upfit van, or with one of his gorgeous rental vans.
Gustafson has a background in RV repair and a long career in Aerospace manufacturing—both show in the quality of construction and the choice of products and materials he uses and how they are installed. I was extremely impressed at the quality, level of fit and finish, and how well thought out the builds on these rigs are. In 2020, Gustafson cashed in his chips and chose to jump feet first into the adventure van game and GustoVans was born.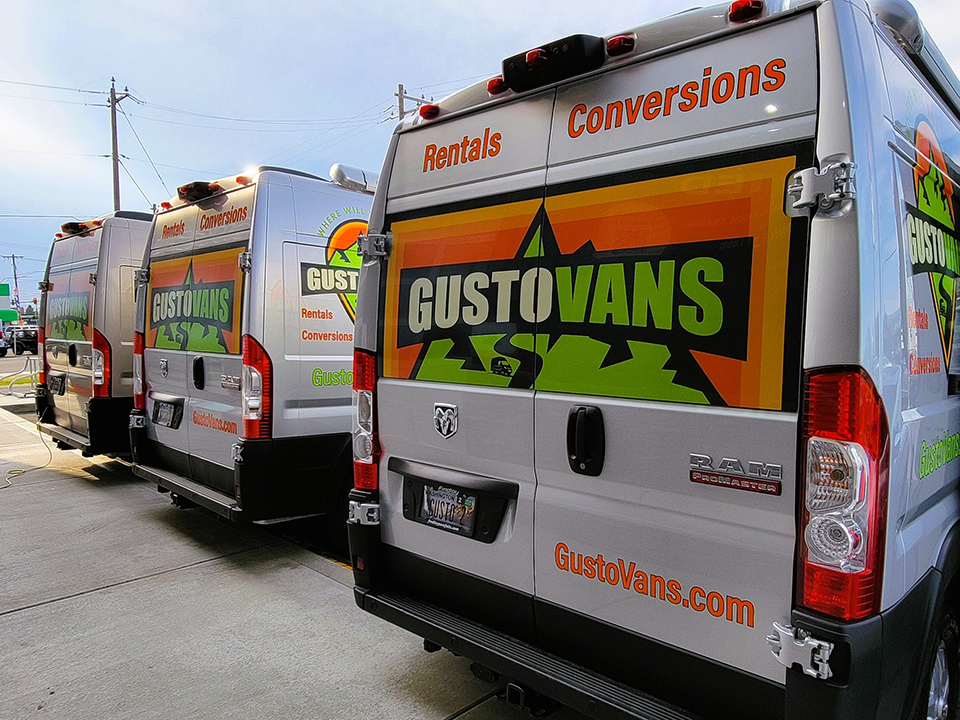 GustoVans Rental Adventure Vans
If you have not had the opportunity to experience how much fun and practicality an outfitted van can add to your adventures, give one of GustoVans' rentals a try. GustoVans currently maintains a fleet of three custom vans for rental. Built on a Ram Promaster chassis, these vans provide comfort, practicality, and safety, all in a manageably-sized package. On the outside, the vans look very much like any other Ram Promaster. (Though they are, of course, adorned with large GustoVans graphics.) It's inside the van where you see what goes into one of these beautiful builds. From tip to tail, every inch of the van has been designed and equipped to give you a fun, hassle-free, comfortable experience. Every look inside reveals some comfort or practicality you wouldn't expect in such a compact package.
Imagine being at the trailhead or your favorite ski hill: you wake up from a restful night of sleep in the custom, full-size mattress, cozy all night from the Espar heating system, which provides not only heated air and water, but a heated floor. The heating system runs off fuel from the van's fuel tank, so there's no need to handle or be concerned about dealing with propane. That heater will never run the vehicle out of gas, as it is set up to never use more than 2/3 of a tank. Set your feet on that warm floor and cook yourself some breakfast. GustoVans' rental vans feature a large refrigerator and freezer, microwave/convection/bake/broil oven, two-burner induction cook top, deep sink, 20-gallon freshwater tank, and are equipped with all the utensils, plates, pots pans, etc. you will need on your next adventure. (The GustoVans website has a complete list of all the goodies that are included with the rental.)
The vans also feature swiveling driver and passenger seats, as well as additional seating and a convertible table to create a cozy indoor dining area. When nature calls, the van features a hidden semi composting toilet, which means no smell and also no "black water" waste tank to ever worry about. The features are almost too many to list. Everywhere you look there is LED lighting, usb charging ports, bedside reading lights, privacy window covers, and tons of storage for all your gear, including a 12' long walk-through large enough for kayaks and bikes.
If you're impressed with the inside, the exterior is also notable. The outside of the van features a large Fiamma self-supporting awning and an outdoor shower, both of which I can tell you from experience are very welcome luxuries at the end of a dusty day on the trail. While the impressive heating system is fueled by the van's gas tank, everything else is electric. The vans feature a sophisticated solar charging system with state-of-the-art batteries. The batteries are also charged any time the van is running. This system creates enough electricity to power all the lights, the refrigerator, oven, range top, etc.
All these features are fitted into the interior of these vans with amazing attention to quality in the choice of materials and beautiful fit and finish. Stop by GustoVans and look for yourself. Rental vans are available for four-season adventure travel through the U.S. and Canada. Check out the GustoVans' website for pricing and availability.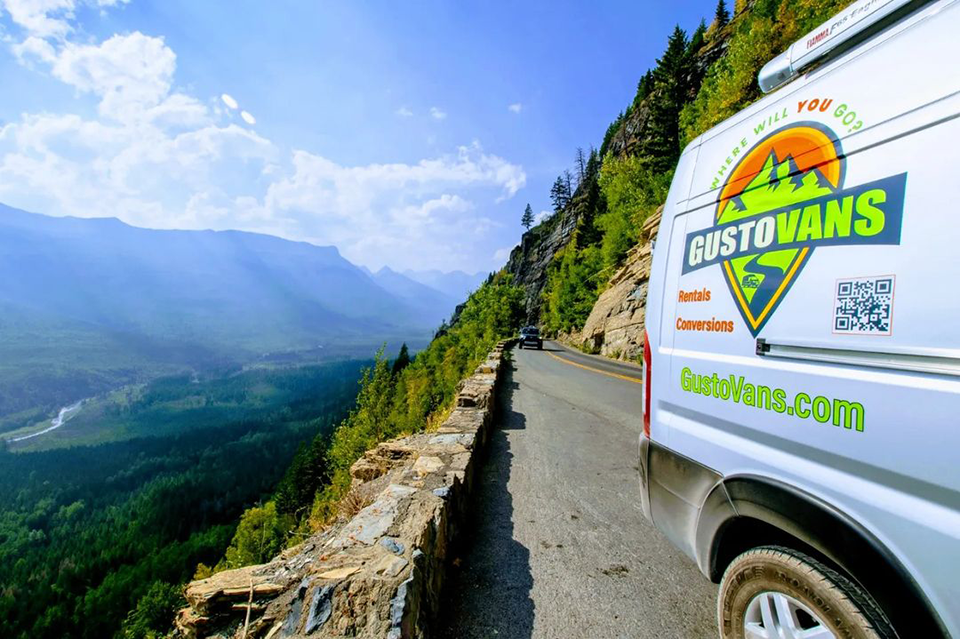 Custom and Spec Van Builds
Are you ready to take the leap and get your very own adventure van? GustoVans is ready to build you the van of your dreams! GustoVans offers their "spec" van, which is essentially outfitted the same way as their incredible rental vans. The spec vans represent the greatest value, as all the research and fitment has already been sorted out, so they require fewer hours of custom fitting and design as compared to a full custom build. To test a spec van, you can rent a van and try it out and decide if the layout is good for you.
If you want a full custom build, GustoVans is up for the challenge. The only limits are your imagination and your pocketbook. Gustafson can design and equip a van for your exact needs based on the Mercedes Benz Sprinter, Ford Transit, or Ram Promaster chassis.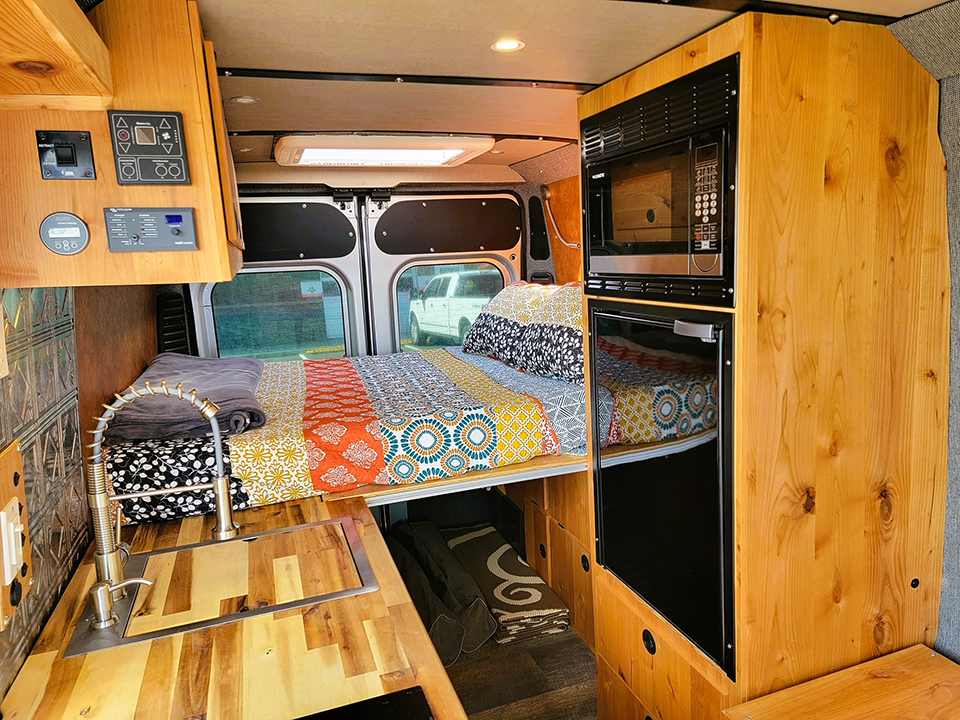 Adventure Van Products and Services
If you are already a member of the adventure van community, GustoVans offers a wide range of products and services to enhance the capabilities of your current rig. Everything from solar systems, furnaces, battery upgrades, vent fans, awnings, windows, tire carriers, racks, boxes, bumpers, brush guards, extended fuel tanks and more can be installed with the same quality and attention to detail as goes into GustoVans' spec and custom vans.
GustoVans' list of vendors reads like a who's-who of adventure van products: Battle Born batteries, Renogy, Victron, Aluminess, Owl Vans, Espar, Webasto, Fiamma, Air Max fans, and Flare Space are a few. GustoVans has also branched out to provide upfitting services for commercial vans, including ladder racks, dividers, storage bins, and much more to make your work van more productive.
Whether you are in the market for a turnkey adventure van, modification or outfitting of your current van, a van rental for a weekend or extended vacation, or even commercial upfitting for your business van or fleet, GustoVans has you covered. Swing by the GustoVans HQ and say hello to Mike "Gusto" Gustafson! More info: Gustovans.com.
Inland North Westy Adventure Vans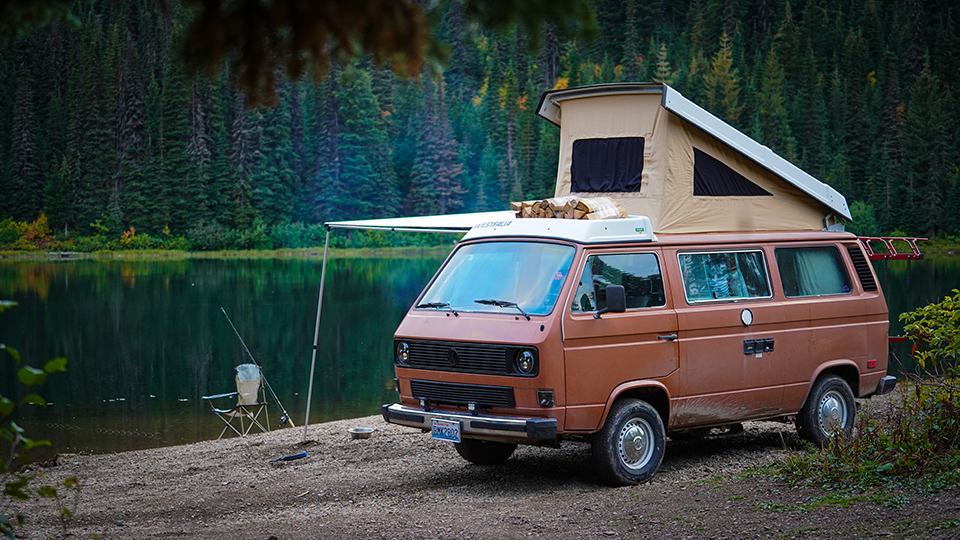 In the world of adventure vans, there is none more iconic than the venerable Volkswagen bus. Since the 1950s, the ubiquitous VW bus has been carrying people from around the globe on every type of adventure imaginable. It's difficult to deny the sunny personality of these vans, and almost impossible to drive one without a smile on your face.
There have been several generations of Volkswagen's original rear engine-rear drive layout. This layout creates a vehicle that is compact on the outside yet spacious on the inside, perfect for setting up as a camper. This fact has not been lost on countless conversion companies and adventure-minded folks over the last seven decades. VW last offered the original rear engine-rear drive layout to its U.S. customers in the 1992 VW Vanagon. Over the last 30 years, the Vanagon has continued to be tremendously popular among adventurers. As the demand has grown, the supply of solid, buildable examples has continued to decline and subsequently the cost has skyrocketed.
Enter Brandon Osusky. Brandon is a lifelong VW fan and co-owner of Europro Automotive in Spokane Valley. Brandon's love of things VW is a family tradition, introduced by his father and business partner Sven Osusky, who is also a VW aficionado and master tech. Like many of us in the "van life" community, Brandon watched the initial cost of these VW buses climb into the stratosphere. With that in mind, Brandon set out to create a business that could provide that unique and smile-inducing experience of a VW bus without having to take on the high cost of owning, maintaining, and upgrading a 30-year-old van. Inland North Westy Adventure Vans was born.
Inland North Westy vans begin life as solid VW Vanagons with the legendary Westfalia camping package and undergo a complete mechanical transformation. Each van is carefully brought to mechanically-modern specifications, including a new modern engine, rebuilt transmission, upgraded braking and suspension systems, all-terrain tires, and even cruise control. Vans will be available with either manual or automatic transmission. Every inch of these vans is inspected, and anything suspect is repaired, rebuilt, or replaced. The Westfalia interiors receive a similar treatment. The inefficient Westfalia refrigerator is replaced with a modern 12v refrigerator or 12v cooler. Modern instrumentation and sound systems are also installed. Collectively, all these changes create a vehicle with modern reliability and efficiency while maintaining the experience of driving and camping in the iconic VW Westfailia camper van.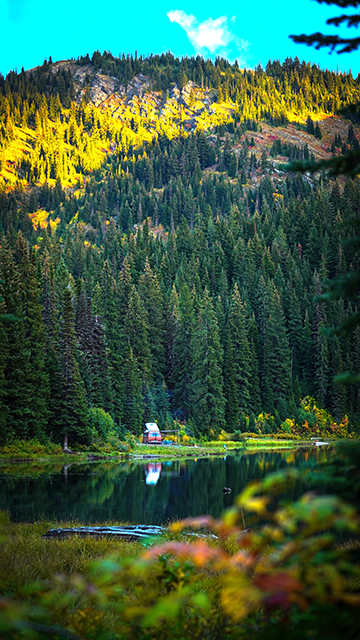 Inland North Westy Adventure Vans is so confident in their vans' reliability that they are available for travel throughout the U.S. and Canada. (When you rent, check for specific state and province and/or mileage restrictions before renting). The vans come fully equipped for your desired adventure too. Items like bedding, pots and pans, and utensils are included in the rental price, and other items can be added on for an additional fee. The vans even include their own Polaroid camera to capture the memories in an appropriately retro fashion. Bikes, canoes, kayaks, and their respective rack systems can be added to maximize the adventure.
Inland North Westy Adventure Vans is currently gearing up for what they are calling a "soft" opening season. They are supplying vans to friends and relatives to work out any potential remaining bugs and ensure that the vans are 100 percent ready for adventure. Beginning in the spring of 2024, Inland North Westy Adventure Vans will be available for rental from May through November. Rental rates are expected to be $240 per day with discounts on rentals of six days or more.
Speaking with Brandon, his passion for these vans, his business, and his customers shines through. You see this reflected in the details and the desire to create an experience as unique as the VW camper itself. All rentals of six days or more include personalized trip planning and all vans include complimentary airport pick up and drop off. Fly into Spokane with your personal gear; Brandon will meet you at the airport with your van outfitted for your exact adventure. The adventure van experience has never been easier. Look for Inland North Westy Adventure Vans at outdoor shows and events in the Spokane area or find them on Instagram at inwestys_adventurevans or email Brandon at INWvanAdventures@gmail.com.
Rich Kimpel is a lifelong Inland NW resident who has been involved in the action sports community as snowboarder, skateboarder, and BMXer since the 1980s. He has been living the "van life" personally and professionally since he picked up his first VW Vanagon Syncro in 2002.