Leavenworth is more than Bavarian kitsch. Instead, it is one of the best places in the state for an active holiday – a prime location for road and mountain biking, day and overnight hiking, rock climbing, river rafting, eating and drinking, even a little tchotchke shopping.
Located about three hours west of Spokane, Leavenworth has long been known for what the local chamber of commerce describes as "Bavarian charm and Northwest hospitality." While many visit for a special Christmas outing, the real treasures of the area are the outdoor offerings.
Hiking
When it comes to hiking, Leavenworth offers dozens of trailheads leading into the Alpine Lakes Wilderness. Overnight permits for the wilderness are required between June 15 and October 15 and available daily at the Ranger Station via a lottery. Recreation Manager Mason Schuur warns not to come to the station if you're hoping for an overnight permit; you'll likely be disappointed. When necessary, permits for day hikes among the 700 miles of Forest Service trails are filled out at the trailhead.
If you are looking for some solitude, stay away from Colchuck Lake and Chiwakum Creek. On weekends, Schuur suggests the ski hill as the local favorite for close-in hiking and mountain biking. Hikes rated "easier" include 8 Mile Lake (seven miles RT) or Merritt Lake (six miles RT). Like many hikes in the area, there's a lot of uphill on the way in, and lots of downhill on the way out. Those looking for more of a challenge might try the Alpine Lookout (10.5 miles RT), Minotaur Lake (6.5 miles RT) or Stuart Lake (9 miles RT), each rated "difficult."
Biking
A Strava or MapMyRide search can work for both road and mountain biking. Bicycle shops Das Rad Haus and Eurosports can help narrow the choices with expert local advice. The most common road ride might be Icicle Creek Road with a round trip of about 24 miles from the highway. If you bring your cross or gravel bike, you can keep going once the pavement ends, but the paved route will not disappoint.
A popular 50-mile road loop leaves Leavenworth for Plain, over a steep climb and equally steep and windy descent that returns to Leavenworth via US 2. The final miles into Leavenworth are along a narrow, twisty shoulder where even expert cyclists might be unnerved by the traffic. The scenery is spectacular with the river rushing along stark canyon walls, but many will prefer that view from a car. Other roads around Plain lead up to and around Lake Wenatchee and nearly traffic-free riding.
Some hiking trails allow mountain bikes, but if they do, they may also allow horses and dogs, so be on the watch. No bikes are allowed in the wilderness. Two mountain bike destinations include nearby Stevens Pass (chairlift up, bike down) and Devil's Gulch near Cashmere, a 24-mile loop of fire roads and singletrack with 4,000 feet of climbing and descending. Dogs aren't allowed but you may encounter horses and motorbikes. The route is appropriately named and not for the faint of heart, leg, or lung.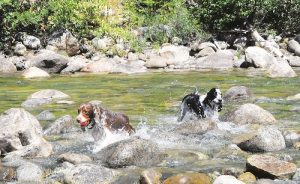 Watersports
When it comes to watersports, there are several rafting guides located in Leavenworth with a wide variety of floats on the Wenatchee River, many of which include food and music to accompany Class III and IV rapids. Local river outfitters include Osprey, Blue Sky, and Alpine. For those who want something a bit more placid after a hot day, the river through town offers a pleasant float on an inner tube or stand up paddleboard.
Out on the Town
After a day of riding, hiking, rafting, or tchotchke shopping, food and drinks are essential. Leavenworth's dining choices span the Bavarian, American, Asian, Mexican, and Italian palates. There are at least eight wine tasting rooms featuring regional wines, and there are two local breweries, Icicle Creek and Doghaus. Icicle Creek's 12 varieties are brewed with water from the namesake creek, along with regionally sourced hops, malts, barley, and yeast. Whatever you do outdoors, you can do it from the Bavarian basecamp that Leavenworth provides. Leavenworth.org. //