Whether it's awakening early enough to be at the mountain by 9 a.m., keeping track of and carrying one's own gear, or standing up from a precarious fallen-down position without assistance – these types of challenges help children acquire essential skills such as responsibility and perseverance. But also much more. I've brainstormed more than 20 attributes my children have learned from skiing, and two of them are also the latest buzz words in education today: grit and resilience, two indicators of future success. Grit is a "special blend of passion and persistence," according to psychologist and author Angela Duckworth. Resilience means the "process of adapting well in the face of adversity," according to the American Psychological Association.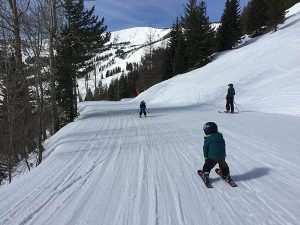 This ski season feels like a breakthrough for my 5-year-old daughter in terms of her endurance and the adventurous risk-taking we can now enjoy as a family. My daughter skis more runs, longer runs, and is no longer afraid of "lumpys" (our family nickname for the dips and jumps along the edge of runs, like those found near chairlift towers and trees). We have even skied a darkened run together with just the shine from daddy's headlamp. She goes down intermediate runs with ease and confidence, and she's completed black diamond runs without complaints. She rarely cries when she crashes, and even once said, "Do not try this at home," after a skiing-backward face plant into the snow. After her ski legs nearly did the splits, I asked if she needed help to stand. "Nope," she said, "I've got this."
My daughter has developed grit and resilience. She has always been a determined, tough girl – no doubt a benefit of having a slightly older brother. But her greater independence and confidence, persistence and passion for skiing, and adaptability to challenging weather and snow surface conditions have made me delightfully wonder, "Who is this child of mine?" Because 3 years ago, she was the one who defiantly arched her back in toddler-tantrum style, wanting to "get off the chairlift right now" when we were not yet at the unloading ramp. She slipped off the chair, but my firm grasp of her back harness handle saved her from falling to the ground. I looked at my husband, who was waiting at the top of the hill with our son, and signaled that our daughter was "done" for the day. He skied back to the lodge, carrying her. We had only been skiing for about an hour. Another time, after getting geared up, my daughter took six steps outside the lodge and said, "I don't want to ski. I just want to play in the snow." Even the promise of fruit snacks couldn't persuade her otherwise.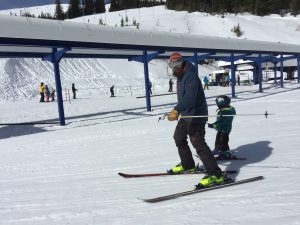 Yet every ski season thereafter, we kept encouraging and helping her develop a "growth mindset." One-on-one "ski dates" with Daddy in particular helped her bloom into a more skilled and confident skier. This year she's making parallel turns and hockey stops, spraying me with snow. If my daughter can learn to ski and love it, I know any girl can.
Many outdoor pursuits teach and instill grit and resilience, whether it's biking, backpacking, camping, or canoeing. In combination, year-round family recreation in the great outdoors helps our children grow into the adults we want them to be, ready to face challenges both large and small for the rest of their lives. //