When I first discovered Kind Apparel, I'll admit I was overwhelmed by the bright patterns and funky designs. I found a feathery, purple-gray running skort that was by far the tamest pattern available. When I looked closer, as if to poke fun at my attempted modesty, the tag revealed that the pattern was called "50 Shades." The humor set me thinking beyond the product: Why had I ever bothered trying to blend in, choosing neutral tones over a pineapple-mango colored dress that made me smile?
I met Mallory, the creator and founder of Missoula-based Kind Apparel, when I purchased the 50 Shades skirt that day. She was savvy and cool, even in the heat of the July marathon expo, and I realized I wanted to spend a lot more time talking to her. After returning to Spokane and hiking in my new Kind Apparel skort, I wanted to write the woman some fan mail—this skort was a breakthrough.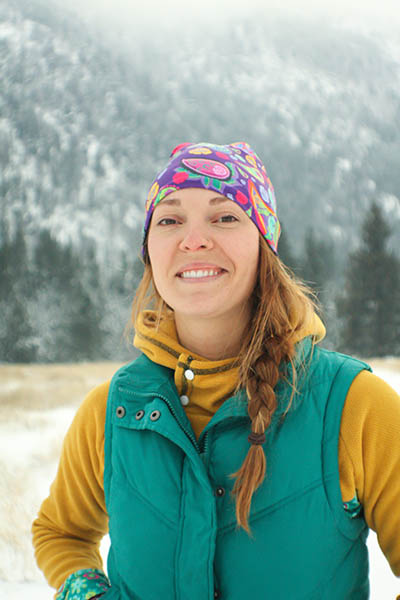 Suddenly, I was wearing 50 Shades from the bluff to the brewery to a post-hike movie night at a friend's house. The skort was flexible, breathable, and insanely comfortable. Not only did I bypass having to change from running tights to jeans for different activities, I soon found excuses to wear the skort when I had no outdoor recreation planned for the day. I wore it to the grocery store, to the coffee shop, and on road trips. Gaining confidence in my skort was just the beginning of celebrating femininity in the outdoors and shortening the time spent between life tasks and getting outside. I knew then that Kind Apparel was a company I wanted to explore and share with others.
For founder and owner Mallory Ottariano, Kind Apparel is more than an outdoors-oriented clothing company: it's a philosophy. It's a practice of being kind to the planet, kind to your body, and kind to the people around you. It's about being one of a kind. It's about sharing color, adventure, and a sense of community by creating adventure-ready wearables for women who get after it.
"Kind Apparel is for everyday women crushing their everyday goals," says Mallory. "I think that is translated into the outdoors through inviting confidence with my clothing."
With Kind Apparel, you can be confident in breathable, durable, do-anything fabric that's good for the planet and stands out from the crowd. Most clothing from Kind Apparel is made from recycled water bottles, an eco-friendly component that's packed with purpose.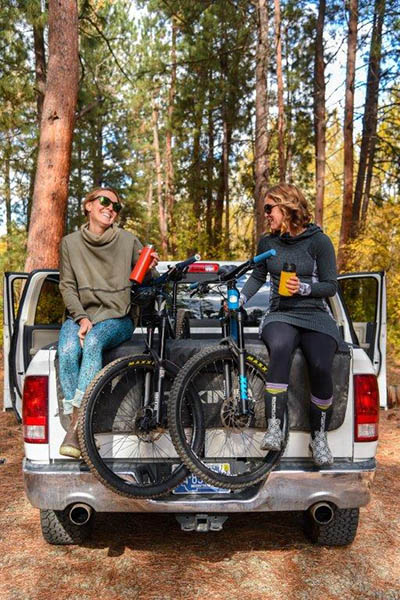 "Every one of my prints is also inspired by the natural world, just to keep that connection alive," says Mallory.
Working with a unique printer in Phoenix, Mallory is able to take her outdoors-inspired sketches, digitize them, and have them printed in small batches on recycled material that fits the need of her small business.
"I love to be able to create exactly what's in my head instead of having an idea and then having to shop for a fabric that matches that idea," she says.
The roots of what would grow into Kind Apparel started in her parent's basement, but that's about as cliché as Mallory gets. She's grown from upcycled thrift shop clothing creations to completely custom fabric, and she isn't stopping there.
"The difficult component is that I have more ideas for patterns than really makes sense to produce at any given time. I've already designed everything for 2019 and now I'm working toward 2020," she says.
Like Mallory, who says one of her goals has always been to stand out from the crowd, her prints are wonderfully bold. From the "Fern Gulicious" Slope Skort to the "River" Oasis Dress, Kind Apparel helps busy women get after it by wearing one outfit that will go from teaching to mountain biking to visiting the brewery.
Lately, Mallory's been getting after it—she recently won Title 9's Movers and Makers Pitchfest competition. We can look forward to Kind Apparel soon appearing in Title 9. Moving forward, Mallory is also planning to create an environmental giveback component with some limited release prints. Her goal is to continue to be transparent about all that it takes to run and grow a small company.
For now, you can find Kind Apparel online at shopkindapparel.com or at one of the events that Mallory attends personally with her inventory. For winter wear, check out the Fjord dress, great for cross-country skiing or cozying up post-ski in the lodge, and the new wool bluff, a lightweight layer good for winter running or ski touring. And yes, you too can start at 50 Shades and move your way up to bolder patterns and freedom. //