April showers have brought May flowers, and now it's time to get our legs on for another great season in the Inland Northwest. All the local bike shops have their weekly rides up and running for the season. Whatever your inclination—road, mountain, gravel, or basket bike— you'll find a group ride to fit your schedule and fitness level. Call your local shop or check out a shop you've never been to—the important thing is that you get out! Here's a line-up of local events that will help you put your hard-earned training, and spectating, to use.
Tour de Bloom (May 3-5)
This three-day stage race features a road race in the community of Plain on Friday, a Merckx-style Time trial Saturday morning, a twilight criterium in downtown Wenatchee Saturday afternoon, and a road race near Waterville on Sunday. Spectators can enjoy these rides and other Apple Blossom Festival food and entertainment events throughout the weekend.
Hilly Nilly Gravel Series (May 5, June 9)
Two rides remain in this series put on by the Coeur d'Alene Trek Store. This self- supported spirited bicycle ride series travels on pavement, gravel, mud, and dirt—regardless of weather. Distances vary as weather gets warmer and snow melts. Come prepared for any weather and road conditions. No fees, no support—just fun.
3/4 Minus Cykeltur (May 4)
Join your friends in Sandpoint, Idaho, for this inaugural timed gravel grinder to benefit Pend Oreille Pedalers. The ride begins and ends at Matchwood Brewing Company with 65 and 48-mile options, three aid stations along the way, and an after party to knock your socks off. Register at Syringacyclery.com.
Grand Depart of the Cross Washington Mountain Bike Route (May 19)
At almost 700 miles from the coast of the Olympic Peninsula to the Idaho border at Tekoa, the XWA is Washington's premier adventure bikepacking race. Go to www.trackleaders.com to watch spot tracker dots of riders from around the Northwest (including at least one Spokane rider) take on this grueling endeavor. And while you're at it, watch Spokane rider Jason Oestreicher's dot on the Bike Nonstop US, a 3,500-mile transcontinental bikepacking race!
24 Hour Round the Clock MTB Race (May 25-26)
This is the last one, so come down to Riverside Park 7 Mile Airstrip and get in on the action. If you're not soloing or taking a few laps on your friends' team, at least help them empty the keg. We are going to miss this race! Register at Roundandround.com.
Wednesday Night Mountain Bike Races (Wednesdays in May & June)
Jump in on the fun at the 7 Mile Airstrip in Riverside State Park. As long as you have a bicycle worthy of being ridden on dirt and can pedal it, you can do this! If you are a pro, it's great for training. If you are new to mountain biking or Riverside State Park, it's a great way to learn the trails and make new friends. This series features a different course every week. Nomadzracing.com.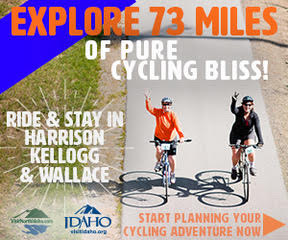 Apple Century Ride (June 1)
This 100, 50, and 25-mile ride, sponsored by the Wenatchee Sunrise Rotary, starts and finishes at the Walla Walla Point Park. It's a fun way to enjoy the beautiful Wenatchee Valley as well as support dozens of community projects. Included are support stations during the ride and a meal with live music and beer garden after.
Chafe 150 (June 15)
With a start and finish at City Beach Park in Sandpoint, Idaho, the route for this gran fondo scenic ride travels along Lake Pend Oreille and into Montana and the Cabinet Mountain river valleys. Choose from three different routes at 30, 80, or 150 miles. Participants enjoy seven fully-stocked break stops, professional support, after-ride party, and more. Organized by Sandpoint Rotary, 100 percent of all money collected from entry fees goes directly to the Pend Oreille School District's program serving children of all ages with Autistic Spectrum Disorder.
[Feature photo courtesy of the Silver Valley Chamber of Commerce.]
Story by Summer Hess and Justin Short