All of the Leave No Trace followers know that step one is Plan Ahead and Prepare, which I always do, generally in the last hour before leaving for a trailhead. That's part of the reason why I haven't spent as much time as I'd like on the John Wayne Pioneer Trail. And I confess that, the first time I went, I didn't know I needed to have an access permit instead of a Discover Pass.
Fortunately, securing an access permit just got a whole lot simpler. Rather than the snail mail process, trail users can now complete an online form for their permits. This must be done at least 15 days before the initial trip, but once the permit is in hand, it can be dated for up to a full year. This means I now have a short waiting period for my permit approval. Then, I can resume my trail use spontaneity, choosing my destination and mode of transportation on short notice—so long as I remember to bring my permit.
Once my permit application is approved, I'll be returning to the portion of the John Wayne Pioneer Trail just northwest of Tekoa. There are several other access points for additional exploration, but Tekoa boasts a particularly scenic old trestle (not usable, but quite photogenic) and is a good place to stop for some post-exercise treats. Get to the trail by turning west on Lone Pine Road just north of town. In a mile, turn south on Summer Road. The road crosses the trail here, and there's a small, wide spot with room for two or three vehicles. Part of the need for the permit system is the lack of developed trailhead parking areas, so carpool for this trip and don't block Summer Road. Look for planned trail improvements in the years to come.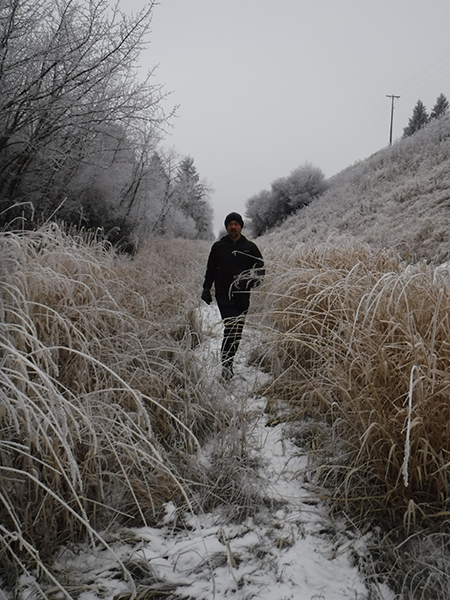 For a short hike, begin by hiking east approximately a mile to the edge of the Tekoa trestle. Don't venture out on the structure, but there is a safe vantage point for admiring the view over Hangman Creek. Then retrace your steps and consider extending the hike by continuing farther west on the trail. The trail tread is in good shape for approximately three miles before entering a boggy area with tall grasses. Improvements have recently been made to this area, affectionately referred to as "The Swamp" by regular trail users, so future visitors may have drier feet than I did following my last visit. This is a good turn-around point for an 8-mile hike. Remember the public right of way along this old rail bed is restricted to 20 feet from centerline along the trail; don't trespass on adjacent private property.
Depending on winter conditions, the trail might be snow free or it might be a better place for a snowshoe hike, Nordic ski tour, or fat bike ride. It's also a popular destination for bike tours and even boasts an annual horse drawn wagon event in the summer. Cover your bases and select all of your favorite activities when applying for your permit.
Distance: Up to 8 miles round-trip as described, although the trail extends 285 total miles across Washington.
Getting There: From downtown Spokane, travel south on US 195 to Highway 27 to Tekoa; from Spokane Valley take Highway 27 south. Turn west on Lone Pine Road just before entering town. A small parking area is located at Summer Road, the first left off Lone Pine. //
Holly Weiler is a cross-county coach and the Eastern Region Coordinator for Washington Trails Association. She writes the Hike of the Month column in every issue of Out There.