Is Spokane a Ski Town? Hometown Ski Industry Icons Weigh In
It's 7 a.m. on a cold, clear Thursday morning in January. The city's collective daily grind is well underway as the sun barely pushes over the horizon. Today, as with any other winter weekday, the commute on Spokane's freeways and city streets represents a diverse sample of people whose final destinations could ultimately be on completely opposite ends of the spectrum. Pulling up to any stoplight, you will most likely see some variation of the following: On your right, a clean-cut guy, wearing a shirt and tie, driving an Acura that's been darting aggressively through traffic toward the downtown business district. On your left side, a couple of scruffy looking dudes, wearing poofy jackets and ball caps, driving a beat-up Subaru that's been lazily following the traffic herd as they set a course for Mt. Spokane's snow-capped summit with a two-for-one Thursday lift ticket voucher.
Spokane has a complex identity that could be altogether confusing to someone passing through the city. One part regional business hub, one part working-class Western city, and one part outdoors town fully endorsed by avid skiers, bikers, hikers and anglers. To an outsider, this diverse mix would have you believe that there's something more to this town than just that which is visible from within the city itself. Looking off into the distance, it's obvious that Spokane is surrounded by mountains that are draped by winter snow. There's definitely a passionate community of skiers, from ski families and hardcore season pass holders to the occasional skiers and riders who journey to the mountains a handful of times each year. But does the proximity to several reasonably sized ski resorts and a local population of skiers and riders to support them make Spokane a ski town?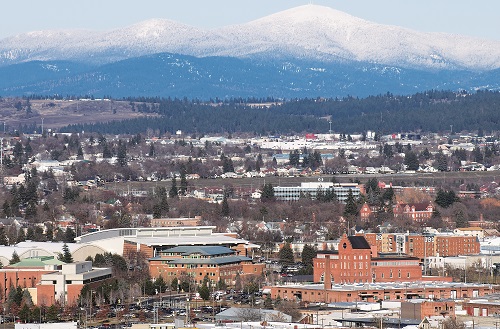 The answer to that question could be obvious to some and maybe a bit more thought provoking to others. There's no doubt that Spokane has many of the ingredients that are needed to make it a proper ski town, but the question remains; does the sum of those ingredients equate to a ski town? Some would argue that Spokane's ski vibe is now stronger and more diverse than it's ever been. Remember the guy in the Acura?  He's probably a hard-core skier too – he just kills it on the weekends.
Properly answering this question requires digging deep into the roots of the city, its skiing community, and those who represent it, all in the hopes of gaining a better perspective on what Spokane is – and is not. Cracking the nut called Spokane is never a straightforward task. You're going to need a panel of experts to weigh in on the topic and deliberately meet the question head on.
Ski magazine editors, ski movie stars, shop rats, and mountain marketing moguls –
Spokane is the birthplace of many prominent ski industry icons around the country as well as the current home to that many more. For the purpose of this story, we've assembled some of Spokane's finest ski culture reps, in the hopes of ultimately (and properly) exploring this question.
There's No Place Like Home:  Kevin Luby, SCARPA Athlete and Event Coordinator
Spokane native Kevin Luby is someone who is absolutely on the leading edge of the collective ski scene in the U.S. For the past 5 years, Luby has been carving out his niche as senior editor of "Skiing Magazine," as a freelance contributor to "Freeskier Magazine," "SKI Magazine," and "Outside Online,"and ultimately working for Scarpa, one of the world's top ski boot manufacturers. During a recent conversation with the Lewis and Clark High School grad, who now calls Boulder, Colorado home, Luby spoke positively about Spokane.
"Spokane has all the hallmarks of a great ski town: killer shops dedicated to supporting and growing the local ski community (shout out to Brian at the Alpine House), easy access to a wide variety of skiing ranging from mom-and-pop areas to regional destination resorts – all with amazing terrain, and reliably good snow," says Luby. "Plus, it's a place where whole families can ski religiously and live affordably while mom and dad maintain steady jobs. In my mind that almost makes it better than many of the more glamorous ski towns out there," he adds. As a grom racer who grew up on the local hills, Luby is stoked about the growth he's witnessed since his early years in Spokane. "Most of the resorts seem very interested in creating sustainable growth over the last 10 years and have made thoughtful investments in infrastructure and terrain expansions. This positive growth is great for Spokane's skiing community and has certainly helped to create Spokane's growing ski town feel."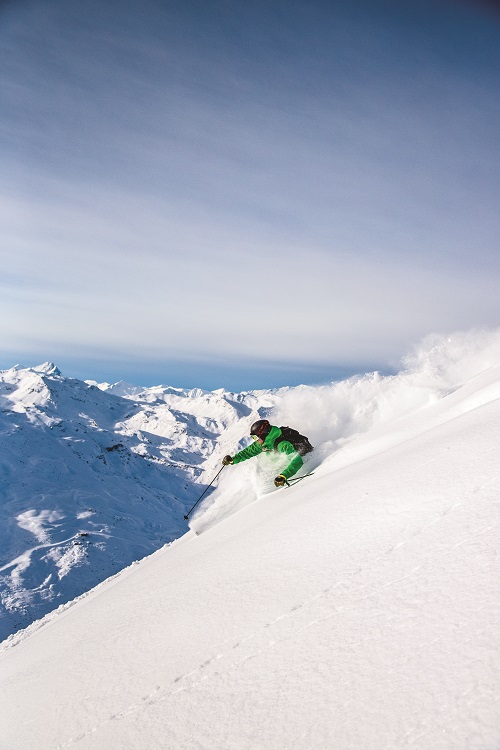 A Passion is Born:  Brett Neste, Teton Gravity Research Tour Marketing Manager
Brett Neste has a lot on his plate every fall. With each new upcoming ski season, Neste works tirelessly creating and implementing a marketing strategy for TGR's annual ski/snowboard fall film tour of over 170 stops worldwide. With all the tour planning, promotions, athlete management and national sponsorship management, you could say that this Spokane native certainly has his finger on the industry's collective pulse. While Neste lives in Seattle now, his fondest memories come from his earliest days of discovering skiing on the slopes of Mt. Spokane.
"I grew up in the Spokane Valley, where I frequented the Sports Creel and remember pestering Herb all the time about free stickers. Somewhere around 12 years old, I finally ventured into the world of alpine skiing at Mt. Spokane thanks to a good friend of mine," says Neste. "Once I was hooked on skiing, that passion just snowballed, and I never really looked back," he adds. For him, the question of Spokane's ski town worth is really a no-brainer. "If you think about Spokane in terms of its proximity to ski areas, it's a pretty amazing place. You have 5 incredible places to ski and ride all within 1.5 hours, including a pretty impressive local hill less than an hour from town. So yeah – absolutely, Spokane is a ski town."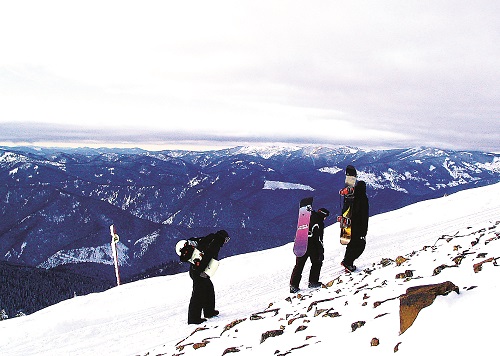 Shhh, It's a Secret: Kristin Whitaker, Mt. Spokane Marketing and Guest Services Director
Kristin Whitaker has been a mainstay in the Spokane ski and snowboard scene for the better part of the last decade. She walked onto the slopes of Mt. Spokane as a snowboard instructor 10 years ago. From there, she transitioned to the Ski School's On-Snow Supervisor, and ultimately to her current role as the Marketing and Guest Services Director. In her time on the mountain, Kristin has certainly seen a lot of growth to the local scene.
"I've been here for almost 10 years now and have seen some exciting changes in that time. Fall events are a great indicator – I can count over 10 ski and snowboard film premieres this season, as well as multiple snow shows and retail events, where there only used to be one or two each," says Whitaker. "The ski industry as a whole is starting to recognize the Spokane area as a ski destination and is showing brand and athlete support at these and other local events. There are also quite a few professional skiers and riders who grew up here and have given the Spokane area some love in the national spotlight," she says. As for her thoughts about Spokane's potential: "Spokane could definitely be called a ski town – in fact it is a ski town. We've got so many great resorts within two hours of a large metropolitan area, with at least fifteen more world-class resorts only a day trip away. The only other place you can find anything similar is Salt Lake City, or possibly Denver. We've got a great winter season with plentiful snow and large mountains that have still miraculously remained somewhat of a secret to the rest of the country."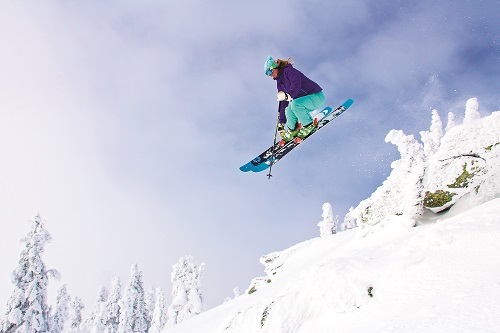 Accessibility and Affordability Are Key: Herb Gentman, The Sports Creel Owner
Successfully running a ski and snowboard shop in Spokane is not for the faint-hearted. Ups and downs in the local economy, the mountain snowpacks, and the contrasting weather in town all can fluctuate wildly, dictating the difference between a profitable season and a complete tank. As owner of Spokane Valley's Sports Creel, Herb Gentman knows a thing or two about the retail side of Spokane's ski culture.
Leather boots, neon one-piece suits, radical new ski shapes – in 46 years of business, Herb has seen it all. "It used to be that the winter season hype would never start before Thanksgiving, but we've been watching it creep up closer and closer to Labor Day weekend with each passing year. People in Spokane are eager for snow the minute they put their water toys away for the summer," says Gentman. "I love to see that growing enthusiasm in the community; however, a lot of those folks get burned out on skiing and riding by the end of February. Those of us who are still going strong know that the late season months are when this region really can be at its best. You've got sunny days, some of the most active snow accumulation, and little or no crowds," he adds. To Gentman there's no question about it, Spokane certainly qualifies as a ski town. "You look at any other major city out west – can any of them boast having so much skiing and riding diversity all within an hour and half drive? But more importantly, the varying degrees of price and terrain at these resorts have helped to keep the sport fun, accessible, and affordable to many Spokane families of different income levels and different skill levels. And of course there is one very visible mountain resort that you can't miss while driving to work on the freeway every morning."
Is Spokane Really a Ski Town?
So does Spokane pass the test? The answer, at least for these local ski industry leaders, is an unequivocal yes, but with a slight caveat. Spokane is absolutely a ski town, but not in the same vein as Aspen, Telluride, or Steamboat. Unlike its distant mountain-village cousins, Spokane is a unique, new-age, working-class, urban-driven type of ski town that represents the best of both worlds. Here the advantages of an urban lifestyle coexist with a brimming mountain culture that is instantly available when you drive in any direction from the center of the city.
Spokane is at the nexus of 5 lift-served resorts in both Washington and Idaho, while it's also the closest major city to many world class resorts in southern British Columbia, just on the other side of the border. Adding to the lift-service opportunities, the backcountry ski touring and cat skiing potential within a day's drive is incredible. Any way you slice it, Spokane's ski culture has grown in leaps and bounds to become what it is today. With each passing season, the scene continues to grow and undoubtedly progress in a positive direction. Raise your glass Spokanites, and chug a local craft brew at your favorite après-ski haunt, because after all, we are finally living the dream in our very own ski town. //