Bicycle road racing has entered the virtual world with Strava, and MapMyRide; it is also firmly entrenched in virtual reality with the likes of Zwift, where cyclists ride, train, and compete with others from across the globe—all without leaving the cold comfort of the basement, garage, or wherever they setup their indoor trainer. Could these digital tools and social media be contributing to the road-racing slump in the Inland Northwest and beyond?
One longtime leader in the Spokane cycling community, Marla Emde, points to the rise in Strava and Zwift as one of the many drags on road racing. "There's more of it than people want to admit," she says. "But it's not surprising with the upcoming generation. People don't need to race anymore."
Some skip racing from the fear of crashing, with work and family on the line. For such riders, chasing personal bests on Strava or racing on Zwift provides a competitive outlet without the risk. Renee Compton of Zuster Cycling says that, with the likes of Zwift, riders can "have it all. There are group workouts, rides and races that provide the social connection."
Along with the perceived drag of social media, road racing isn't bringing in new riders, while aging racers find new pursuits. "There's an abundance of ways to challenge one's self," says Michael Sirott, another longtime supporter of cycling in the Inland Northwest. "There are so many other organized rides that fall short of being organized races, such as Grand Fondos, the Zwift phenomena, and unsanctioned group rides. People are definitely interested in riding bikes and being competitive, and they 'race' all of these competitively. However, these rides seem to involve less commitment [than] sanctioned races."
A desire to compete as part of a team, and to see who is best, is a motive for many of the cyclists who commune via the Inland Northwest Road Racing Facebook page. They are an enthusiastic lot. Vanessa Johnson and Chris Armstrong point to the strong bond found on teams. Pat O'Neil says road racing can show how far one really has to go in terms of physical and mental toughness. Jed Barden says "Charity rides and the like are not competitions and thus are not races. Racing is for people who want to enjoy the sporting aspect." The downside of it is that, according to Sirott,  "You can't show up to race out of shape because out on the road, you'll end up by yourself, and that's no fun."
When it comes to bringing riders into the racing fold, Washington State Bicycle Association President Gina Kavesh says, "We have to remember what it is like to be beginners. We can't throw up barriers or worry about whether our kits are all matchy-matchy." Kavesh sees the potential for grassroots growth in the number of participants and the number of events. She says, "Teams and clubs are critical in their outreach. They can organically create community by getting cyclists to join for the social aspect and encourage participation in events."
Others point to the lack of an event-like atmosphere such as that found at mountain and cyclocross events. Compton says "Road racing is not social, and we are a social animal. With mountain and cross, racers can have fun if they are dropped. There is a race within the race with those just in front of or behind you. And when you are done, you can watch your friends race."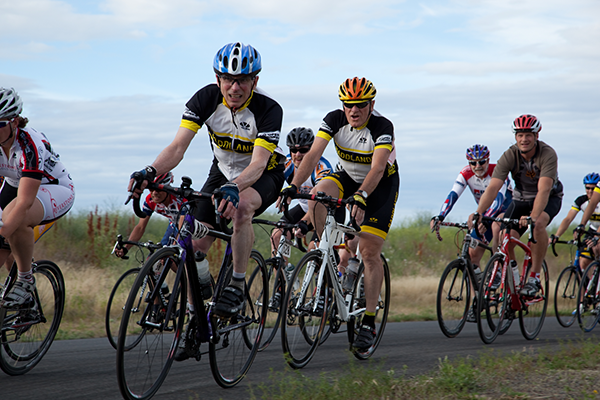 Road Biking Safety Concerns
Still, putting too much of road racing's declining popularity on the likes of Zwift and Strava overlooks some real and perceived safety concerns. "Parents are iffy about putting their kids on the road," was a common refrain echoed by Emde and Kavesh. Whether racing or riding, Kavesh says the number one priority is safe roads and safe routes for all users and uses. Zuster is an invitation-only team because some inexperienced riders were jeopardizing the safety of others.
Compton said that road racing seems riskier—particularly to women—when there are few other women. Racing for women is being promoted through Northwest Collegiate Cycling and the Pacific Northwest Women's Series. The seven PNWS events between March 10 and April 22 are open to USAC licensed women riders who will compete with their collegiate counterparts. While there is a need for more women racers, there is also a definite need for both sexes to support scheduled races.
The Future of Inland Northwest Road Racing
The mainstay of the local road-racing season has been the long-running Cooper Jones Memorial Twilight Series, a collection of circuit races at Spokane County Raceway and races on county roads. The Twilight series began in 1989, but declining participation led to it nearly folding after the 2017 season. Baddlands is putting on just four events at Spokane County Raceway this season. Last year, there were 12 scheduled, with two on the open road. Alex Renner, a mainstay in Spokane's road cycling scene and president of Baddlands Cycling Club (of which this writer is a member), says in the past, "There were 28 races a year. Now we're just trying to get people to show up."
Ted Chauvin, a local racer and WSBA Vice President, says Baddlands stepping away as the region's primary event promoter could be good. "Local racers have been spoiled," he says. "There was no need to plan on any particular event. There was always next Tuesday." Chauvin hopes that the limited schedule will prompt more racers to treat the Twilight Series as the opportunity it is. "First and foremost," he says, "racers need to race. No picking and choosing. We can't wait for the next thing."
Despite this decline, new opportunities to race are also emerging through riders like Justin Wagner, a member of a global club that began on Zwift called TeamODZ. With over a dozen local members, TeamODZ will host the WSBA Senior and Masters Road Championship on the Liberty Road course on July 29. The following day the WSBA Master Criterium Championships will be held in Post Falls.
Chauvin is hoping for strong attendance at both events, including from west side racers. If racers don't show up for these events, says Chauvin, "Then we know we have a problem that goes beyond the regular ebb and flow."
Spokane and eastern Washington are prime territory for a road racing resurgence, which is one of the reasons this year's Masters championships will be held here. Sirott says, "We have a lot of rural roads that are good to race on." Another reason eastern Washington and Spokane may become more attractive is that roads on the west side are becoming more congested and surrounded by subdivisions and traffic.
But, with every supporter who steps up, there are challenges. One is a shortage of race officials. "We used to have 11 officials in our club. Not one person had to do all the work. Now it's just two," Renner says. "We are limited as to who we have in the area for officiating."
Beyond officiating, there are logistical challenges. When it comes to volunteers, Renner says, "Drivers have to provide VIN numbers and driving records to be certified as safe drivers. Officials must take courses to spot abuse. These are all good, but they cost money." This is on top of working with city and county officials to permit the use of roads, paying for porta-potties, and sending some of the entry money to United States Cycling Association for insurance and other fees. Renner says of those stepping up to promote events, "I just hope they don't get burned out when they learn how much is involved in putting on a good race."
Renner emphasizes that this is the year that this is the year that could determine the future of the local racing scene. "If they want to continue to road race, [or] at least have Baddlands put stuff on, we just need to see more people."
So, all of you Zwifters, Strava Hunters, and other denizens of social media, and those of you looking to put your fitness to a test beyond charity rides and fondos, harken to the words of Dan Lloyd, Global Cycling Network presenter: "Somewhere there are things called races, where you race against other people at the same time, on the same roads, to see who's best." Join a club, learn to ride in the pack, get out there and give it a go. You'll be glad you did, even if you're not the best. //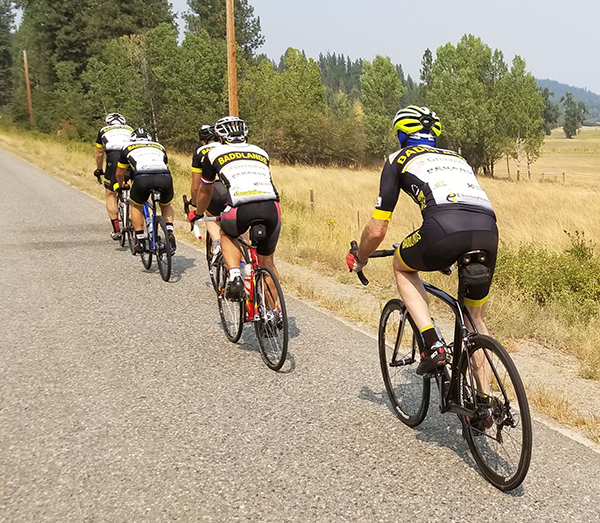 Inland NW Road Racing Schedule
Blue Omnium Whitman College and Northwest Collegiate Cycling Conference, Walla Walla, WA
April 7: Road Race and Team Time Trial
April 8: Criterium
(USAC Women Riders Invited)
2018 NWCCC Championship
April 21: Road Races, Pullman, WA
April 22: Criterium, Moscow, ID
(USAC Women Riders Invited)
Tour of Walla Walla Stage Race, Walla Walla, WA
April 20: Time Trial
April 21: Road Race all but Category 4 and 5 men and Category 4 and 5 women
April 22: Road Race all categories
Cooper Jones Memorial Baddlands Twilight Series, Spokane County Raceway
May 1: 5 p.m.
Tour de Bloom Stage Race, Wenatchee, WA
May 4: Road Race 11 a.m.
May 5: Hill Climb 10 a.m.; Twilight Criterium 2:30 p.m.
May 6: Road Race 9 a.m.
Ronde van Palouse, Spangle, WA
May 12: Road Race 11 a.m.
Cooper Jones Memorial Baddlands Twilight Series, Spokane County Raceway
May 22: 5 p.m.
Spokane Festival of Speed, Spokane County Raceway
June 2: Criterium 5 p.m.
Cooper Jones Memorial Baddlands Twilight Series, Spokane County Raceway
June 12: 5 p.m.
Cooper Jones Memorial Baddlands Twilight Series, Spokane County Raceway
June 26: 5 p.m.
Liberty Road Race p/b TeamODZ/WSBA Seniors and Masters Championships, Spangle, WA
July 28: Road Race
Riverbend Criterium/WSBA Masters Championship, Post Falls, ID
July 29: 10 a.m. //
When not teaching English classes at Spokane Falls Community College, Bradley Bleck may well be riding one of his bikes, maybe with Baddlands teammates, or enjoying the trails of the South Hill's Bluff with his wife, leashed dogs, or fat bike. His most recent OTO story last fall looked at the local cyclocross scene.
Feature photo: Baddlands members at annual Walla Walla training camp. // Alex Renner
Originally posted in the April 2018 print edition of Out There Outdoors under the title "Road Racing in the Inland Northwest: Rebound or Recession?"