Upon arrival, you first inhale deeply, as your eyes absorb the panoramic view – blue water reflecting sun rays, green trees, brown and gray rocks under your feet, or maybe sand, and perhaps distant mountain peaks. You exhale and then you feel it: burdens lifting, stress dissipating. And whatever encumbering metaphorical baggage you had been carrying is no longer so heavy. You're now "at the lake" – ready to relax, play and have fun.
With our region's bountiful selection of lakes, and all the recreation and adventure possibilities, this guide offers ideas for where to go and what to expect and will hopefully inspire exploration and travel to new destinations. Whether you're looking for lakes to launch your canoe or ski boat, swimming beaches for your kids, or quiet fishing spots, OTM's annual lake guide delivers.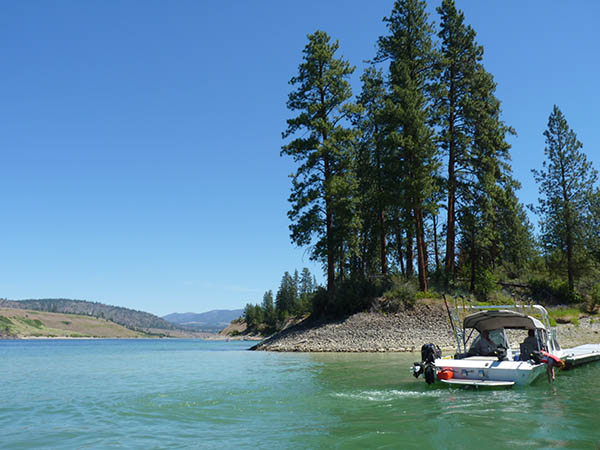 BRITISH COLUMBIA
Sometimes "getting away" means leaving the country. Beautiful, stunning mountain scenery, clear blue lakes, and a favorable exchange rate for U.S. dollars awaits you in southwest British Columbia. Lakeside communities and numerous provincial parks (env.gov.bc.ca) – Canada's version of national parks – provide lake access and recreation opportunities. Only 3-4 hours away by car from the Spokane area, you'll wonder why you haven't visited sooner.
Kootenay Lake
Nestled between the Selkirk and Purcell mountain ranges lies a narrow, 67-mile long and nearly 500 foot deep lake – one of British Columbia's largest. Nelson, located on the lake's west arm, and Kaslo, a mountain village along the lake's main section, are the two major hubs offering marinas, boat rentals, lake cruises, lodging and cultural entertainment. Kaslo hosts many festivals, including a jazz festival (July 29-31) and Pirate Day (August 7). Immerse yourself in nature at any of the five provincial parks around the lake: West Arm, Kootenay Lake, Drewry Point (accessible only by boat), Lockhart Beach and Pilot Bay. Start your trip planning at nelsonkootenaylake.com.
Christina Lake
Not far from the U.S.-Canada border is where you'll find another long and narrow lake, with its namesake city at the southern end and its northern half surrounded by Gladstone Provincial Park. In town is Christina Lake Provincial Park, providing easy lake access for swimming, paddling and fishing. There are also seven boat-access only beaches. Find marinas, boat launch locations, rental businesses and lodging at christinalake.com.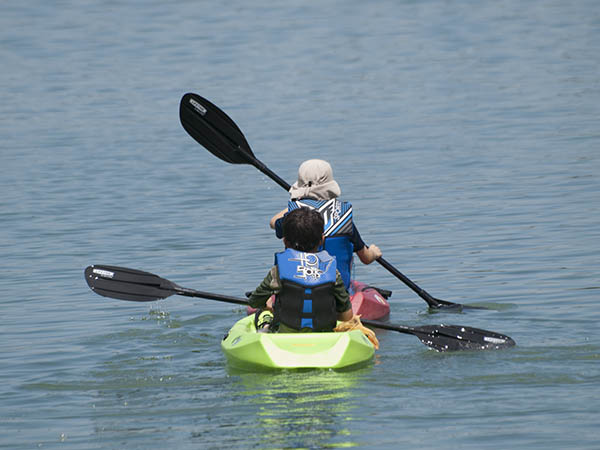 NORTHERN IDAHO
Lake culture is big in Idaho's Panhandle. Even if you don't have your own lake place, you likely know someone who does. But with so many great options, you don't need to always visit the same lake. View a map of all the regional boating access points and beaches at fyinorthidaho.com; for Kootenai County, visit kcgov.us. Note that launching a boat in Kootenai County requires a permit fee ($5 for boats registered in Idaho and $10 for all others – annual passes also available), and all boats and non-motorized watercraft in Idaho waters must have an Idaho Invasive Species Fund sticker (idwr.idaho.gov).
Lake Coeur d'Alene
There are 16 boat launch locations and additional water access points for this Kootenai County aquatic gem, which is over 25 miles long, encompassing more than 31,000 acres. Find a complete lake access list at lakecoeurdalene.com. Here are two Lake Coeur d'Alene locations you need to check out.
Harrison: Arriving in this small, friendly town is like stepping back in time for a relaxing lakeside escape. Located 28 miles south of I-90 via the Lake Coeur d'Alene Scenic Byway (Highway 97), whether you get here by car, boat (20 minutes from the city of Coeur d'Alene) or bike on the Trail of the Coeur d'Alenes, you'll find everything you need in Harrison. Don't miss visiting the Harrison Creamery and Fudge Factory, one of many small businesses in the historic area bordering the large city park. A sandy public beach is also nearby. Two businesses rent pontoon or ski boats, kayaks or other watercraft: Harrison Idaho Water Adventures (harrisonboatrentals.com) and Harrison Pontoons & Rentals (harrisonpontoons.com). Consider paddling up the Coeur d'Alene River to visit the series of small lakes and look for wildlife. Harrisonidaho.org.
Yap-Keehn-Um, aka NIC Beach: Avoid the crowds of City Beach and head to the North Idaho College campus (NIC.edu), located off Rosenberry Drive (referred to locally as "the dike road"), which has a public beach near its southern end. The beach's official name means "The Gathering Place" in the Coeur d'Alene tribe's language. Here you'll find the Outdoor Pursuits recreation program boat house that provides gear rentals, including kayaks, canoes, stand up paddleboards and sailboats (open daily, 10 a.m.-6 p.m., through Labor Day). There is also a concession building, restrooms, and swimming area but no lifeguard. All parking on campus is free during summer until the third week of August. Call Outdoor Pursuits to reserve water sports gear at 208-769-3290.
Hayden Lake
Enjoy views of the surrounding Bitterroot Mountains at Hayden Lake east of the City of Hayden. Most people use the city's Honeysuckle Beach (cityofhaydenid.us), which offers all the amenities you need for enjoying a summer day. There is a large protected swimming area with lifeguards, dock, boat launch (fee applies) and concession stand. There is a public boat launch on the northeast side of the lake, and Hayden Lake Marina (3830 E. Hayden Lake Rd, haydenlakemarina.com), with a store, restaurant, boat rentals, boat launch and moorage, is on the south shore.
Spirit Lake
Enjoy views of the Selkirk Mountains at this lake located north of Rathdrum, Idaho on the edge of the community of Spirit Lake. Find in-town lake access and recreation rentals at the Spirit Lake Rec Center across from Fireside Park where you can buy ice cream, snacks and beach supplies at the store or rent paddle boards, paddle boats, kayaks, canoes, row boats, life jackets and bicycles ($25 for a half day and $40 for a full day; call 208-660-7505 for info). There are three other public boat launches on Spirit Lake: an Idaho Fish and Game sportsman's access on the north shoreline and two maintained by Kootenai County – Maiden Rock on the east side and Bronze Bay on the west end of the lake. Two resorts – Sedlmayers Campground & Resort (sedlmayers.com) and Silver Beach Resort (silver-beach-resort.com) – provide cabins, boat rentals, fishing docks and swimming beaches. In 2015, the Empire Trails system that includes 6.5 miles of singletrack hiking and biking trails was opened for public use, providing another way to experience the lake (a map and day-use permit info is available at www.spiritlakechamber.com).
Round Lake
This rustic, small lake is the ideal destination to escape the crowds. Campers and day-use visitors enjoy swimming, paddling and fishing as well as the unpretentious vibe of Round Lake State Park (parksandrecreation.idaho.gov). Located 10 miles south of Sandpoint, only human-powered watercraft and electric-motor boats are allowed, so you can immerse yourself in nature with all your senses.
Lake Pend Oreille
Idaho's largest and deepest lake has a few favorite places not to be missed.
Bayview: This picturesque city on the south side of the lake, 25 miles north of Coeur d'Alene, has it all: marinas, floating homes, cabins, RV and tent campsites, a restaurant/bar and a store. A county public boat launch (kcgov.us) is located at the town's main waterfront area. Scenic Bay Marina and Resort (bayviewmarinas.com) and MacDonald's Hudson Bay Resort (macdonaldsresort.com) offer scenic lodging and boat rentals. The city's annual Bayview Daze, July 1-3, includes a street fair, boat parade and fireworks show. Plan your trip at bayviewidaho.org.
Hope: Arrive to this small town situated on the lake's northeast side along Highway 200 (12 minutes from Sandpoint) by boat or car. Beyond Hope Resort (beyondhoperesort.com) has RV and tent campsites and a floating restaurant and oversees the Hope Marina (hopemarina.com), which rents boats. The resort is hosting free "Sunday Music on the Lawn" concerts throughout the summer from 4-8 p.m. A public boat launch and swimming beach is located at the Sam Owen Campground day-use area on the peninsula south of town (www.fs.usda.gov).
Sandpoint: City Beach (100 Bridge Street) is the main public gathering place for swimming and launching boats, though there are lots of recreation opportunities in the area around the city (visitsandpoint.com). Lake Pend Oreille Cruises (lakependoreillecruises.com) departs its 40-foot, 36-passenger boat – the Shawnodese – from City Beach during the summer, and from East Hope's Kramer Marina in fall and spring. The Sandpoint Lions Club hosts an annual 4th of July parade downtown in the morning, stage performances at City Beach in the afternoon, and a fireworks show over the lake at dusk.
Priest & Upper Priest Lakes
Lots to do here, not enough time. Camping, boating, swimming, paddling, waterskiing, fishing, hiking, mountain biking and huckleberry picking – this is what you do at the 19-mile long Priest. Choose your overnight preference: resort, inn, lodge, B & B, campground or cabin (either forest service or state park), RV park, private vacation home, or stay with friends or family who own a "lake place" here. Paddling the Thoroughfare to Upper Priest Lake Scenic Area and hiking to see old-growth stands within the Panhandle National Forest, such as the Stagger Inn day-use area, are epic adventures everyone should do. Hiking or camping on Kalispell Island is another. Even if you can't get campsite reservations – people book early and sites fill quickly, often a year in advance – this lake could also be a day-trip destination from Spokane. Start your trip planning by going to outtheremonthly.com and searching for "Priest Lake" to find several articles detailing trip ideas. The Priest Lake Chamber of Commerce (priestlake.org) is another great resource.
Chatcolet Lake & Benewah Lake 
These two small lakes south of Lake Coeur d'Alene are accessible through Heyburn State Park (parksandrecreation.idaho.gov, $5 daily fee per vehicle). The Rocky Point Marina off Highway 5 has boat rentals and a day-use area with a swimming beach, fishing dock, playground and restrooms. Hawley's Landing Campground, one of the three campgrounds within the park, has 10 tent campsites that offer views of Lake Chatcolet, where you awaken to the sounds of birds and beavers. Plummer Point offers a day-use swimming beach, and the Chatcolet day-use area includes a boat launch, picnic shelters, playground, restrooms and access to the Trail of the Coeur d'Alenes.
EASTERN WASHINGTON
Regional lakes here are diverse enough to meet all recreational needs and moods – from rustic scabland lakes carved by the Ice Age floods to those surrounded by mixed-conifer forests and wildlife, including out-of-the-way or backcountry gems offering solace from the frenetic scene at more common destinations. Many Eastern Washington lakes have privately-owned resorts, both rustic and modern, that provide access for swimming and dock fishing, as well as public boat launches maintained by the Washington Department of Fish and Wildlife for the primary purpose of providing access for boaters and bank fishing (some require a Discover Pass for parking). For directions to public access points, visit wdfw.wa.gov and search for your destination of choice on the "Water Access Sites" page.
Newman Lake
At 1,200 acres, Newman Lake is one of the largest in Spokane County, with a shape like a five-leaf clover, according to some locals. With a view of mountain peaks, including Mt. Spokane, much of the shoreline is private property lined with rustic cabins and homes reflective of its rich history. Newman's public access points include a WDFW boat launch and the 462 acre McKenzie Conservation Area (spokanecounty.org) that provides hiking trails and prime picnic and wildlife watching grounds along its 3,000-feet of shoreline. As for resorts, Newman Lake Resort & Marina (facebook.com/NewmanLakeResortAndMarina) is on the east side, and the rustic Sutton Bay Resort (509-226-3660, 12016 N. Sutton Bay Road) is on the southwest. At the Sutton Bay Resort you'll find a small sandy swimming beach, fishing dock, boat launch and more. The resort is open daily 7 a.m.-9 p.m., with a day-use fee of $10 per vehicle before 4 p.m. and $5 thereafter.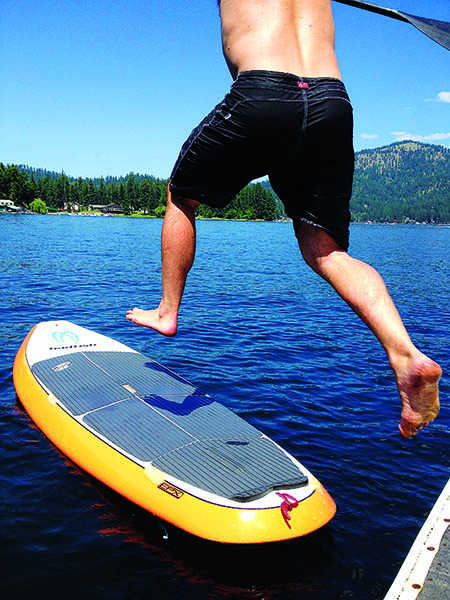 Liberty Lake 
Not far from the city's main business district and I-90, paddlers enjoy the convenient access to Liberty Lake with its WDFW boat launch on the north end. On its south end is Liberty Lake Regional Park (spokanecounty.org), which provides a swimming beach with lifeguards, campsites, playground, and hiking trails (but no boat launch). There is a day-use entrance fee for visitors age 6 and older.
Trout & Emerald Lakes
Escape the masses and visit these rustic lakes in Hoodoo Canyon in the Kettle Range mountains. Near the towns of Kettle Falls and Republic, you can drive directly to Trout Lake Campground, with four lakeside Forest Service campsites. To reach Emerald Lake, hike Hoodoo Canyon Trail #17 to Emerald Lake Trail #94, just over 6 miles roundtrip. Bring your own water. Wta.org/go-hiking/hikes/hoodoo-canyon.
Sullivan Lake 
Generations of Spokane outdoor enthusiasts make annual sojourns to Sullivan Lake to enjoy camping, paddling, fishing, hiking and huckleberry picking. Located in the Colville National Forest, and only four miles southeast of the small town of Metaline Falls, the lake has two access sites: East Sullivan Lake Campground at the north end and Noisy Creek Campground on the south end (www.fs.usda.gov). The serene, rustic setting allows you to unplug and unwind. Wild animals love it too, so keep an eye out for black bear, elk, moose, cougar, bighorn sheep and wolves.
Bear Lake
This quiet 29-acre spring-fed lake, located in north Spokane County near Chattaroy, is accessible only through Bear Lake Regional Park off Highway 2 (spokanecounty.org). There is a swimming area, playground and hiking trails, but no boat launch.
Twin Lakes
On the Colville Indian Reservation, near the town of Inchelium, are two lakes frequently referred to as Twin Lakes. Each is accessible from locally-owned resort areas (anglers need tribal fishing permits). North Twin Lake has Rainbow Beach Resort (facebook.com/rbr.rainbow), offering boat and cabin rentals and a swimming area. There is no fee for day-use visitors and the lake is popular with water skiers and paddlers. South Twin Lake has Hartman's Log Cabin Resort (facebook.com/HartmansLogCabinResort) with cabin and boat rentals, camping, RV sites, and a restaurant.
Lake Roosevelt National Recreation Area
The 130-mile long Lake Roosevelt was formed out of the upper Columbia River with the construction of Grand Coulee Dam. The national recreation area designation protects the human-made reservoir and provides access for all with numerous boat launches, campgrounds and primitive sandy beaches (nps.gov/laro). Five agencies and Native American tribes collectively manage this lake, so be sure to consult a map and plan carefully before you fish or camp. Numerous day-use areas and campgrounds are within the recreation area, including Kettle Falls near the north end of the lake and Fort Spokane, which is located at the confluence of the Spokane and Columbia rivers. Fort Spokane's boat launch, near the towns of Davenport and Reardan, is the closest to the Spokane-metro area ($6 launch fee).
Fish Lake
One of the many channeled scablands lakes, Fish Lake Regional Park (spokanecounty.org) is the only official way to access this rural, 32-acre lake two miles northeast of Cheney. There is a fishing dock, swimming beach, playground and restrooms. Gasoline-powered boats are prohibited, which makes this a serene destination popular with families. Take your bikes and enjoy the 3.25-mile paved section of the Columbia Plateau Trail State Park that connects this park to the City of Cheney.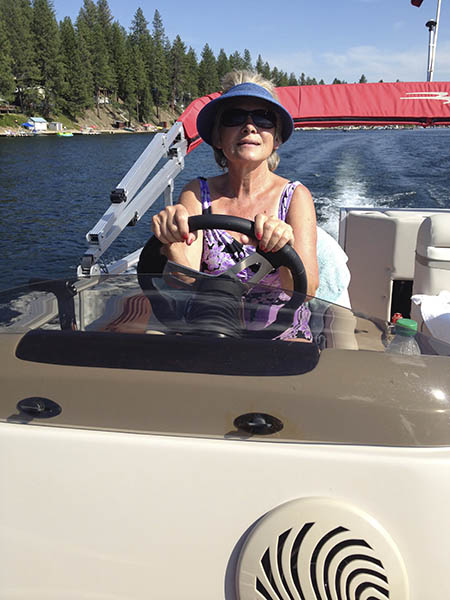 Williams Lake
Located 12 miles southwest of Cheney, anglers and paddlers are fond of this small, narrow lake, which was newly stocked with rainbow and cutthroat trout this spring. There are three main access points: the WDFW public boat launch and two family-owned resorts that provide dock fishing and overnight accommodations. Klink's Resort (klinksresort.com) offers cabin rentals and RV and tent campsites, boat rentals, a swimming beach and bistro dining. Bunker's Resort & Marina offers much of the same (bunkersresort.com) and hosts a boat parade on July 2 for the Independence Day weekend.
Sprague Lake
Known for its excellent rainbow trout and steelhead fishing, sage-dotted scenery, and bird watching, the 6-mile long by 1-mile wide lake is accessible through two businesses: Four Seasons Campground and Resort (fourseasonscampground.com) and Sprague Lake Resort (spraguelakeresort.com). Both offer boat rentals and overnight accommodations. There is also a WDFW public boat launch on the southwest end of the lake.
Fishtrap Lake 
Fishtrap Recreation Area includes more than 7,000 acres of public land, most of which is managed by the Bureau of Land Management, with plenty of options for hiking to the water (watch for rattlesnakes). Access to the 190-acre lake just west of Spokane County includes a WDFW boat launch and Fishtrap Lake Resort on the north end of the lake (509-235-2294). The resort offers fishing boat rentals, dock swimming, and RV and tent campsites.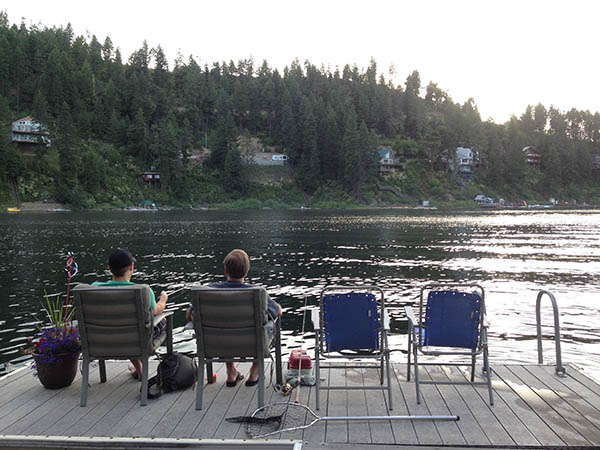 Loon Lake
Located off Highway 395 in Stevens County, picturesque Loon Lake has three access points: a WDFW boat launch and two resorts – Shore Acres Resort (shoreacresresort.com) and Granite Point Park (granitepoint.dreamhosters.com). Both have rental cabins and boats, RV sites, and offer day-use passes for adults, with reduced rates for children.
Deer Lake
Use the WDFW boat launch or check-in at Deer Lake Resort (deerlakeresort.com), which offers boat rentals (kayaks, paddleboats, row and motor boats), mini-golf, and overnight accommodation, including cabins, condos and campsites. For a more private retreat on this clean, scenic lake 45-minutes north of Spokane, consider a private home or cabin rental – there are many options available from VRBO.com.
Waitts Lake
Near the town of Valley is where you'll find the remote 500-acre Waitts Lake. Launch your watercraft at the WDFW access site or head to one of the three resorts, which charge day-use fees for non-overnight guests. Silver Beach Resort (silverbeachresort.net) and Winona Beach Resort (winonabeach.com) have cabins, RV sites, boat rentals, swimming beaches and allow day-use visitors (for a fee). Winona even has a designated beach for pets. Waitts Lake Resort (509-937-2400) has a day-use park open 9 a.m.-9 p.m. for swimming and picnicking ($3.50 per person), as well as RV and tent campsites and a restaurant.
Eloika Lake
In the foothills near the town of Elk, one-mile west off Highway 2, is where you'll find Eloika Lake – named after a Salish Indian word, but with an English spelling, according to the local lake association website (eloikalake.com). Access to this narrow, 3-mile long lake is from two locations on the east side – either the WDFW access site or Jerry's Landing Resort (jerryslandingresort.com). The resort, now with second-generation owners, offers row boat rentals, cabins, RV and tent campsites. Paddlers are likely to spot wildlife, including beavers and muskrats. //