The last few spring seasons, the outdoor adventures I'd come to live for were cut short or cut entirely. I used to enjoy a Saturday morning 16-mile trail run in Riverside State Park, as high on the emerging color of the land (pine, sage, a few hints of emerald) as I was on the sensation of pushing my body, brain firing as I sought footing between the ankle-turning rocks that lined the trail. For old me, spring was synonymous with getting back into running, and spring running felt like real running again: dirt underfoot, sun on my skin, catching the first floral scent when the pine trees warmed up and the river ran high. My long-run sabbaticals were due to the following: pregnancy, a newborn, a pregnancy, and a baby again. That's four years. Four springs I didn't hit the long trail runs that felt essential to my body and mind.
When we weren't going on sanity-saving hikes in the spring of 2020, my son and I spent a lot of time in our backyard on a blanket. And I mean a lot of time. Hours and hours of it. Gobs of time. Ultra-fluid and shifting Pandemic Time. And, do you know what I did on that blanket, the first spring of my running sabbaticals? I stared at the micro-emergences of spring. I watched the tulips break dirt. I watched the bees arrive. I watched the shadows flash across our yard as puffball-clouds sped and tangled with the spring wind. My heartbeat seemed as interesting as any of them. Instead of an adrenaline rush on the trail, which I'd considered my most pure interaction with spring, I learned to tune in to the calmer rhythms of the season. Two babies and one pandemic later (Is it over yet?), I'm finally looking at the possibility for long solo running again. But there's something in that quiet I experienced that I don't want to leave behind.
Recently, I learned about the concept of lantern consciousness. Young kids innately possess this ability for all-around perspective, where everything is illuminated. It's a natural state of wonder and awe. It's one thing that makes experiencing the outdoors with kids really fun (and exhausting). A flower petal or worm is as interesting as a thunderstorm. Getting a taste of that awe by slowing down and hanging out with young children has given me a new goal for this month as I get back to the running I've been fantasizing about: remain open to illumination.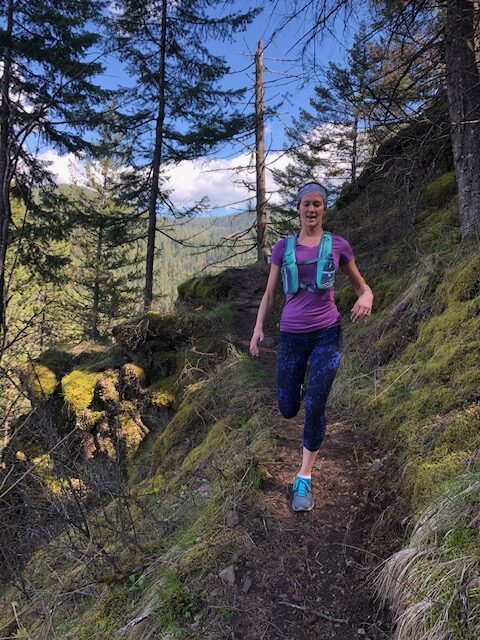 For me, this probably means leaving any sort of speed-tracking device at home. (Though I'm hilariously poor at navigating and need a trail-deciphering device of some kind, I'll avoid my Strava app.) When I'm not worried about pace, I'll be more inclined to stop and look at the color of the river, or the marking of some animal, or the way the sun filters through the pines in the evenings. I'll stop to feel my lungs heave. Or notice my pounding heart. Because that's what my son taught me was most important about spring, or any season, really: illumination awaits, if only you can tune in.
Whether you're entering a season of rest or personal record-breaking this spring—running, biking, cycling, climbing, or sitting in your backyard looking at the birds—I hope you can find a bit of awe. Hold on to it and take it with you into your adventures, big or small. This month's issue of Out There Outdoors is full of inspiration that may help shift your perspective. Whether it's exploring the shrub-steppe coulees of the Columbia Basin; taking up a new hobby, like stewarding honeybees; or finding resonance in a piece of literature, may this season inspire your presence in the outdoors.
Lisa Laughlin, Managing Editor