Spokane's Beacon Hill/Camp Sekani trail system has been around for more than 20 years and accommodates a variety of mountain biking interests and skill levels: from cross-country riders, the little shredder trying out the roller dirt jumps for the first time, to the professional freerider sending Girthmore, arguably the biggest feature on the hill, there is something for every rider of any skillset.
As you pull in to the gravel parking lot off Upriver Drive along the Spokane River, you see some seasoned disc-golfers heading up the main fire road to start their game, as well as a determined cross-country cyclist powering up the impressive incline. Notice the old-as-dirt Ponderosa pines that tower above you as you take in the wonderful smell of fresh earth and pine. This encouraging attack on your senses entices you to pursue what you cannot see from the parking lot. After a short stroll up the fire road, the canopy opens up to various dirt jump lines that are anything from waist-high table-tops to 20-foot wood ramp-to-dirt kickers.
Out of nowhere you hear the obnoxious ticking of a rear hub flying down the setup jumps, and notice a bright Northwest Riders shirt and the rider's long, flowing locks flying out from underneath a Bell helmet that's marked up with Gravity and Reel stickers. The rider is none other than Skye Schillhammer, the team Transition Bikes/Gravity Components/Northwest Riders professional crank-turner and recently appointed Trail Boss for Beacon. Your jaw hits the dirt as you see him pull a fat 360 off the wood ramp, followed up by a massive tail whip-backflip. Wildly excited, you hurry over to him before he pushes up for another rewarding descent and ask him what his plans are for Beacon. "My goal is to provide more variety of trail difficulty to Beacon. There is an abundance of blue square trails, but not many that require expert level technical riding skills," Schillhammer explains. At the time he was working on a trail called Buck Wild and that he said was probably the biggest jump trail in Washington. With an enthusiastic smile, you think to yourself, "Dang, I have to get my bike up here as soon as possible!"
A week later, on a cool, bluebird day, you find yourself pushing your own bike to the top. As you are making the hike up, you take in the clean smell of the forest, fresh from the rain the night before. An unfamiliar sound echoes throughout the valley, and you look up at the last second to see three biplanes flying in formation coming in for a landing at the airstrip on the opposite side of the river. You approach the summit and see what appears to be some sort of old rusty shop that somehow fits right into the mountain as if it was meant to be there.
After stopping for a short water break and to catch your breath, you throw on your brand-new Troy Lee Designs D3, which you are super excited to try out for the first time because you have never had a carbon fiber lid before. You swing a leg over your fresh-out-of-the-shop Knolly Podium, equipped with a RockShox Vivid RC2 rear and a Fox 40 Factory Kashima-Coated fork up front. This plush suspension is complemented by a Spank Stiffy wheelset covered by Maxxis Minion DHs.
You hear the adrenaline priming beep-beep-beep of your GoPro turning on and give it the push on top to start collecting some prime A-roll. You push off from the rock you were just sitting on and begin the flowy and smooth-as-butter descent of about eight hundred feet. Blasting off a small, rock-littered drop between two trees, you quickly pick up some serious speed as you glide across the granite rock slabs. Surprised by your own skill, you tenaciously pedal into the approach of Girthmore, a 20-foot-down and 10-foot-out drop that strikes fear into the souls of its adversaries. Holding your breath as you soar over the diagonally cut lip, you feel as if you're suspended in the air and are falling back to earth in slow-motion. Coming down in a fiery ball of flames, you realize you have overshot the landing and have just turned Girthmore into a huck-to-flat. Bracing for impact you pull the front up for a last-ditch effort to try to recover, but on the contrary, you send yourself catapulting over the bars into a gigantic ponderosa head-first. Lights out.
Waking up slumped over at the base of a large pine isn't exactly the first thing on your bucket list when you have a bike and helmet you just took the price tags off. You realize you have most likely been concussed, so you intelligently decide to coast down the fire road back to the parking lot and call it a day.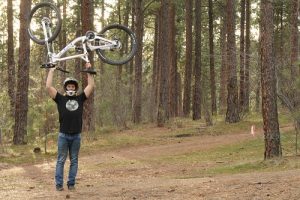 Overall, Beacon/Camp Sekani is a wonderful place to ride, with no fees and few other riders at any given time. It is a proving grounds to either land your first gap jump or to stomp the 720 cork you've been trying to nail for months. It's a place that begs to be ridden every day, regardless of academic or work priorities. Just a short drive from nearly everywhere in the greater Spokane area, you could session every day if your heart desired. If there is one thing I notice every time I go, it's that everyone has a smile on their face, all the time, rain or shine. (Anders Larsen)
Anders Larsen is a 16-year-old grom at Two Wheeler Dealer in Hayden who is also on the bike shop's downhill team competing in the Northwest Cup, All-Gravity Series, and the Silver Mountain Race Series.