It is the time of year when Hawaiian shirts mix with ski socks and when all the skin hidden under layers of GORE-TEX and long underwear all winter are exposed. It's also the time of year when snow and water mix in the magical end-of-season spectacle called pond skimming. At its most basic, pond skimming is the act of riding skis, snowboards, or almost any other sliding deceive down a snow slope with enough speed to cross a pond—but it is also so much more.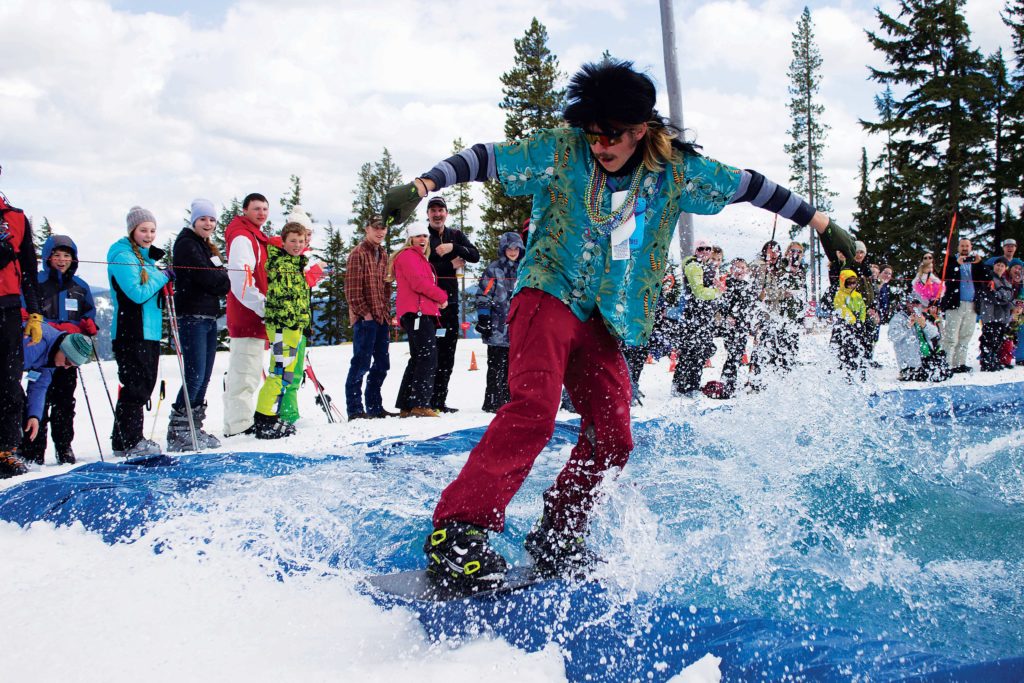 There are several ways to "win" at pond skimming. Of course, you can try to make it all the way across the pond. That might get you a spot on the podium, but winning in pond skimming is all about pleasing the crowd. So I chatted with several "pro" pond skimmers to find out how to make the spectators cheers.
Cameron has been riding for more than 19 years in Oregon, California, and at Mt. Spokane. He stresses style when it comes to pond skimming. If you can make it across doing flat spins or, even better, enter with a back flip and make it across the pond, "you win!" Cameron knows that having the most epic wipeout can also lead to victory. He admits that it is extremely difficult to pull off a trick and make it across the pond, but that is part of the fun.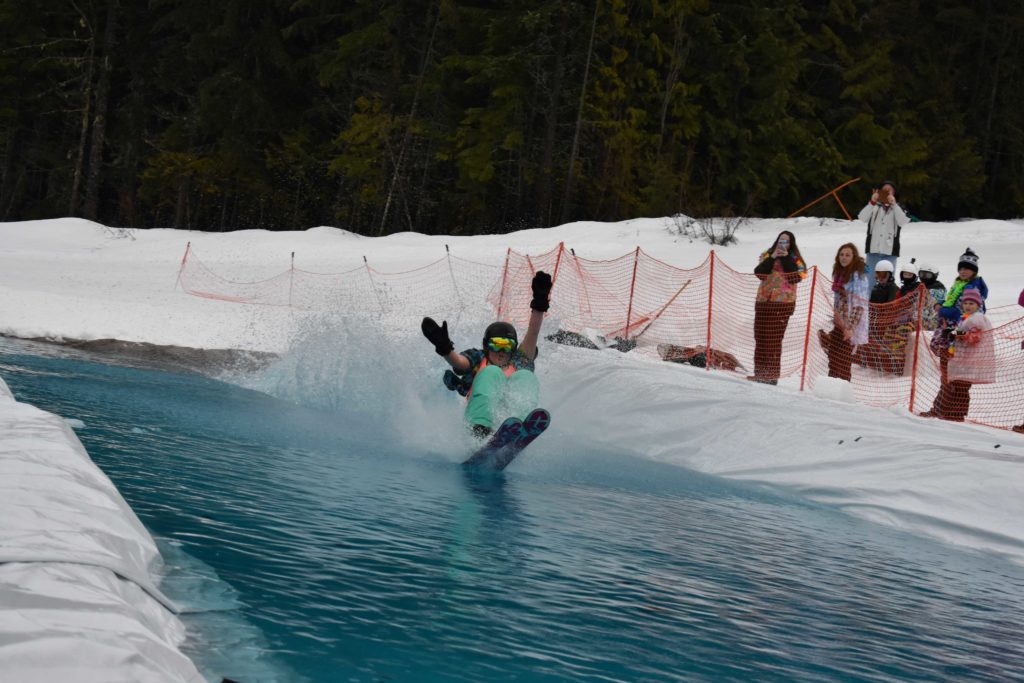 At the end of her ski-instructing season, Katrin tries skimming across several local mountain ponds. She stresses that both style and technique are required to win at pond skimming. She suggests hauling ass on the approach and then leaning back for a moment before entering the pond. Once the skim begins, ride spread eagle, tips up. She stresses that whatever you do, don't sit down.
Brady hopes to impress the crowd by using unorthodox equipment. He has been riding a snow skate for 15 years, which is basically a skateboard deck with a mini snowboard underneath. This will be his fist time trying to pond skim on a snow skate. He hopes to use it as a hydroplane, skimming on the bottom board for as long as he can and then riding it out on the top deck.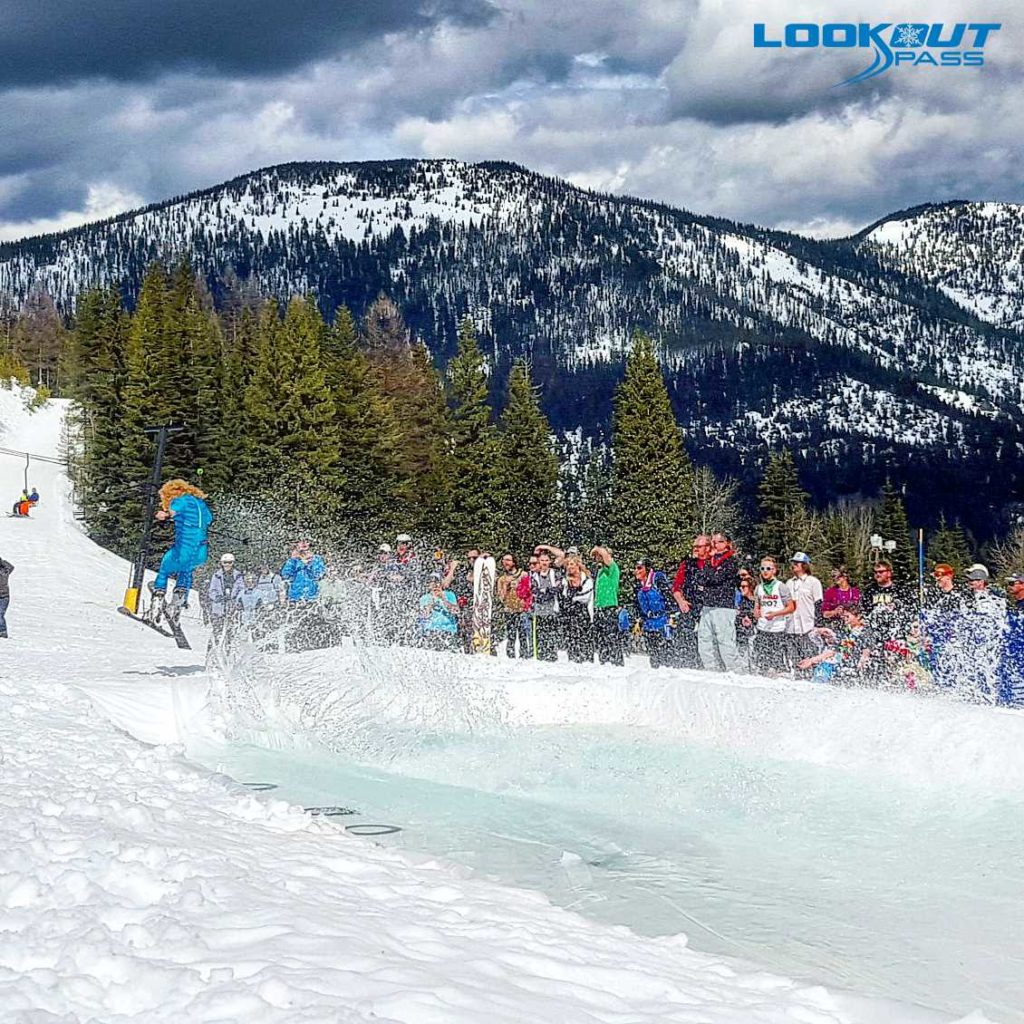 You can't miss Mateo making S turns down the slope in his disco gold helmet, so of course he swears by wearing a memorable outfit. You might see anything from t-rex to Where's Waldo. He could also be found wearing the proper protection: swimmies, goggles, and a life jacket. Mateo also commented on the perks of skis (faster) versus snowboards (more surface area).
Here are a few more tips I picked up to help you win a pond skim. First, don't spray ski patrol. I hear they don't like, but do try to spray the rest of the crowd. Getting the biggest rooster tail will get you a lot of applause. The ponds generally get longer as the day goes on, so plan your tricks for your second run. Finally, this might not help you win, but don't forget to bring dry clothes.
Adam Gebauer has been out skiing come rain or shine and even snow this season. He last wrote about all the post–ski eats in the region.