By Logan Siegford
Since the beginning of both the glorious sports of skiing and snowboarding, all ski bums of new and old keep making up new ski lingo that takes some getting used to. It's not always easy to talk like a shredder.
My uncle is the Rossignol rep for the Northwest, and as a kid I frequently made the trip down to Mt. Hood to visit him. He spoke English, but in a different way. His was the language of the ski or snowboard extremist.
I was becoming a shredder at this point, but listening to my uncle made me realize I had just found another route to becoming an even better and more steezy skier: by learning the language.
Earlier this year, I was up skiing Revelstoke when I started talking to a 60-year-old logger from Oregon. I asked him if he wanted to take the skier's left or right chute off the top of the sub-peak at Revy. He said, "What did you just say, son?"
I had to explain to him that as a snowboarder you face both uphill and downhill, but skiers always face downhill. This interaction was a reminder that the language of skiers and snowboarders is ever-evolving.
It made me wonder what I may not even know. And that experience also made me think about a few phrases that are still common on the mountain today.
Photos by Aaron Theisen, courtesy of Ski the NW Rockies.
New School Ski Lingo
Jib: Jump or rail feature that is off piste or off the trail.
Send/boost: To hit a jump that throws you as close to the moon as you could possibly go.
Steeze: Amount of style you have.
Shred: Going down difficult terrain as fast and hard as you can.
Park Rat: The skiers and boarders that only go to the Terrain Park.
Nuking/dumping: When it's snowing cats and dogs.
Jerry: The skiers and boarders that have no idea what they are doing and are charging down the mountain. (Editor's Note: See Jerry examples on Instagram @Jerryoftheday, which has some of the best, most funny captions and hashtags; also see @Jerryslams.)
Gaper: The distinguished gap between a Jerry's helmet and goggles; Another term for a newbie.
Snow Bunny: A female skier or boarder that is attractive and shreds harder than most of the people on the mountain.
Pizza: The mechanism that newbie skiers use on the slopes to go down the mountain. In other words, their skis look like a V.
Falling Leaf: Snowboarders who can't turn, so they stay on heel side the whole way down the mountain.
Grom: A little skier or boarder who rips down the mountain.
Après Ski: After skiing activities that usually include drinking.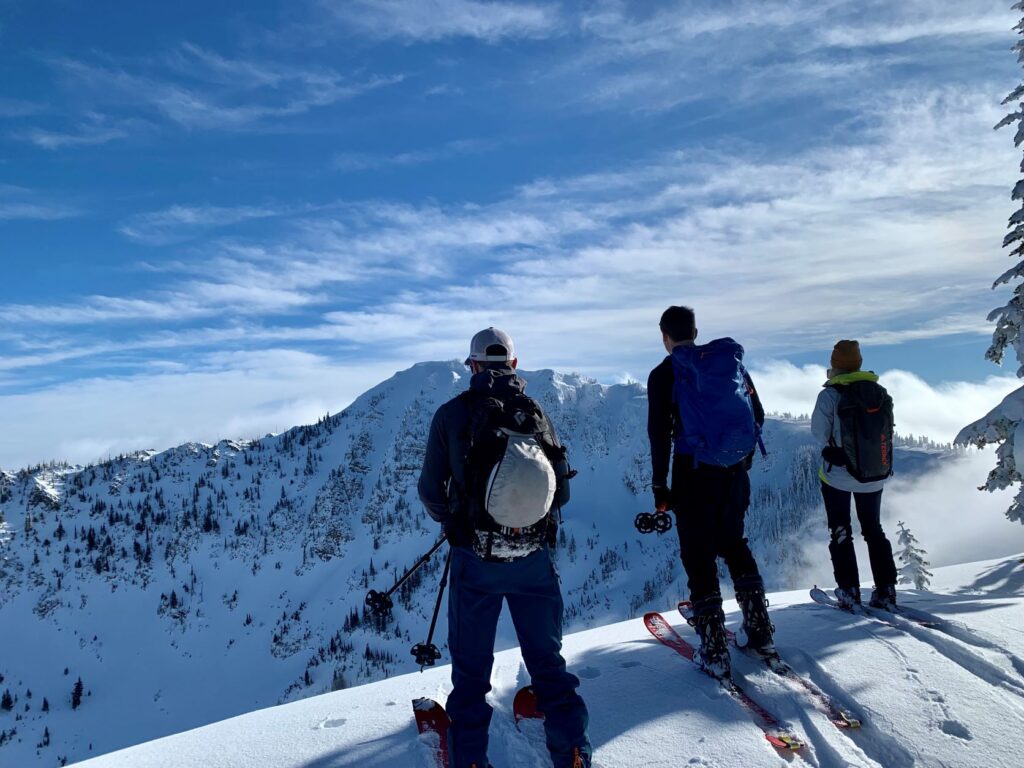 Ski Terrain Terms
Glades: Trees that have been thinned out for skiing.
Chute/Couloir: Tight, steep ski lines that are bound on both sides by trees or rocks.
Moguls: Bumps created by skiers.
Groomer/Corduroy: Result of machines making the snow flat and wavy like a Ruffles chip so the skiing is easier and faster.
Pillow Line: Large boulders when covered with snow can make some epic lines when jumping from rock to rock.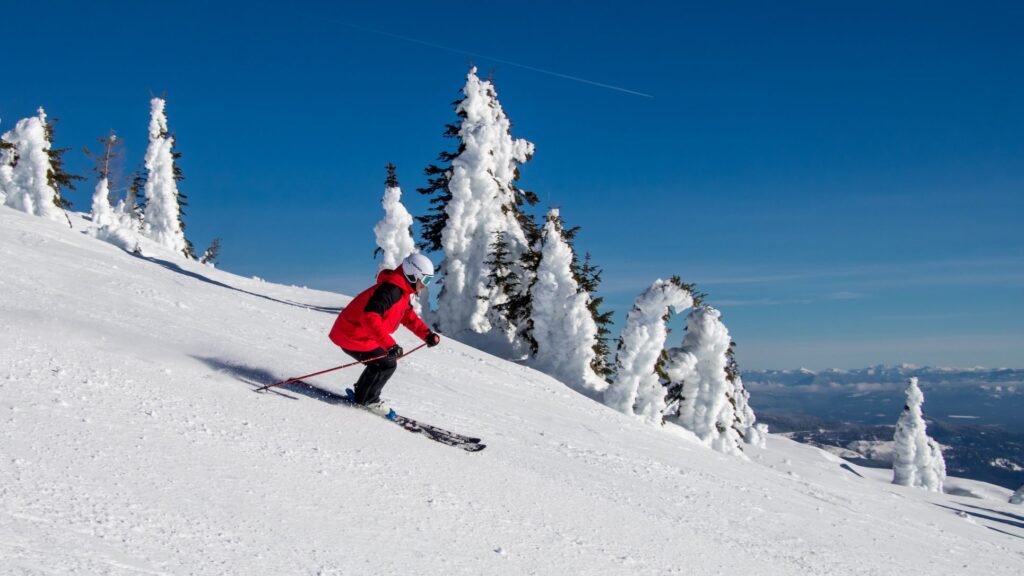 Other Ski Terms
Bluebird: Blue skis and sunny! Break out the sunnies.
Gnarly: Tough terrain. Double black diamond, presumably.
Chatter: What happens to your skis when the ski hill turns into an ice rink and your edges don't stick.
Side Country: Out of bounds at a resort that may or may not require using the resort's lifts for access.
Liftie: The employee who puts you on and off the lift.
Tracked Out: When all the fresh snow has been skied on and you can no longer ski that fresh pow.
Originally published as "The Language of Shredders, Revisited" in the March-April 2022 issue, as the culture feature in the Out There Snow special section.
Logan Siegford is an avid snowboarder, rock climber, and fisherman who grew up in North Idaho. This is his first article for Out There.
Shredder Talk: Sending it on a bluebird (left); park rat fun (top right), and meet-up on the corduroy during a bluebird day (bottom right). // Photos courtesy of Mt. Spokane Ski & Snowboard Park.
Check out more ski lingo in "Talk Like a Skier: Gaper's Guide to Ski Lingo" by Brad Naccarato, published in the February 2014 print issue.
[Feature photo courtesy of Mt. Spokane Ski & Snowboard Park.]