There is nothing like a hot beverage in your hand after a day of making turns at your favorite mountain, and a hot beverage with a whiskey, like a hot toddy, is even better.
The toddy originated in Scotland and Ireland where it was traditionally consumed before retiring for the night in cold and wet seasons. If Scotland and Ireland know two things, it's cold weather and whiskey. The name hot toddy can be a catch-all name for drinks mixed with hot water, honey, lemon, liquor, and sometimes teas or spices.
This beverage is meant to cure whatever ails you. The honey and lemon help soothe the sore throat from whooping in the woods all day. The warming heat of whiskey opens up the airway, allowing you to breath in more of the fresh mountain air. And just holding the glass brings life back to cold fingers.
Now I may be partial to a pocket beer or thermos for those long days ski touring, but it wasn't too hard to make the trip to five ski resort bars to sample this warming elixir. I like mine to have a nice balance of lemon tart and sweetness with a forward note of smoky, effervescent whiskey. When I make them at home, I add a cinnamon stick or a dash of nutmeg.
To help with an unbiased review, I asked for well whiskey and brought along a friend.
49 Degrees North
Ordering the toddy at the Boom Town Bar turned into an exercise in perseverance, more for the bartender than for me. She diligently opened at least six single serving packets of honey for our two drinks. The toddy had a generous pour of Canadian whiskey that added good warmth to an already hot drink. My drinking companion enjoyed sitting out on the patio watching his son finish ski lessons. His opinion: "Well, I like anything with whiskey."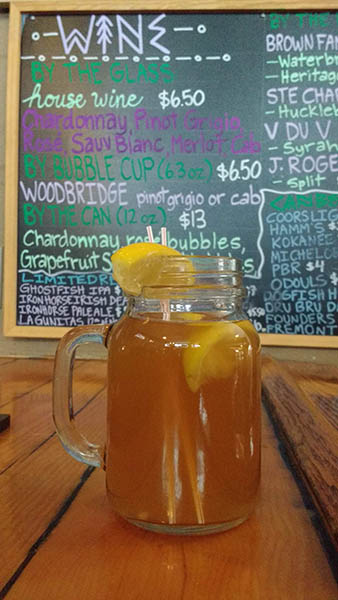 Mt. Spokane
The Foggy Bottom is not a full-service bar, but they do have wine-based cocktail mixes to help satisfy your mixed-drink needs. My bartender muddled a number of lemon wedges into a mason jar. Just looking at the size of the glass I knew I was in for it. The wine-based whiskey gave the slightest hint of whiskey flavor but not quite the lung feel. This toddy was like sipping a nice hot country tea. My drinking companion chose to go for an IPA. His opinion: "Why break tradition; besides, whiskey isn't my thing."
Schweitzer
I settled up to the bar at the new Sky House summit lodge with some friends after they dropped their 5 year old off for a play date on the magic carpet. The bartender mixed our toddies in Irish coffee glasses using Potters whiskey, which added a nice caramel undertone to the drink. Having never had a toddy before, my drinking companion thought it a little sweet for her pallet and asked for extra lemon slices.
Silver Mountain
Walking into the open, welcoming space of Mogul's Lounge after too many tree laps was a welcome reprieve, especially after we got our hot toddies and rested our weary legs. Mogul's poured the fittingly-titled Idaho Gold Canadian Whiskey with muddled lemons and just the right amount of honey. Now it may have been my powder-addled brain, but this toddy tasted the closest to my homemade recipe, and it was the least expensive.
Lookout Pass
Sometime Ullur smiles down at you, and sometimes this Norse god of snow says you have had enough. My visit to Lookout was on a beautiful bluebird day, complete with German brats and a St. Paul's at lunch. But right before the last run to the Loft Pub, a knee got tweaked and instead of a hot toddy there was a visit to ski patrol. This leaves an objective for another day when deadlines are not looming and a toddy can be sipped at leisure.