A secluded peninsula jutting out along the Spokane River, McLellan Conservation Area offers early season accessibility and relatively easy hiking.  Early April wildflowers will likely include buttercup, prairie star, and grasswidow, all gradually giving way to arrowleaf balsamroot and phlox by the end of the month.  With its forested core and riparian habitat along the river, the property is a good place to watch for wildlife and especially birds (please keep dogs on leash).  The Conservation Area is 410 acres, and is adjacent to Department of Natural Resources property for additional exploration.
Hikes here take advantage of old logging roads, so the trails are mostly double track.  There is an unmaintained singletrack trail just west of the parking lot and trailhead kiosk that leads down toward the river and gives a short loop option.  Otherwise, the trails are best hiked as out-and-back routes, covering both the open forestland at the upper reaches of the Conservation Area, and also offering a few opportunities to access the Spokane River along the lower portion of the trail.  Near the water on the eastern side of the peninsula are the remains of an old cabin.
This is a good destination for those accompanied by small hikers, with great visibility through the trees and many interesting rocks and trees to see.  Pack a picnic to enjoy near the river, and perhaps a good field guide to the various birds, bugs, and plants one can expect to find in the area.  While it is even possible to bring a rugged child's stroller on the trails here, keep in mind that the parking lot is at the high point on the trail system.  A hike to the shoreline is well worth the time and the views, but will require a climb back up at the end, with roughly 300 feet elevation gain.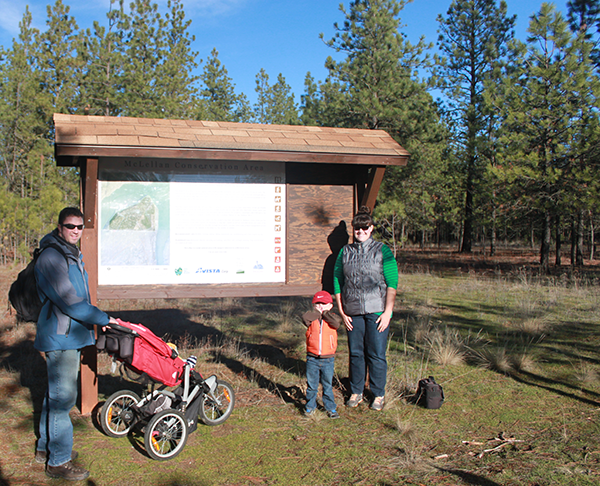 Distance:  Up to 5.5 miles round-trip
Rating: Easy to moderate
Getting There:  From Nine Mile Road/SR 291, turn west onto Charles Road.  Proceed 5 miles, then turn right on N. South Bank Road.  Continue 6 miles, then turn right on McLellan Lane.  The parking area and trail kiosk is at the end of the road.
Give back to your trails: Join Washington Trails Association for spring trips to Fishtrap Lake; register at wta.org/volunteer. //
Holly Weiler is a hiker, backpacker, trail runner, and skier. She wrote about winter cabin trips in the January/February issue.   
Feature photo: Holly Weiler
Originally published in the April 2018 print edition of Out There Outdoors under the title "McLellan Conservation Area."