Montana's front country hiking becomes backcountry quickly, which makes it easy to get away from crowds. Although a week or more is preferred for a grand-quest into a wilderness area, a weekend warrior can easily find their piece of trail magic in the dramatic and less traveled spaces outside Glacier National Park. With 27 million acres of public lands and a bounty of backcountry routes, the northwest corner of the state offers a lifetime of new places to explore.
An attitude of exploration is required for Montana's heartiest adventures. For example, a hiker can never be sure when a marked "trail" in a wilderness area might suddenly become an overgrown bushwhack from lack of use and maintenance. A scramble to a mountain summit in July might turn into a snowy opportunity for boot glissading. If you're old enough to recall the ancient tools called a map and compass, keep those orienteering instruments on-hand in case of GPS technology snafus. Equally important to remember is that starting a hike in an 85-degree valley can give way to harsh cold weather conditions in high rocky peaks. Whether hiking into a National Park or one of Montana's 15 designated wilderness areas, always be prepared for the unexpected.
If Glacier National Park is your destination, escaping visitor traffic is possible through longer day hikes or with a backcountry permit. Most park-goers visit popular haunts such as Avalanche Lake or Hidden Lake. Swiftly leave them behind by planning to hike extra miles to overnight sites. It's a good idea to make online reservations for backcountry campsites in March or risk acquiring spontaneous walk-in permits at the park. Prepare a backup plan as trails or campsites may close unexpectedly due to bear activity, forest fires, and other environmental factors. Check online for more information on backcountry use in Glacier National Park at Nps.gov/glac/planyourvisit/backcountry.htm.
Pushing yourself to the edge of the earth can deliver magical moments; these experiences are revealed to those who are okay with a little backcountry blood, sweat, and tears. The struggle brings the greatest rewards. You'll find all of the above in Montana's backcountry if you're willing to take a well-planned hike into wilder terrain.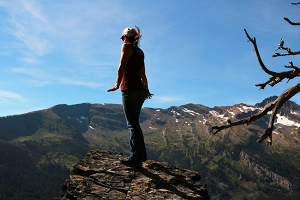 Epic NW Montana Hiking Destinations
Jewel Basin
Strap on a backpack for this weekend warrior's dream trip that samples some of Montana's finest beauties. Alpine Trail #7 stretches 55 miles across the Swan Mountains from Columbia Mountain to Inspiration Point. The most populated access point is at Camp Misery. Hiking Mt. Aeneas is fast and rewarding, but its heavy-use is a deterrent. No problem—you can hike downstream from the crowd from various Jewel Basin access points. Try the lighter-use areas of the Jewel, accessed from Highway 83. In Big Fork, take Forest Service road 5398 (Bear Creek Road), near mile marker 85. Or take a drive past Swan Lake and start your hike from Napa Trail #31. Although you may encounter huckleberries and llamas, hiking traffic should be light.
Bob Marshall Wilderness
Take a week or more for a Bob Marshall Wilderness trip. Popular points of entry from Highway 83 are from Lion Creek (lion-palisades trail #25) and from Holland Lake area trails. If a week in "The Bob" is unachievable, take an overnight hike from Holland Lake to Sapphire Lake (trails #35 and #42), or walk farther to Necklace Lakes (trail #110). These well-marked developed routes get you closer to wilderness and away from Holland Lake trail traffic.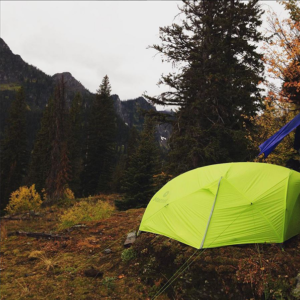 Cabinet Mountain Wilderness
To get away from it all without losing car parts on the drive to the trailhead, visit Geiger Lakes (trail #656). Day hike or overnight to wooded routes that open to big mountain views and alpine lakes. Travel further from Upper Geiger Lake to the Cabinet Divide Trail. If you have a compound bow and hunting tags, mountain grouse roasted over a rainy campfire gave new meaning to free-range chicken dinner— a true Montana pleasure framed by rocky mountain ledges around Geiger Lake. Rain or shine, the 90 miles of trails in the Cabinet Mountains give any backcountry wanderer days of epic journeys.
Hiking with Dogs
For those who hike with dogs, bringing them into the backcountry of National Parks isn't an option. But this opens trip prospects overlooked by many visitors to Northwest Montana. A wooded rural highway winding its way between the Swan Divide and the Mission Mountains provides entry to trails within various public lands, including the Bob Marshall Wilderness. Check out trail access from Montana's Highway 83 between Big Fork and Seeley. Spend a weekend perched with dramatic views of the Mission Mountains or Swan Mountains. It doesn't get much better, and the people you meet along the way are scarce. //
Katie LeBlanc wrote about trail running in Glacier National Park in June.