Looking for some hikes around Spokane with huckleberries? Hiking Inland Northwest mountains for huckleberries is a popular summer pastime. Western huckleberries—variable in color, from blue to a reddish cast on a darker berry, to just plain black—grow best at 3,000-7,000 feet in elevation and are part of the same genus that includes cranberries. Picking huckleberries is like a scavenger hunt, one that leaves you with a big smile and purple fingers. 
The mountain huckleberry is the most widely harvested western huckleberry, although the Inland Northwest region also sustains the dwarf and Cascade huckleberry. The easiest way to know for sure is to look for the little crown on the top like you see on a blueberry.
Huckleberries love open and recently cleared areas, so places near logging roads or on open ski slopes are usually fruitful places to search. Dates of ripeness vary, but be ready to harvest in early July. Peak season is typically mid-July to early August. The huckleberry has resisted domestication, and because it lacks a centralized dense root system it doesn't take much to damage a plant. Be gentle and stick to picking by hand.
Mt. Spokane State Park and Priest Lake have some great picking, even at lower elevations. The Washington Trails Association also suggests the Salmo-Priest loop (Selkirks), Panjab Trail (Blue Mountains), and Kettle Crest South (Okanogan Highlands). Check out the WTA website for other options in the North Cascades and near the Columbia Gorge. Schweitzer Mountain Resort is also a great place to hunt for huckleberries; bring your own bucket and check Schweitzer.com for parking, hiking, and lift ride details.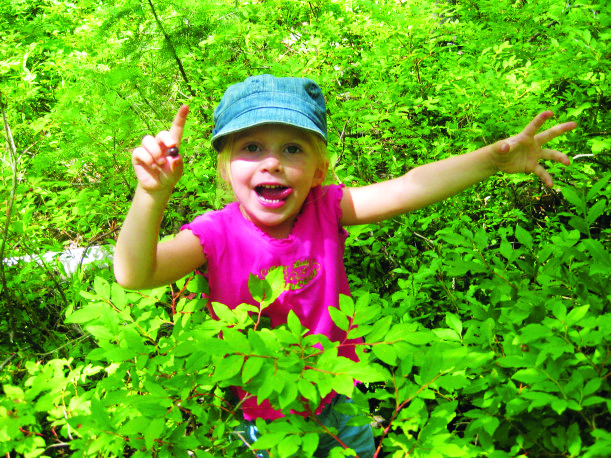 Foraging Tips
Don't wear shorts and sandals: your feet and legs will get scratched up. If there has been any rain whatsoever in the past 24 hours, the plants will still have water on them that will soak your clothing—so be prepared for that.
Wear a hat: Prevent sunburn and allow yourself to see without needing sunglasses to make it easier to find berries.
Use a hands-free container: I use a gallon milk jug with the top cut off and a strap that can go through the handle and hang off my neck or around my waist. My friend uses protein shake containers—with a small opening at the top, kids are less likely to spill that hard-earned bounty. I also bring gallon freezer bags, which pack small and can store berries once a jug is full.
Bug spray is a must: Gnats can ruin huckleberry picking on a beautiful day. If you use DEET, expect to eat it later in your berries, so consider natural repellant products.
Wear layers: You never know if it is going to be sweltering hot in the sun or cold from the clouds, shade, and breeze.
Bring snacks, water, sunscreen, toilet paper, and hand sanitizer. This last one will help in cleaning berry stains off fingers.