For paddlers and hikers with spring fever, the overlooked Hanford Reach National Monument presents unbelievably serene paddling and hiking opportunities in a climate that's typically four weeks further along into spring than the Spokane-Coeur d'Alene area in March. The monument offers more than 57,000 acres of land access to some of the Northwest's most intact sage-steppe ecosystem, a landscape that is resplendent with wildflowers and wildlife in March.
The impressive array of potentially viewable desert mammals includes hundreds of elk, some of the state's largest mule deer, coyotes, mink, beaver, otter, badgers and more. Bald and golden eagles, peregrine falcons, burrowing owls, common loons, white pelicans, sandhill cranes, caspian terns, vast waterfowl and shorebird species, and many more all use the monument during March. Hikers are welcome to tread lightly off-trail in the Wahluke and Ringold Units of the monument, and all access roads in open units are fair game. For more info on maps and access, check out fws.gov/refuge/Hanford_Reach.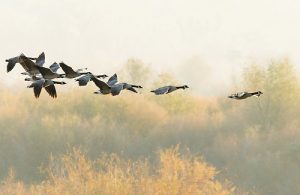 That 57,000 acres of public property doesn't include the 51 miles of free-flowing Columbia River and its vast paddling opportunities between Priest Rapids Dam and many downstream access points: Vernita Bridge, White Bluffs, Old Wooden Power Lines (Parking Lot 7), Ringold and Leslie Groves Park in North Richland. Canoes and kayaks are both at home here, as are paddlers with intermediate or better experience who come prepared for possible immersion in big, cold water. There are no rapids, but there are whirlpools and eddylines – and power boats. Luckily, there is very little power boat traffic in March, except for the area around Ringold Hatchery and Public Access, where anglers are helping Washington Department of Fish and Wildlife collect hatchery steelhead broodstock in March. Most steelheaders present little threat, unless you're a beer. Stay river right around Ringold.
The Tri-Cities and its vast wineries and tasting rooms offer another excuse to get a jumpstart of spring weather by visiting Southcentral Washington this time of year. Good wine, beautiful weather and a blossoming sage-steppe landscape offer a welcome relief to the winter-weary wildlife watchers visiting one of the Northwest's most iconic landscapes. Check out Tri-Cities Visitor and Convention Bureau for comprehensive visitor's information.
If you've never heard of the Hanford Reach National Monument, definitely don't let the name fool you. The Hanford Site is the expensive, behind-schedule cleanup project on the west bank of the river. While frustratingly slow to some, the massive environmental clean-up project has been very successful at securing the river corridor. Pollutants are at undetectable levels at former points of pollution along the river's eastern shoreline. // (Jeff Holmes)