I consider myself both a backpacker and a fisherman, but if I'm honest with myself I have to admit that I'm not a die-hard proponent of either pastime. It isn't often that I have backpacked without some other goal or motivation in mind and, if the fishing isn't good, my enthusiasm wanes quickly, and I switch to something else.
So, when I learned about Washington's high-country fishing opportunities, the chance to combine hiking with good fishing instantly caught my attention. Here is the promise of pristine lakes nestled into some of the most scenic backcountry the Cascades have to offer. Some of these lakes have an overabundance of trout and are accessible by trail at a distance that is challenging but nonetheless doable.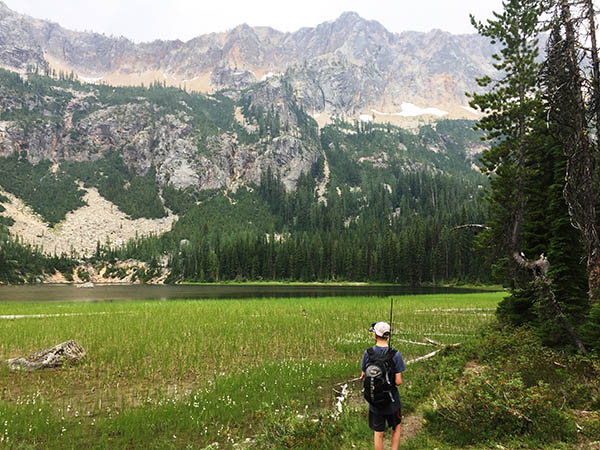 There are a good number of lakes in the Cascades that are stocked with trout periodically, but not all of them have enough nutrients to support the population. The result is that some of these lakes have excess fish, whose growth is stunted due to overpopulation. Therefore, the Washington Department of Fish and Wildlife (WDFW) actually encourages anglers to catch plenty of fish and keep them in their creel for eating. The fish are the perfect size for the frying pan, and who wouldn't trade a fresh, wild trout meal for the freeze-dried fare that is so common on backpacking excursions?
Normally a lake with so many fish would quickly get pressured back to mediocrity by an influx of anglers, but the fact that these lakes are a few miles from the end of the road keeps them from being over-exploited. There are some at distances that make them feasible for day hikes, and others are in more remote (and beautiful) locations that beg for an overnight campout on their shores. Another great feature is that different lakes are stocked with different species of trout, so you have the opportunity to catch cutthroat, rainbow, brook, or even the elusive golden trout—depending on where you go.
This past summer I planned a weekend excursion to one of the lakes with my 12-year-old son. Wanting to start easy, we found a campground near the trailhead and car camped, then started for the lake the following morning. It was a little over 2 miles into a beautiful alpine basin where we were surrounded by towering mountains and a little bit of smoke from the fires that were burning about 20 miles to the north.
When we reached the lake, we could already see trout rising to eat the small insects that were hatching off the surface. We rigged up our rods and caught a nice number of pan-sized trout over the next couple hours. After a picnic lunch and some good conversation in a beautiful setting, we headed back down the trail with a few fish and a lot of memories.
For resources on fishing Washington's high lakes check out this article by Harley McAllister.