Consider this two hikes in one. Although a trip here will require a little extra planning, visitors have access to two different public land agencies, two different hiker experiences, and several options for extending a short loop into a longer outing if so desired.
For the pre-planning required of this trip, start by completing an application for the Palouse to Cascades Trail (formerly known as the John Wayne Trail) through Washington State Parks. These permits are required for all recreation on the eastern portion of this cross-state trail, but they are free. They are also valid for up to one year—so long as you indicate on the application that you would like to plan for multiple visits.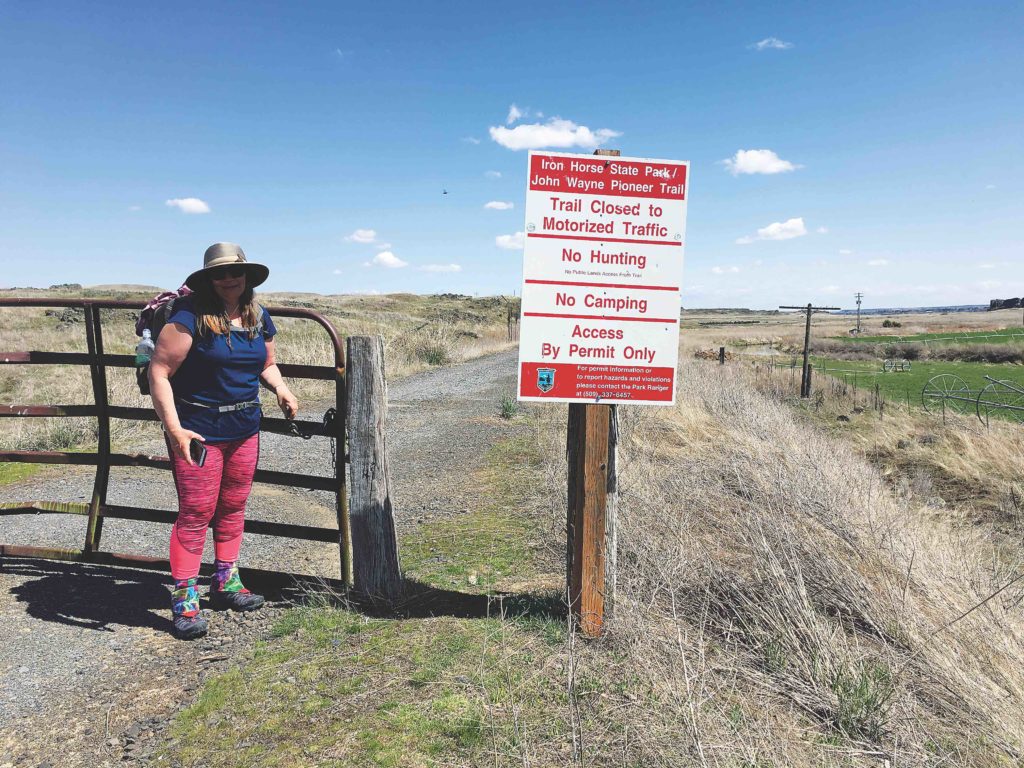 Pro tip: Fill out the application to cover all of the eastern portions of the trail for all of the activities you might like to do there during an entire year (hike, bike, horseback ride, and even ski and snowshoe). You can also submit an application for any size group under 20 total, and then anyone who happens to accompany you on a visit can be covered under your permit. The permit application can be completed online at the Washington State Parks website or by calling 509-337-6457. State Parks advises completing the permit application at least 15 days in advance of your trip, although I have experienced a much faster turn-around in receiving my paperwork.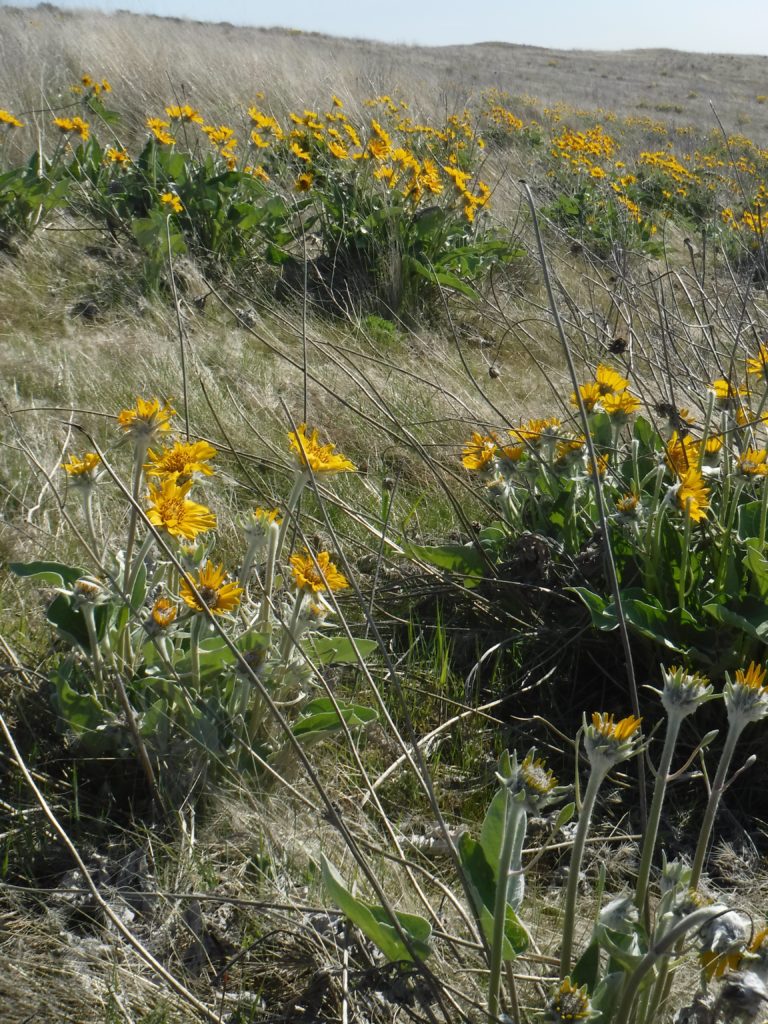 Once you receive your permit, be sure to carry it with you when visiting this or any other portion of the Palouse to Cascade Trail. For this particular hike, tuck it in your pack to have it handy, but start by following Rock Creek west within the Revere Wildlife Area. This 2,291-acre property owned by Washington Department of Fish & Wildlife (WDFW) is a superb spring hike through wildflowers, near wetlands, and past historic farm structures in the process of being reclaimed by nature. The main part of the wildlife area is located across Rock Creek, which has a bridge across it on Jordan Knott Road (note: it's possible to hike Davis Road to Jordan Knott Road to access the bridge). There is no trail here, but WDFW has planted a natural fence of juniper and other shrubs, and hiking through is pleasant and easy in the spring before the grass grows high. 
Once across the bridge over Rock Creek, immediately turn left onto an old farm road, crossing a WDFW gate and reentering the wildlife area. From here, hikers can choose between following old farm roads and venturing off cross country. There are small wetlands and sizable spring ponds, and the open terrain makes cross-country travel relatively easy. Either way, eventually aim for the northeast section of the property, where a historic farm invites hikers to visit but take only photos. An old barn was still standing as of spring 2018, but listing dangerously to the side. Visitors should admire from afar.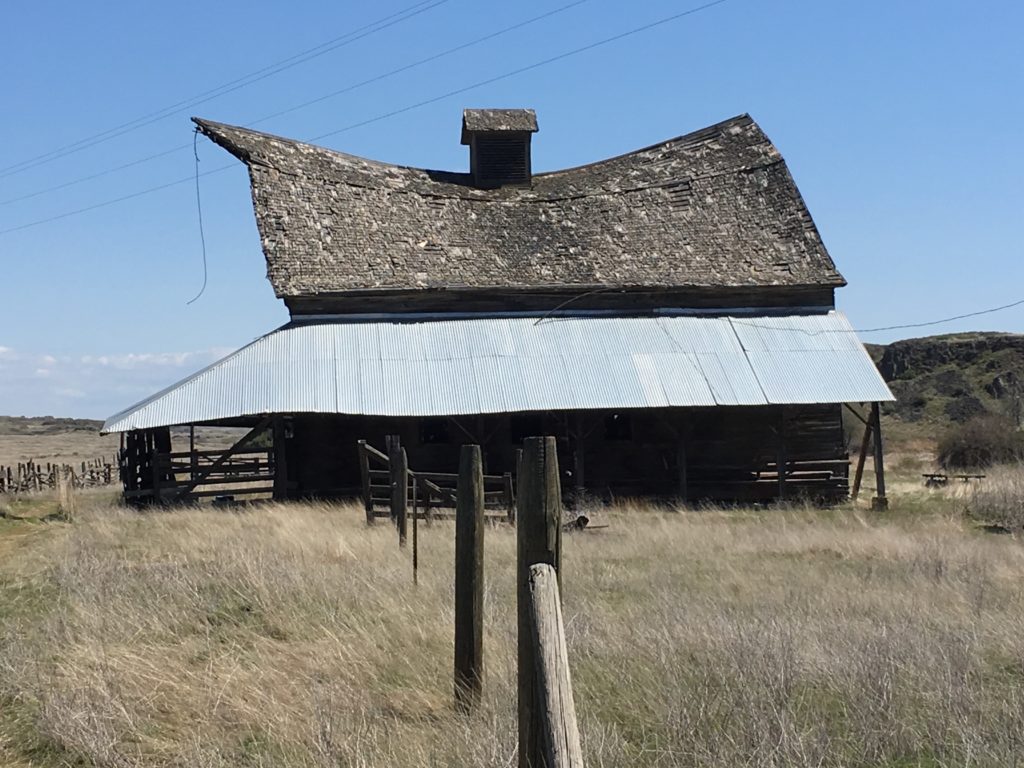 From the old homestead, rejoin the farm road to another bridge over Rock Creek. Beyond the bridge, climb over a WDFW gate and exit on the Cascade to Palouse Trail. To conclude the hike, travel west to return to the parking lot on this old Milwaukee Road Corridor. Hikers may choose to the extend the hike by venturing farther east before returning to the car; however, they are no longer permitted to explore off-trail, as State Parks property only extends as far as the old railroad right of way for this portion of the hike.
Distance:7 miles
Elevation Gain:500 feet
Difficulty:Moderate to difficult due to distance and route-finding within the Wildlife Area
USGS Topo:Revere
Getting There:Take I-90 westbound to Sprague. Take Highway 23 south 11.6 miles to Davis Road. Take Davis Road 6.8 miles to the Revere Wildlife Area parking area along Rock Creek. Discover Pass Required.
[Photos by Holly Weiler]