Friends of the Bluff to host happy hour, talk on preservation at 2018 Expo
The Bluff is a treasured Spokane area: running along the west side of the ever-busy South Hill, the Bluff trails are a pine-filled respite frequented daily by mountain bikers, dog walkers, and runners. Like all natural areas today, though, the Bluff faces maintenance challenges and threats from development. That's where Friends of the Bluff comes in.
Friends of the Bluff is a volunteer organization devoted to preserving and maintaining the Bluff for recreation and its natural beauty. On Saturday, February 24, at 3:00 p.m. President of Friends of the Bluff Pat Keegan will present at the Spokane Great Outdoor and Bike Expo with their talk "Renegade Bulldozer, Threats from Development, and Future Plans for the High Drive Bluff."
Throughout the year, Friends of the Bluff organizes volunteers to maintain trails, plant vegetation, and clean up the trails. 2017 was the driest summer in Spokane history, with serious threat of wildfire. Friends of the Bluff volunteers responded with a weekend of fire suppression activities. They were able to save around 1,000 native plants on the bluff with thorough watering efforts.
"Our job is to be stewards of this multiple-use area," says Keegan. "It's used by bikers and hikers and dog walkers, but it's also a natural wildlife area. We try to represent all these users who love the Bluff by working with the city and property owners to try to protect it."
Friends of the Bluff has an ongoing mission to improve access to the Bluff trails and to prevent further development from disrupting the area. Last year a bulldozer created an illegal road on the Bluff, sparking outrage and discussion, which Pat will cover partially in his Expo presentation.
This resistance to development stems from wanting to keep the green spaces we love very much alive and accessible for people to refresh.
"As cities grow and people build, little by little the trees come down and the wild grass becomes lawn and the stars drown in streetlights," says Marit Fischer, a Friend of the Bluff board member. "Sunsets are obscured by buildings and, what is most painful for me, our trails become roads. So where do we go for soft ground beneath our feet and trees we can hide in? As humans, we need these things."
During the Expo, Pat will discuss some ways in which we can safeguard the green space we all need. There are currently three parcels of private property on the Bluff for which the future is questionable. Friends of the Bluff would like the City of Spokane to acquire these parcels and deem them public lands.
"Once the City parks owns it, they cannot sell any park property without the vote of the people," says Pat. "We have a very strong, unique charter in Spokane, which is why we have such great parks in the area."
One of the land parcels in question, if developed, would essentially cut the Bluff in two, losing much of the land at the heart of the Bluff. Friends of the Bluff hopes to be part of a Parks Department plan to get on board with maintaining the Bluff as a natural recreation area.
"I'm hoping that people can really get a sense of the awesomeness and beauty of the Bluff, and the need for us to all pitch in to help protect these areas," says Pat.
Friends of the Bluff's longterm vision for the Bluff includes more access points and trail connections, as well as decommissioning and revegetating some of the redundant trails. City and community partnerships and collaborations will be key to enable these changes. Friends of the Bluff plans to be there to listen, represent, and try to come up with solutions that will work for everyone involved. During his Expo presentation, Pat will talk about specific acquisition plans, challenges, and opportunities to volunteer for trail maintenance.
"Nobody in this giant neighborhood we call Spokane works in a vacuum," says Marit. "We're all in this together, organizations and community members alike, and I think that's becoming more and more evident as we all reach out with our hands, minds, shovels and wallets."
So, how can you help Friends of the Bluff protect over 20 miles of trails in a 500-acre natural area, challenged by a growing city? One way to help is to show up to the Expo talk; if Friends of the Bluff fill a room with people, it will show the city that there's a lot of people who care about the bluff, says Pat.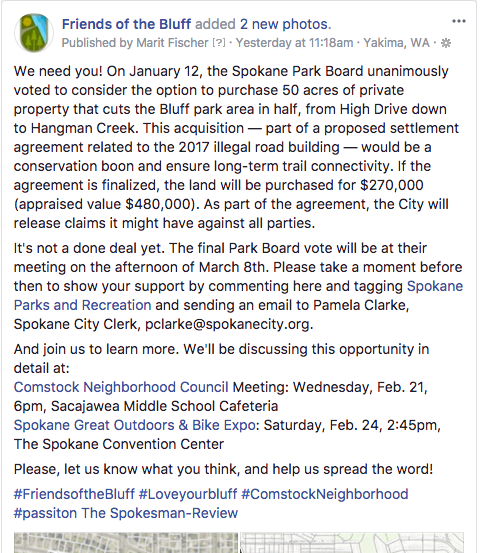 Along with demonstrating support, you can volunteer, be a voice of support, or donate. Friends of the Bluff is a 501(c)(3), and while they already receive a few donations, Pat hopes one day that the organization will be able to help acquire parcels to continue to preserve the natural area. You can also follow Friends of the Bluff on Facebook and Instagram (@friendsofthebluff) to stay up to date on the latest voting issues.
In addition to the Expo presentation, Friends of the Bluff will be hosting a Happy Hour directly after Pat's talk, from 4-5 p.m. on Saturday, Feb 24. Attendees will be able to enjoy discount beverages and bid on some sweet silent auction items at the center of the Expo at the Expo Campground. Visit our Expo website below for a list of some of the available silent auction items from local vendors and artists including REI, Barrister Winery, and Silver Mountain Resort.
About the Spokane Great Outdoor and Bike Expo:
Where: The Spokane Convention Center, 334 W Spokane Falls Blvd, Spokane, WA 99201
When: Saturday, February 24, 9:00 a.m. – 5:00 p.m. and Sunday, February 25, 10:00 a.m. – 4:00 p.m.
Tickets here
Expo Website here