Whether your child is a teenager or only four years old, novice or experienced, there is a program for all abilities and ages (starting with toddlers) available at Inland Northwest ski resorts. There are even programs for parents!
Choosing the best fit for your child foremost depends on your family's schedule availability and transportation means as well as your child's age and skill or experience level.
Next, decide if your child would do best in a group setting or would learn better with more one-on-one instruction (which would mean private/semi-private lessons should be considered).
This guide to lesson and learn-to-ski options for Winter 2022-23 at the four Ski the NW Rockies resorts—49 Degrees North, Mt. Spokane Ski & Snowboard Park, Lookout Pass Ski & Recreation Area, and Silver Mountain Resort—serves as a quick overview to what's available that will best meet your family's needs. Even if you already have a "home mountain" because you're a season pass guest or know that you'll just visit the same mountain as your friends or family do, this guide will be useful.
If you want to enroll children in a multi-week group lesson, register online ASAP, as these fill quickly. If a session is full, get on the program wait-list—there are always cancellations by the time January comes.
For single-lesson programs, advanced registration online is recommended; however, some ski schools allow walk-ins for day-of registration, no later than 30 minutes prior to lesson start time.
Age Level
Each mountain structures their instructional program a bit differently, with minimum age requirements and age-range groupings. Families with children in different age groups will want to choose a mountain destination accordingly so every child who needs lessons can be included.
Another important detail for parents to keep in mind is the required time commitment. For example, is the lesson only a morning or afternoon session, or is it all day and includes a supervised lunch break? What are the specific drop-off and pick-up times? Will instructors help young children put on their gear?
If you're not sure about lessons, because of cost or time, consider this: enrolling kids in lessons is a great way for parents to have "free ski time" on the mountain. You can find powder stashes in the trees and shred black diamonds all you want, knowing your children are being taken care of and progressing their skills. And then when you're all together on the slopes, your kids can show off what they learned.
Age 2+: 49 Degrees North's Li'l Club Lesson & Day Care (ages 2-6). Most all ski schools can provide private and semi-private lessons for children age 2+.
Ages 4-7: Mt. Spokane's popular multi-week group ski lessons during weekends are the Mini Mites (ages 4-6, morning and full-day options) and Mighty Mites (ages 5-7, full-day). The little rippers can also join Mt. Spokane's Club Shred (ages 4-10) and winter break camps. Lookout Pass has its Mini Moose program for this age group (Sundays only). For the EZ Ski/Ride 1-2-3 programs, minimum age is 7; however, 49 Degrees North allows kids ages 6 and older to participate.
Ages 6-13: There are a lot of multi-week group programs and single-lesson packages for this age group. At Silver Mountain, the Silver Kids program (ages 7-12) only offers lessons for level I-II skiers. Lookout Pass has weekly ski and snowboard group sessions for all abilities and levels. At Mt. Spokane, skiers/snowboarders can enroll in Kids Club (ages 7-15). 49 Degrees North has an Adventurers program (ages 6-13) for multi-week sessions, while the single-lesson options are Trailblazers (ages 6-12) and Above & Beyond (ages 12+, beginners only).
Ages 9-17: Mt. Spokane has two instructional programs for advanced skiers/snowboarders, Park Club (Saturdays) and Mountain Adventure Club (Sundays)—only during February 2023. 49 Degrees North hosts a one-day Intro to Freestyle and Park Skills "day camp" for skiers and snowboarders (ages 10-15) in December.
Parent-Child Lessons at 49 Degrees North
Mommy/Daddy & Me is a 1-hour lesson for one parent and one child (ages 2-13, beginner). Program goal is for parents to learn teaching tools to help their child further develop ski or snowboard skills.
First Time on Skis or Snowboard
EZ Ski 1-2-3 (ski/ride): This is a popular program offered at all four resorts includes three days with 2-hour group lessons, rental gear, and lift ticket and allows for progressive skill building. (Does not have to be booked for consecutive days.) Minimum age restrictions vary. At Silver Mountain, only for ages 13+ and not available on Saturdays or holiday periods.
Never-Ever/First-Timer: One-day lesson packages, ages 6/7+, typically include a 2-hour group lesson, rental equipment, and bunny-hill lift ticket—ideal for those wanting to try skiing or snowboarding with minimal financial and time commitment. (49 Degrees North calls its program "Learn 2 Package.") Reservations recommended, but walk-ins are welcome on a space-available basis the day-of (registration cut-off is typically 30 minutes prior to lesson start time).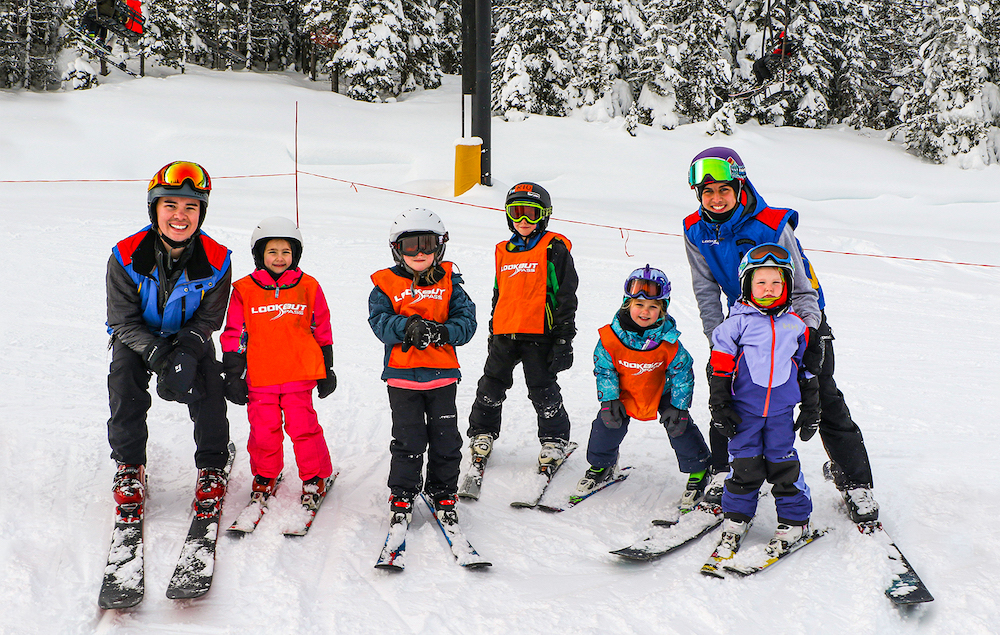 Snowboard Group Lessons
Each mountain offers EZ Ride 1-2-3 and first-time/never-ever lessons for children, teens, and adults, plus some unique programs tailored to snowboarders (reservations required).
Mt. Spokane: Holiday camps; Kids Club, ages 7-15 (Saturdays only, January-March); Club Shred, ages 4-10 (Friday nights, Jan.-March); Park Club, ages 9-17, for advanced/Level 4+ skiers and snowboarders who want to improve Terrain Park skills (Saturdays in February); Mountain Adventure Club, ages 9-17, for advanced snowboarders/skiers who want to explore and improve skills on treed and side-country terrain (Sundays in February).
Lookout Pass: Free Ski School for snowboarders ages 7-17; Lookout Pass full or half-day group lessons for ages 7-12.
49 Degrees North: Multi-week group lessons, ages 6-13 (private lessons available for younger kids), include Discovery Club; Above & Beyond half-day group lesson for beginners (ages 12-adult)—advanced registration recommended but walk-ins can register day-of at least 30 minutes prior to lesson start time; and a one-day Intro to Freestyle and Park Skills "day camp" (ages 10-15, Dec. 23) for snowboarders and skiers.
Silver Mountain: Flexible 5, semi-private group lessons (ages 7 and up).
Free Ski School at Lookout Pass
A popular program that fills quickly is the longtime "Free Ski School," staffed by volunteer instructors and organized separately from Lookout Pass' Snowsports School. Registration opens in late Oct./early Nov. and lessons begin in January 2023.
Beginner and intermediate/advanced skill level sessions are offered for skiers (ages 6-17) and snowboarders (ages 7-17). Participants must attend a session during the first three weeks of the program, which is free. Doesn't include equipment or a lift ticket, although a lift ticket isn't necessary during the lessons.
Month By Month Schedule
Registration already opened for some local ski schools back in October, and multi-week sessions fill quickly. For some families, a certain month can be the best time for lessons because of commitments to other activities and non-alpine sports.
December: EZ Ski/Ride 1-2-3 and first-timer group lessons, as well as private/semi-private lessons, start now and run throughout the season.Youth specific programs include Mt. SpokaneHoliday Camps (3 days) during winter break, ages 4-15, and 49 Degrees North's Intro to Freestyle and Park Skills (ages 10-15) afternoon "day camp" on Dec. 23.
January: Learn to Ski/Snowboard Month! Busy weekends at ski mountains, with newbies of all ages snowplowing down the bunny hills. Multi-week sessions kick off for the 4-15 age group at all the mountains (same lesson start/end time schedule, for four consecutive Saturdays or Sundays). Silver Mountain's Flexible 5 program begins Jan. 9, 2023 (must register before this date), and continues through the season.
February: Multi-week session #2 at all mountains. At Mt. Spokane, two programs commence for older advanced/experienced rippers, ages 9-17—Park Club and Mountain Adventure Club.
March: Mt. Spokane offers a session #3 for Kids Club & Mini/Mighty Mites (only 3-weeks this month). Still available at all mountains will be EZ Ski/Ride 1-2-3, first-timer, and private/semi-private lessons. //
Adaptive Programs
For any children with unique physical or developmental needs, adaptive private lessons are available at 49 Degrees North. At Mt. Spokane, Spokane Parks and Rec's Therapeutic Recreation Services (TRS) hosts a ski and snowboard lesson program.
Season Pass Bonus
Ski the NW Rockies mountains offer reduced cost for a season pass, good for the remainder of the current season, after completion of an EZ Ski/Ride 1-2-3 program (available to all ages). Mt. Spokane offers a free season pass after completing two camps/multi-week programs.
At Silver Mountain, Flexible 5 program participants earn a "graduation gift" of a season pass good for the remaining ski season, and then 50 percent off a season pass for the following winter season (must reserve package by January 9, 2023).Flexible 5 lessons are offered only Sunday-Wednesday (one lesson per day max), holiday weekends excluded.
Keep this season-pass perk in mind when choosing a mountain for your children's lessons—it's an affordable gateway to becoming annual season passholders.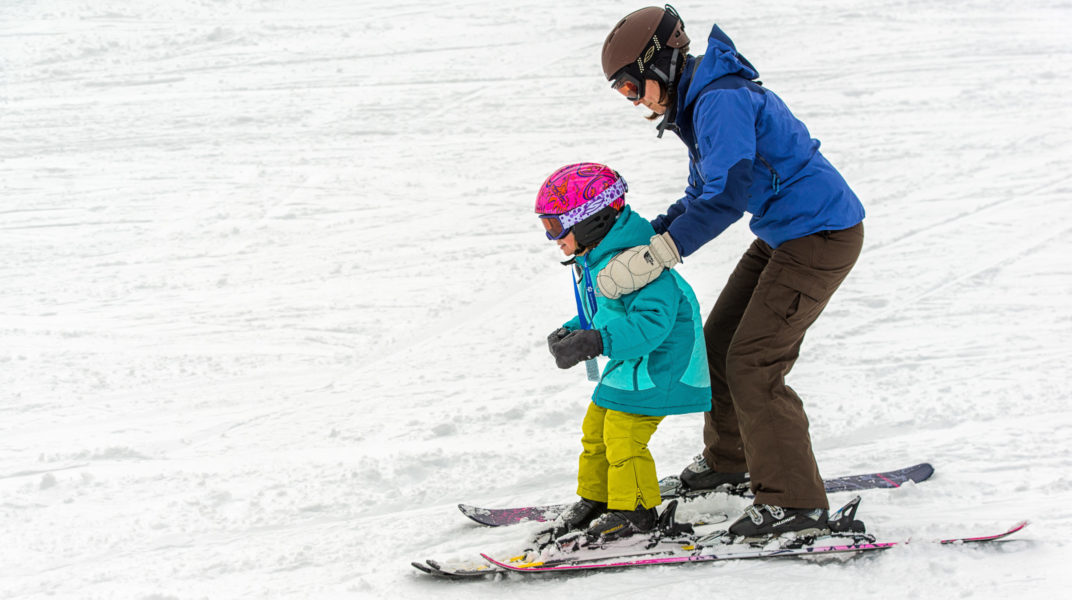 5th Graders Ski or Ride for Free
The 5th Grade Ski or Ride Passport allows any 5th grader from any state to ski or snowboard three free days at each of the participating resorts: 49 Degrees North near Chewelah, Wash.; Lookout Pass on the Idaho/Montana stateline, Mt. Spokane, Silver Mountain in Kellogg, Idaho; and Loup Loup near Twisp, Wash.
Ski Idaho runs a similar program that allows 5th and 6th graders to ski or snowboard three days for free at each of the 17 participating Idaho resorts.
To participate in the 5th grade passport program, parents need to submit an application with a one-time $20 processing fee at 5thgradeskipassport.com and then wait for the passport to be emailed to them. A parent or guardian must be present with a participating 5th grader at the resort ticket office with either a printed copy of the passport or the electronic version on their phone to receive a lift ticket.
There are some blackout dates and dos and don'ts, so be sure to read the rules and regulations online in advance. Some of the participating ski resorts also offer discount rental gear and lessons as part of the 5th grade passport program. More info: Skinwrockies.com (OTO)
Find more stories for outdoor families, about skiing/snowboarding and teaching kids to ski, the annual Family Winter Sports Guide, and more Ski NW Rockies stories in the OTO archives.