Finding Early Season Turns from B.C. and Mt. Hood to Local Bitterroot Snow Magnet Lookout Pass
The end of August is when the jonesing starts for me. It's typically right after I receive the first ski magazine subscription for the season. You dissect every page, inspect every photo with a fine tooth comb and this, coupled with all the social media photos and GoPro clips coming out of South America, it's go time. Yeah, I'm ready. By early October your stash of ski porn has been depleted, boards are tuned and you've had enough foreplay, it's time to knock down some turns.
Living here in the Pacific Northwest we're pretty lucky as we have a menagerie of high mountain peaks and passes with deep, long-lasting snow packs. In the Cascades, Mount Baker, Mount Rainier, Mount Adams and Mount Hood all have permanent snowfields and glaciers. This accessibility has made it inviting for numerous hard core riders who ski and board year round, some with skiing streaks surpassing 150 straight months of bagging turns. During my research, I even found a handful of Coloradans who have surpassed 300 months (over 25 years) of getting year round skiing. That's determination.
Keep it Safe
For many of us mere mortals with a hankering to make some turns as early as November, we have a handful of spots within an easy day's drive of the Spokane/Coeur d'Alene/Sandpoint area. Some of these spots are lift-serviced ski resorts and other spots require hiking or skinning. If you plan on earning your turns in the backcountry, make sure you have the knowledge of backcountry safety and all the members of your group are equipped with the proper safety gear (avalanche transceiver, shovel and probe). Early season conditions can be quite hazardous, so do not take this type of riding lightly.
If you're a newbie and plan on getting into backcountry skiing, snowboarding or snowshoeing, I highly recommend taking an avalanche awareness class from a local shop or organization (see https://outthereoutdoors.com/avalanche-safety-classes-if-youre-going-to-ski-or-ride-the-backcountry-be-prepared/). These programs provide a basic approach to managing risk in the backcountry by teaching you how to understand avalanche bulletins and weather reports and recognize avalanche danger in the backcountry.
First Turns: B.C., Oregon, Lookout/Stevens Peak
Depending on precipitation and temps, British Columbia can offer up some turns in November. Just an easy 2.5 hour drive from Spokane you'll find Kootenay Pass, which sits between Creston and Salmo on Highway 3. You can park your car at the top of the pass at about 5,800 feet and gear up right there. Both sides of the highway offer some good early season turns for riders of varying abilities. For more on Kootenay Pass, here's a good link with lots of info on various routes.
Backcountryskiingcanada.com/kootenay_pass.
For those looking for some bigger mountains and some truly mind blowing terrain, there's Rogers Pass, which sits between Revelstoke and Golden, British Columbia, along the Trans-Canada Highway. Revelstoke local and professional freeskier Izzy Lynch cuts her teeth here each season and had this to say about one of her early season haunts: "There's tons of accessible skiing at Rogers Pass. Everyone who visits the park is required to sign in and get a permit at the Discovery Centre. They will inform you on avalanche closures and conditions, and from there you can head straight up Connaught Creek to Balu Pass. The elevation and variety of terrain make for great early season skiing."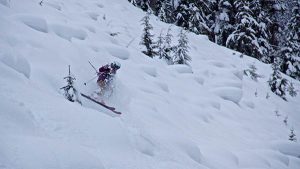 Typically it takes about a meter of snow to fill in many of the hazards in this zone, such as creeks, rocks and alder, but each season varies from one to the next. Typically snow starts collecting in late October, and as Lynch says, "It depends on the season, but typically keeners who aren't afraid of a little alder bashing start heading out in early November, and you can get as much vert as your early season legs can handle."
Now for many of you who are looking for lift-serviced riding, there's Oregon's Mt. Hood, which, depending on snowfall, can start running lifts in late October and early November. A little closer to home, Lookout Pass, which sits at 4,700 feet, is traditionally one of the first local resorts to start spinning its bullwheel for early-season riding. The earliest Lookout has opened has been November 6, and according to Lookout's CEO Phil Edholm, one of the main reasons for being the first resort to open in our area has to do with the resort's summer grooming. "The front side of the mountain has benefitted from over 70 years of summer grooming," says Edholm. "Which means we are able to open on minimal snowfall. In fact, we've opened on as little as 14" of snowfall when there's sufficient water content in the snow to allow for machine grooming and packing." It also helps that many of the winter storms come from the southwest over Stevens Peak, which at 6,800 feet is the highest mountain in this section of the Bitterroot Range. "Our location allows us to benefit from substantial orographic lifting that wrings out extra snowfall from the storms," adds Edholm. "So when you combine a higher base elevation, colder temps and substantial orographic lift, you get more snow, earlier and more often than most other areas in the region."
Depending on the snow base, Thanksgiving weekend is traditionally when our local resorts try to open, and with last season's dismal winter, I know there are a lot of you looking to get that fix as soon as possible. Start off slowly. It won't be long! // (Bob Legasa)