I have some neighbors who recently took the leap. They ditched their big box store mountain bikes and invested in some quality road bikes. They say the difference is like night and day. Riding is even more fun now. I'm happy for them because there are lots of opportunities for them – and you – to have fun, taste some wine, eat some food, challenge yourself, and hang out with friends. Check out these summertime rides. There's a ride for every experience and confidence level and other rides to give them both a boost. Keep those wheels rolling.
I Made The Grade – June 14 in Clarkston, Wash. This is one of the best bicycle climbs in the country. Ride 18 miles and climb over 2,000 feet up the Old Spiral Highway leading out of Clarkston. Yes, children do this ride but don't do it out of shame. It supports the high school band. Prideofclarkston.com/#!__i-made-the-grade.
Spokane Summer Parkways – 6-9 p.m., June 18. This is a four-mile loop restricted to non-motorized traffic connecting Manito Park and Comstock Park. At 7 there's a bike decorating contest for everyone to participate in. This neighborhood really gets into the party. Summerparkways.com/about.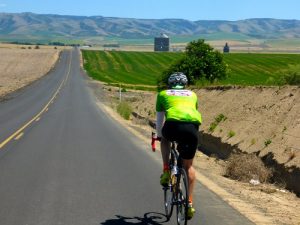 Ninth Annual Ann Weatherill Cycling Classic – June 21 in Walla Walla, Wash. Stop by a winery during the ride and then feast on spaghetti and meatballs at the end. Choose from 30, 60, or 100 miles of beautiful countryside. Wheatlandwheelers.com/2014/03/9th-annual-ann-weatherill-cycling-classic.
Bingham County Idaho Relay for Life – June 28 in Harrison, Idaho. This is a small ride, limited to about 25 riders, that supports the American Cancer Society. It's a great first century because it's a flat course with no traffic and lots of scenery following the Trail of the Coeur d'Alenes from Harrison to Wallace. Moose and eagles and deer! Oh my! Ezcenturyride.org.
Northwest Tandem Rally – July 4-6 in Pendleton, Ore. At the NWTR you will see a boatload of tandems and maybe a couple of triples and quads. A tandem bicycle, sometimes referred to as a marriage validation device, is fun to ride. A tandem not only keeps you fit, it also sharpens your communication skills. Tandem owners know what I'm talking about. BUMP! Nwtr2014.com/index1.html.
Goldilocks Ride – July 12 in Meridian, Idaho. This ride is just for women. The options include 20, 40, 60, 80, and 100 miles of beautiful and relatively flat routes. You can't help but find the route that's just right for you. No reports of bears or cold porridge. Goldilocksride.com/gid.
The Midnight Century – August 2-3 in Spokane. This is an unofficial, unsanctioned, and unsupported ride. It's all up to you. The ride begins at midnight in Browne's Addition and follows a nearly 100-mile loop east to Liberty Lake, southwest to Spangle, west to Cheney, and then back to Spokane. The route is roughly half pavement and half gravel with some challenging climbs and a couple of pretty rough patches. Finishing gets your name on the web site results page and maybe some sort of printed commemorative item 6-8 months later. It's totally worth it. Midnightcentury.com.
Great Northwest Fall Tour – August 31 in Newport, Wash. The rides begin at the Newport City Park. You have route options of 15, 30, 50, and 80 miles taking you through the countryside of Pend Oreille County on mostly county roads. The two longer rides have more challenging climbs than the two shorter rides. But you don't care because you Made The Grade back in June, right? Gnwft.homestead.com/index.html.
Spokefest – September 7. This is Spokane's signature social cycling event. About 2,000 riders take part and then join the party in Riverfront Park after the ride. There's a one-mile loop and Bike Safety Rodeo for children in the park. Everyone else can choose between the 9, 21, and 50-mile routes. Water and food stations are along the way. Doomsday Hill won't bother you because hills are nothing more than a minor inconvenience to you by now. There's a lot of bicycle traffic, but that's a good thing. Ride safe and have fun. Spokefest.org/About.
Blazing Saddles – September 20 in Colville, Wash. The Rotary Club of Colville says they host the best ride in the Pacific Northwest. Route options include 20, 40, 65, and 100 miles. They stagger the start times so most people finish around the same time. Why? Because you finish at Blazing Spoons, also known as the Inland Northwest International Chili Cook-off, in the fairgrounds where your ride wristband gets you free entry. That campfire scene from the movie keeps coming to mind. Blazing100.org. //