The yurt, an often portable, round tent that has been used as a home in Central Asia for at least 3,000 years, is slowly becoming not only a more common dwelling structure in North America, but also a unique and diverse place to stay while on the road or vacationing in a scenic spot. Yurt living is not camping. However, it is also not always "glamping" either, especially during the winter. Here in the Inland Northwest, we have a smattering of yurts available to travelers, with a few open and fitted for winter stays. I explored four yurts in the area that have opened their doors to winter adventurers.
A Rustic Corner of Republic
Republic is a modest gem of a mountain town set just west of Sherman Pass in the Kettle River Range. It's home to Janine Summy's 18-year-old Sylvan yurt, built by her friend, Alex, when her family was young. Her adult kids, Iris and Jasper, grew up in that yurt, and the local Adventure 4-H Club used it as its headquarters for years.
Although it is an older structure, Summy recently outfitted her yurt with new walls, roof, floor, and windows, as well as a small flushing camp toilet. There is no running water, except in Summy's house, but there is always a pot of clean water warming up on the handcrafted wood stove, as well as a few "shower in a bag" packs. The couch converts to a somewhat stiff, well-used bed, with pillows and a pile of blankets on hand. Other unique amenities include a propane grill, TV, DVD player, Wi-Fi, mini fridge, drinking water, and a guitar.
Notes: Pretty rustic. Call ahead to ensure that the yurt has been winterized. Bring a couple of camp pads if you want a more comfy sleep. Good for one or two nights. Winter activities include backcountry skiing, snowshoeing, live music, local beer and food, and a view of the northern lights. $54/night. Email janinesummy@yahoo.com for booking info.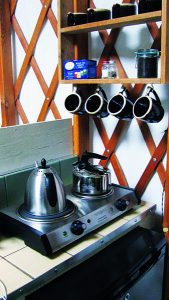 A True Yurting Experience
Todd and Monica McKibben have lived in their large, lofted yurt for 12 years. It is the perfect close-to-nature home for them and their two boys. "We did a lot of traveling and worked in various wilderness settings," says Monica. "We had minimized our lives, and when we decided to buy property and start over, we wanted to continue to live a minimal life."
I stayed in the smaller yurt down a winding path on the McKibbens' wooded property, and this was probably my favorite yurt experience. It was an impeccable balance of a camping and hotel stay, which made it a little risky while also being perfectly cozy. The wood stove is small, but the queen bed is comfortable and well-blanketed. The mini kitchen is stocked with just the right kitchen supplies, a small propane burner, coffee and a gravity-fed faucet. There are two soft robes to carry you to and from the superb outdoor bathhouse, a private outhouse, bottled water, and small touches for a snug, intimate feel.
Notes: Bring headlamps for the path. Boots recommended for winter and flip flops for the shower. Easy access to Schweitzer, Sandpoint, and the surrounding mountains. $65/night. Book at Airbnb.com/rooms/10475598.
Kicking It at The Yurtle
Pat and Sue McMahon lived in their spacious yurt, fondly dubbed the "Yurtle," with their two kids while building their neighboring straw bale house in Athol, Idaho. "It was pretty rough from the get-go," says Sue. "We didn't have water, electricity, or plumbing." The clawfoot tub that they used to bathe in still sits in the Yurtle's whimsical yard, adding to the fun and homey feel of the place.
There are a few quirks to staying at the nicely insulated Yurtle, but the McMahons provide plenty of written and verbal directions for every eventuality. Sleeping arrangements include a comfy double bed and a futon, and the wood stove with its slow-burning logs kept us toasty most of the night. A mini kitchen offers cold running water, an electric countertop burner, coffee, kitchenware, and a dishwashing basin. A delightful bathhouse sits next to the yurt and is fully plumbed with a shower, sink, toilet, and wall heater. Sue's art adorns the walls of both the Yurtle and the bathhouse, and there are games and books for every age and interest. I particularly enjoyed Patrick F. McManus' "A Fine and Pleasant Misery."
Notes: Bring what you typically would for a hotel, plus slippers. Perfect for a quiet getaway. Located at the entrance to Farragut State Park, minutes from Silverwood Theme Park and easy driving distance from both Coeur d'Alene and Sandpoint. $59/night. Info: Theyurtle.com. Book at airbnb.com/rooms/13477650.
The Ultimate Yurt Retreat
Ed and Julie Hutslar, chiropractor and artist respectively, have been using their three cozy yurts for healing and rejuvenating retreats for years. Just this past year, they opened their yurts to travelers and discovered that they are situated almost exactly halfway between the Oregon-Washington coast and Banff, Alberta.
The serenity at the Hutslars' Yurtville is almost tangible. The mountainside property has spectacular views and offers two of the yurts during the winter. Accommodations include gel mattresses, propane stoves, electricity, and comfy couches. The guesthouse features three separate bathrooms (one for each yurt), a fully stocked kitchen, a common eating and seating area, and a creative space that is also Julie's art studio. There are also two tidy and spotless outhouses and a grill.
Notes: This is the ultimate glamping yurt experience, great for individuals, couples, and families. There are three snowshoe/hike/cross-country ski trails directly off the property, with easy access to Schweitzer, the Selkirks, and the Cabinets. $69/night. Info: Spiritvisionretreat.com. Book at Airbnb.com/rooms/7563236. //