What if they don't catch a fish? I started to worry, but as the truck doors swung open and the boys filed out, I could see their bright smiles and it clicked: I knew we had already given these children in foster care something they could take with them. It's an adventure, a chance to be a kid in nature, and an opportunity to show them they are worth our time. We were there with The Mayfly Project, a program that recruits mentors in local communities to teach foster kids all things fly-fishing and get them out on fishing adventures. Just then, the three mentors assisting me with this project pulled up next to the truck and my anxiety flipped to excitement; we were ready to hunt for trout.
I made sure I was partnered with Tim, one of the most difficult children from his home who is often outdone by his peers in gaining the affection of others. From my years working with troubled teens, I knew that the prickliest children are often the ones who need the most attention. I lead Tim to the edge of the river and asked, "Are you ready?" Tim replied, "We're actually going to cross the river?" I signaled for him to grab my arm and after a long pause, his hand clenched my arm, and we maneuvered our way through the water. I noticed a mayfly hatch emerging, so I had Tim match the hatch with flies in his box, and I helped him tie one on.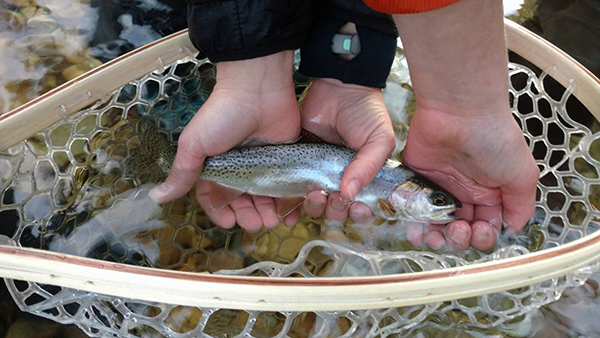 Tim cast four times and let his fly float naturally through a promising pool. A fish immediately hit the fly. He set the hook, and I netted it for him. Then, instead of exuberantly jumping around like most kids, Tim took the net, kneeled in the water with the fish, and watched it swim around for a moment, appearing as though he was having a deep conversation and no one else in the world existed. Then he gently picked the fish up and released it quietly, without instruction, and continued to sit there reflectively.
Maybe it wasn't as profound of a moment for Tim as it was for me, but his reaction to catching this fish caused tears to gather in my eyes. The symbolism of letting a wild fish go back into the world, to escape the harrows of the net encasing it, reminded me of the net of the foster care system, and how important it is for kids like Tim to see the world beyond the net. Even if he wasn't thinking about his own situation, Tim was able to engage with a wild animal and had an interaction with nature that ultimately made him feel good about himself. This is what The Mayfly Project is all about.
Tim had an amazing day on the water, and actually out-fished all of the other boys, which was secretly my number one goal. I'm thankful for everyone involved in making The Mayfly Project take flight across the U.S., and I'm humbled to be able to spend time with such cool kids.
About The Mayfly Project
The Mayfly Project is a non-profit organization that uses fly fishing as a catalyst to mentor children in foster care. TMP's mission is to build relationships with children in foster care through fly fishing and introduce them to their local water ecosystems, with a hope that connecting them to a rewarding hobby will provide an opportunity to have fun, feel supported, and develop a connection with the outdoors. TMP currently has eight mentors and is planning two projects this summer here in the Inland Northwest. To find out how you can donate gear or get involved, visit Themayflyproject.com or email kaitlin@themayflyproject.com. // (Kaitlin Barnhart)
This is Kaitlin Barnhart's first contribution to Out There Monthly