According to Dave Mannino, Shop Manager of 2 Wheel Transit in Spokane, fat bikes are not just for snow anymore. "Our customers are now railing these bikes on the High Drive trails, Riverside State Park singletrack, sandy beaches and county dirt roads," he says. Whether you're looking to extend your season on local trails, challenge yourself on wild stretches of railroad ballast like the Columbia Plateau Trail, or roll along the packed snow of hundreds of miles of groomed snowmobile and fat bike approved Nordic trails, the reasons to own one of these fat-tired beasts is growing longer every year. Here's a run-down of your choices from local shops around the region.
North Division Bike Shop (North Spokane)
Greg Welton, the resident fat bike expert at North Division Bike Shop, effortlessly and relentlessly rattles off stats about the Trek Farley 6 (rigid, $1,775) and 8s (the higher-end version that comes out of the box with the new Bluto suspension fork, $3,000). NDBS keeps both of these bikes in stock. It's clear he's a fan of the performance-oriented Farley fat bikes: they're set up to run a dropper post (internal) and all the shift cables are internal, the top tube is flat so it makes it easy to hold on to and carry, the 6 weighs in under 30 pounds, and the tires on the 8 come set up tubeless ready. "The Farley 6 will remind you of everything you loved about a hardtail 26," says Welton. "They're a fast handling bike. My first time on it I was laughing, just laughing because it handled so much better than you'd imagine." Welton's favorite place to ride a Farley fatty is on the chunky, basalt rock trails in Riverside State Park near 9-mile "whether there is snow or not." Northdivision.com.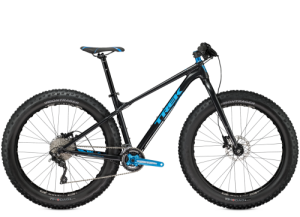 Fitness Fanatics (Spokane Valley)
The most popular fat bike that Fitness Fanatics carries is the Surly Moonlander. With super-fat Lou 4.8 tires, it has the fattest tires around. "These tires are so fat," says Fitness Fanatics fat bike guru John Drumm, "they provide an ultimate ride and very positive flotation even on questionably packed snowmobile trails. With really low tire pressure like 10 psi, the bike feels and handles like a full suspension bike, even though it's a hard-tail with a rigid fork. The compliance you can get of these bikes is truly amazing. These bikes are so much fun in the snow, any ride you go on quickly becomes epic." The massive tire footprint allows you to ride the Moonlander at very low pressure, which (as with a snowshoe) enables unparalleled traction and float over all kinds of terrain, from wet stuff, roots, rocks, pebbles, gravel, sand and many types of snow. Get your own for $2,550. Fitfanatics.com.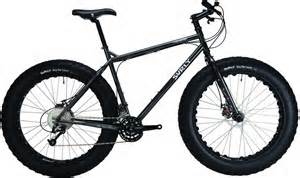 This Bike Life (South Hill, Spokane)
Joshua Hess, shop manager at This Bike Life, an exclusive dealer for Felt, Rocky Mountain, Norco, Kona and Niner, is really excited about a couple of the fat bikes that standout for the 2015 season. "One of this season's top bikes is the Rocky Mountain Blizzard XT with the new Rock Shox Bluto suspension fork. The Bluto adds a whole new dimension to the fat bike experience," says Hess. "Our crew is also stoked with Felt's all new fat bike line, the Double Double 30 and 70. These fat bikes have great specs and are priced well," he adds. Rounding out TBL's list is the Niner ROS 9 Plus mid fat 29er. "If you prefer the 29er wheel size, the ROS 9 Plus is the bike for you," adds Hess. TBL's fat bike prices range from $1,399 to $3,000. Thisbikelife.com.
Wheel Sport (Spokane Valley, Downtown, and the South Hill)
Recognizing the industry trend toward fat biking, Wheel Sport has beefed up their line-up at their three locations. "We carry the Specialized Fatboys, including the entry level version for $2,099.99 and the expert level model at $2,699.99. They both feature a carbon fiber fork, hydraulic brakes, 26×4.8″ tires and aggressively machined-out rims to reduce rotational weight. Like anything else Specialized puts that magic 'S' on, these bikes are very well thought out and ride as good as they look," explains Shop Manager Mic Woodruff. "We also carry the Salsa Mukluk which features a time tested design, and of course Salsa has always been an innovator in this field – fine tuning geometry for form as well as function. Mukluk prices are from $1,899.99 up to $2,399.99 for models in stock," he adds. Salsa also plans on coming out to Spokane sometime in 2015 with a demo truck for an overnight camping demo with the bikes. Wheelsportspokane.com.
2 Wheel Transit (Perry Neighborhood, Spokane)
The Trek Farley, in stock at 2 Wheel Transit, comes with or without front suspension, making them well-suited to many varied conditions. "One customer told us that riding his Farley is just like being a kid again with its light weight, nimble handling and all-terrain capabilities. He also told us that he always gets stopped by several people on each ride, so interest is definitely building for this category," says Dave Mannino, Shop Manager at 2 Wheel Transit. 2WT's fat bikes start at about $1,600 and come in a variety of sizes. The Trek Farley 6 (without the shock) starts at $1,699.99 and the Trek Farley 8 (with tubeless ready tires, 1 x 11 drivetrain and a front shock) starts at $2,999. Twowheeltransit.com.
The Bike Hub (Spokane Valley and Downtown Spokane)
The Bike Hub carries Trek, Salsa and Surly fat bikes. They start at $1,875 and go up from there. "We have narrowed down our selection based off of component specs, weight and price. We believe we have found the best bikes to provide the most fun for the money," says downtown shop manager Skye Schillhammer. The Farley from Trek has been a big seller this year. "It has great components and a lightweight aluminum frame that combine to make a great fat bike," he adds. Thebikehubspokane.com.
2 Wheeler Dealer (Hayden)
2 Wheeler Dealer has watched the fat bike trend grow quickly from a niche winter novelty to a new, year-round style of riding. "They are awesome fun in the winter but maybe even more fun to ride in the summer," says Shane Myr, 2WD's shop manager. 2WD carries the Charge Cooker 1 and 2 as well as the Specialized Fat Boy, a fat bike that comes in four different versions, each with a different spec grade to suite your style of riding. Prices start at about $1,399 for an entry level Cooker 1 and top out at around $5,999 for the Fat Boy pro version. "We also stock the 45 North Dillinger 5, an awesome studded tire that is an amazing upgrade for winter fat bike riding," adds Myr. Twowheelerskidealer.com.
Terra Sports (Downtown Coeur d'Alene)
Terra Sports can order up Surlys and they carry the Charge Cooker Maxi fat bikes, which is a trail-ready bike with hydraulic disc brakes at a great price (they sell them for $1,399). "It's a great starter for people who want to get into fat biking without spending an arm and a leg," says Chris Caro at Terra Sports. They are a bit heavier than other more expensive options but are perfect for riding the snowy roads and trails around Coeur d'Alene and flatter trails like the ones around 4th of July Pass. Terrasportsinc.com.
Bicycle Sales and Service (4th Street, Coeur d'Alene)
Bicycle Sales and Service also carries the Trek Farley 6, with its light weight, rigid frame; 4" tires; and 2×10 drivetrain. "They sold pretty well last year to people looking to ride places like snowmobile trails on the north side of 4th of July Pass," says Chris Robinson at BSS. The also carry the Origin 8 Crawler, which has a hydroformed aluminum frame coupled to a NuVinci N360 continuously variable rear hub to give you a shift free, 360% range of gearing. "It's more of a basic fat bike that comes in at a lower price, and it's a bit heavier, making it a good around-town fat bike for snowy roads and sand. Bicycleservice.com.
Greasy Fingers Bikes N Repair (Sandpoint)
"We pretty much have the whole Surly lineup," says Greasy Fingers owner Brian Anderson. By that he's talking about the Pugsley, Pugsley Ops, Ice Cream Truck, and the Ice Cream Truck Ops. Surly makes a bike that is economical and built to last a long time – they are utilitarian and practical. You can pretty much do anything on one or the other of these bikes, says Anderson. From bike packing, racing, or casual riding on packed snowy trails. Greasyfingersbikes.com. //