Companionship is a primary need for most people. We seek it in various ways, but nothing quite fills the void in our hearts like the love of a four-legged family member. Faithful to their last breath, they offer a level of devotion that not many humans could ever match.
For many of us, when we think of ideal days spent in the backcountry, we picture ourselves climbing mountains with an eager Lab, or cuddled up with a shaggy golden next to the fire at a stream-side camp. Experiencing the outdoors with the right canine companion will warm your heart and make you slow down and appreciate the simple joys and experiences of outdoor life. There's no doubt about it; dogs are very much a part of the value system that defines the outdoor lifestyle in America.
Most outdoors people fit into two categories: those who own one or more dogs; and those who want one. For the furry friends adopted by those in the first category, it's often a Nirvana of days and weekends filled with dog walks, morning runs, camp trips or games of fetch in the backyard.
If you're one of the less fortunate in the dog-less category, finding your new best friend may be much easier than you thought. When many people think of dog ownership or adoption, they envision long drives across the state, meeting with multiple breeders and shelling out enough coin to add up to a mortgage payment. But there's a much simpler option that is arguably a better option for active people looking for a trail companion: your local animal shelters.
Animal shelters, over the years, appear to have developed the stigma of housing the dogs that nobody wants. A lot of people tend to perceive these animals as "problem animals" incapable of obedience. Ask any local shelter volunteer, and they'll tell you a different story. Most, if not all dogs, are capable of love and obedience at any stage of life if their owner is willing to teach and lead them in a proper, non-violent way. Some of these animals simply haven't had that opportunity yet.
A lot of the dogs in shelters tend to be medium to larger breeds. These breeds need a lot of exercise and room to play. Less active people can realize over time that they simply don't have the time, energy, space, or patience to give these breeds what they need to be happy, well-behaved companions. Guilt, moves, divorces, job losses or just general apathy can often result in pets being surrendered to a local shelter. The result? Hundreds of scared and confused animals that could make perfect outdoor adventure dogs waiting for a new home.
One of Spokane's most prominent shelters is the Spokane Humane Society located off of Bigelow Gulch road (6607 N Havana St.). "S.H.S. is a 501c3, non-profit local public charity dedicated to the welfare of companion animals. For over 100 years, we have acted as a refuge for animals in peril by providing care, shelter, and placement for tens of thousands of lost, neglected, and unwanted animals in the greater Spokane area," says Dave Richardson, SHS's Executive Director. "Currently we place between 2,500-3,500 animals annually throughout the Northwest," he adds.
SHS is committed to helping visitors make the best possible adoption match for their family situation and lifestyle. They'll counsel you about your individual needs and then help you search for the most appropriate companion. "You start by walking through the kennels and taking a look at the pets that are available for adoption – take them for a walk on our 40 acres or play with them in one of our exercise pens. Next, you meet with an adoption counselor at the front desk to discuss the match and complete necessary paperwork. If the visitor has additional pets at home, a meet and greet is often scheduled to ensure that all pets in the household will be compatible," he says. It's important to note, the SHS will take back an adopted animal for an exchange if it's not fitting into your home.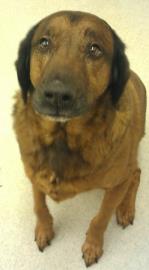 The adoption fees, a serious steal at $50-175, include spaying or neutering, a shot series, rabies vaccine and a microchip. Other adoption benefits include a free office visit to a veterinarian that is a member of the Inland Empire Veterinary Medical Association. SHS also provides a free promotional 30-day health insurance plan through 24 Pet Watch that kicks in 48 hours after the adoption.
There may not be a better complement to your outdoor lifestyle than a new furry family member to share your adventures with. As you take your first tour through the kennels, you will immediately see the impact you can have on the life of a shelter dog. //