For all its bona fides as a mountain town, Rossland, British Columbia, rolls up its sidewalks early. So it came to be that, following a hallucinatory yet kid-crowded parade during the Rossland Winter Carnival two years ago, I found myself searching for nightlife. So I got in my car and—like so many other trips to Canada before—simply drove, the gravitational pull of real life seeming to weaken the farther I got from U.S. Customs.
The idea of Canada as a place to escape is nothing new (especially in the immediate aftermath of presidential elections); in fact, the Kootenays' status as an enclave for draft-dodging Americans and pacifist Doukhobor Russians explains as much of the region's adrenaline-hippie status as its big mountains.  But every winter, the Kootenays call, its pull all the stronger farther north as the distances between hamlets get longer and the mountains get taller—a reminder that our American Selkirks and Monashees and Purcells are but the just-unearthed toe bones on the massive brontosauri of mountain ranges. And it's a gravitational pull that seems to peak as the days get shorter and the nights colder; Sweetgrass Productions' acclaimed Valhalla ski film resonates less for the naked-skiing sequence than for the dashboard-drumming intro sequence scored by the Fleet Foxes—that haunting tune, "Grown Ocean," accompanies a young skier in a beat-up Volkswagen making a run for the Great White North.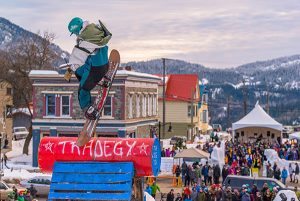 Red Mountain Resort / Rossland
In 1898, Norwegian miner Olaus Jeldness, known as the Father of Competitive Skiing in Canada, initiated the Rossland Winter Carnival, the nation's oldest. It's his bobble-headed visage that floats above the flame twirlers and antique fire trucks at the carnival parade the Friday night of the carnival. And it's his stoically sportive Nordic spirit that permeates the proceedings in this active town. But despite the fact that everyone seems fit enough to be a Patagonia catalog model, it's a laid-back place: no one will balk at you wearing your toque—Canadian for "hat", rhymes with "spook"—in a restaurant. And despite a slate of activities that are, or should be, fueled by beer, the carnival has a family-friendly air; high-tech strollers abound. This year the Rossland Winter Carnival goes down January 26-29 (Rosslandwintercarnival.com).
But it's the skiing that matters most here, and, acre-for-acre, nearby RED Mountain Resort boasts perhaps the best, most expansive ski terrain in the region. Expert skiers will enjoy the steep rock chutes and a dizzying network of runs; everyone will enjoy the mid-mountain bar and grill. For those looking to blend in with the locals—or at least catch a great meal and a reliable slate of live music—Rafters Lounge is a good place to start.
Whitewater Ski Resort / Nelson
An hour from Rossland, bohemian Nelson is the cultural capital of the Kootenays. Scrabbling up steep hillsides on the fjord-like shores of Kootenay Lake, Nelson possesses an open-air mysticism, a mix of hardcore mountain-living and hippie culture, that's represented in events from Renaissance fairs to electronic-music festivals. You won't find coffee chains in downtown, but there's no shortage of local cafes and kombucha. And, like Rossland, the average person you encounter on Baker Street downtown probably skis better than you ever will.
It doesn't hurt that Whitewater Ski Resort is only a 20-minute drive from Nelson. Collecting 40 feet of light, dry powder every season and capped by Ymir Peak—a name aptly reflecting the peak's fierce, primeval visage—Whitewater offers steep, snowghost-framed terrain and expansive backcountry access. It also boasts one of the region's finest ski-hill sunsets on the rare days the sun comes out.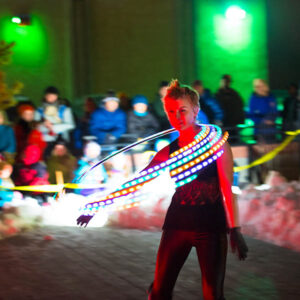 Nelson has a lively nightlife scene and dining to accommodate every appetite, from vegan to carnivore. Visitors will find good coffee shops and all-important free wi-fi. More importantly, it has a decent craft-beer scene. Incidentally, if you're trying to blend in as a Canadian, the Coal Oil Johnny's Pub at Whitewater is a good place to embrace the national cuisine of poutine; make it vaguely healthy-sounding by substituting sweet potatoes.
Editor's Note: Plan your next trip to the Kootenays using the wizard-like trip planning tools on the Nelson Kootenay Lake Tourism website at Nelsonkootenaylake.com. // (Aaron Theisen)
Kootenay Coldsmoke Powder Festival (February 24-26)
The ultimate festival for inbounds and backcountry skiers and snowboarders, Whitewater Ski Resort will be hosting its 11th annual Coldsmoke Powder Festival February 24-26, 2017. Come for the legendary snow and incredible terrain that Whitewater is famous for and go home extra stoked after diving deep into the festivals packed schedule of clinics, competitions, demos, parties and other antics. Build your skills and learn from world-class skiers and riders, test the latest and greatest in demo gear, or sign up for a randonee race or other competitions. You don't have to be a badass to have a blast at Coldsmoke either; there's something for everyone at this fun, super friendly festival. Coldsmokepowderfest.com. // (OTM)