There are plenty of places along the Pacific Northwest coast to experience run-of-the-mill tourist beach town amenities for people who are only looking to drive the local sites, poke around polished tourist traps, and maybe do a little beachcombing. Visiting a real-deal ocean town to explore, taste, and throw your adventurous soul into is a much more rare and rewarding find. And that is the magic of a trip to the authentic Pacific Coast town of Westport, Washington.
Westport sits around two hours west of Seattle (seven hours from Spokane) on the end of a peninsula that borders the Pacific to the west and juts out into the south side of the mouth of Grays Harbor. The small fishing town, which attracts a growing number of surfers and tourists, is home to the largest marina on the outer coast of the Pacific Northwest and hosts a colorful fleet of commercial and recreational fishing vessels that are worth checking out from the publicly accessible piers.
10 Things to Do in in Westport If Don't Surf, Fish, or Fat Bike
There are plenty of cool things to do and see around Westport that anyone with a sturdy pair of legs, sense of adventure, and interest in nature and history can experience. After nearly two decades-worth of trips to the area, I've found these to be reliable favorites:
Park at Westhaven State Park and go beachcombing south from the jetty as far as you care to walk.
Take a walking tour of town and out to the end of Neddie Rose Drive to the boardwalk. Watch the surf, birds, and boats coming and going in the harbor.
Visit the little aquarium right in town or go out on the water with a whale-watching charter if viewing animals behind glass isn't your thing.
Take a historic trip back in time on a tour through the Maritime Museum.
Walk the 2-mile roundtrip Westport Light Trail, a paved path along the beach, to see dunes, grasslands, and coastal conifers and birds.
Check out the unique shops and buy a good book, a bag of saltwater taffy, a bottle of wine, and a kite and hit the beach for endless hours of fun.
Wander out as far as you dare on the south jetty from Westhaven State Park.
Pay a visit to Washaway Beach south of Westport, where dozens of homes and part of a highway, which can sometimes be seen poking out of the sand, have eroded into the ocean over the past 100 plus years.
Build an epic sand castle and take a nap in it.
Visit the 107-foot-tall Grays Harbor light house.
Beach Fat Biking
A few years back, I joined my buddy and co-author of this article and another friend for a nearly 30-mile out-and back, post-surfing ride on fat bikes on the wet sand south from Westhaven State Park to Washaway Beach. We rode mostly along the retreating waterline of an outgoing tide on the firm, shell-littered sand. We saw a handful of beach walkers, plenty of gulls and other birds, and smelled long before we rode up on it the putrid and fascinating carcass of a dead whale.
Washaway Beach, a spot that has been slowly eroding for the last hundred years, taking houses, trees, and highway with it, was a dreary, endlessly interesting post-apocalyptic site. As we pedaled through the ruins, we passed the concrete walls of a long-lost septic tank laying isolated and half buried in the sand at the tideline. Riding fat bikes on the tacky, wet sand with the crashing surf at your side and the sea breeze blowing through your hair is about as fun as riding a bike gets, and Westport is the perfect place to give it a try. If you don't have your own bike, bring a rental with you from wherever home is or pick one up at a shop in Tacoma or Olympia along the way.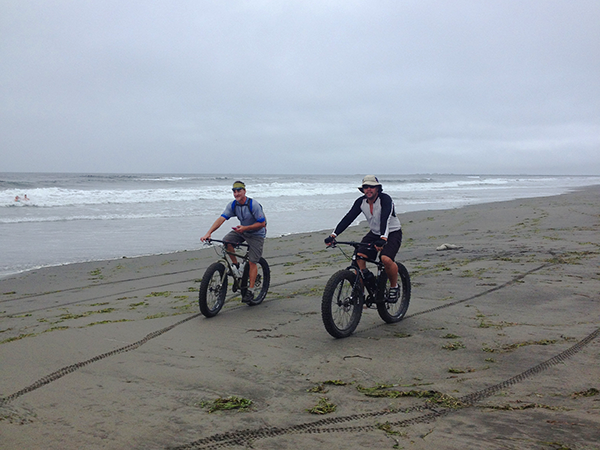 Out & About in Westport
You may come for the wave riding, the sprawling sandy beaches, or the mesmerizing sound of the surf, but don't miss the chance to engage with Westport's marine life more directly. Sign up for a fishing or whale-watching charter; rent and throw out your own crab pots; or walk the marina docks and listen to the squawking sound of gulls and haunting barks of sea lions.
Then there's tasting and savoring the local salt-water flavors. Enjoy a seafood meal at one of several downtown restaurants or shop for fresh, local crab, clams, shrimp, oysters, and fish from one of the seafood markets to cook back at your hotel room or condo. Taking the time for at least one slow meal derived largely from locally harvested ingredients is the best and quickest way to start to wrap you mind (and stomach) around Westport and the vast, blue ocean that nearly surrounds it. For eating out, try Bennett's Fish Shack, Blackbeard's Brewing Co., or the Aloha Alabama BBQ & Bakery.
Where to Stay
Over the years, I've spent the night in a wide variety of Westport accommodations, ranging from Spartan dirtbag camp spots and budget motels, to more comfortable and modern digs. There are several great campgrounds around Westport, but if you plan to be in the water or out in the elements a lot, especially during the often colder and wetter fall and winter season, consider renting a room where hot showers and a kitchen will make your trip that much more pleasant.
On my last trip to Westport this past March with the family, we rented a two-bedroom, full kitchen condo from Vacations by the Sea right on the beach near the lighthouse. This was by far the nicest, most modern place I've stayed on the Pacific Northwest coast. Our unit was incredibly clean and comfortable, with a fully-outfitted kitchen that made cooking up our own seafood feasts fun and easy. The place started to feel like home after a long weekend. The balcony was literally within seashell chucking distance from the high tide line, which meant we enjoyed the rhythmic rumble of pounding surf from the living room. Vacations by the Sea has several dozen rental units (including pet-friendly ones), a year-round hot tub, seasonal heated swimming pool, and fitness center, and it is right across the street from the paved path that goes all the way to Westhaven State Park. Find room availability and make reservations at Vacationbythesea.com. (DK)
Learning to Surf at Westport
Becoming a surfer while living in the Inland Northwest is not only attainable, it's as unique a journey as any surfer's origin story. Embrace the beaches that are few on crowds and rarely make the magazines or the forecast sites. Surfing in the Northwest gives you a unique opportunity to enjoy the ride and make your own way through the waves. Here are a few basics to get you headed to Westport, a great surf spot for everyone from beginner to expert depending on the season, swell, and conditions.
Achieving success with surfing is multi-factorial—conditions, conditioning, instruction, and desire will determine much of your progression. Surfing is complex, but taking advantage of available resources and training will be the basis of going from foam-baller to gnar shredder. Wind is what makes waves, and it's also what destroys them; in short, you want waves created thousands of miles away to travel to you untouched by cross winds or chop. Fortunately, there are surf forecast sites like magic seaweed with fairly accurate reports for the Westport area.
When surfing Westport, I like waves less than five feet (close to double overhead when standing at the bottom of it), and winds preferably less than 15 mph (ideally out of the east and offshore). Winds tend to be calmer, and waves tend to be more organized early in the morning. Initially you will start out riding smaller whitewater waves (aka foam balls), so ideal conditions are somewhat subjective.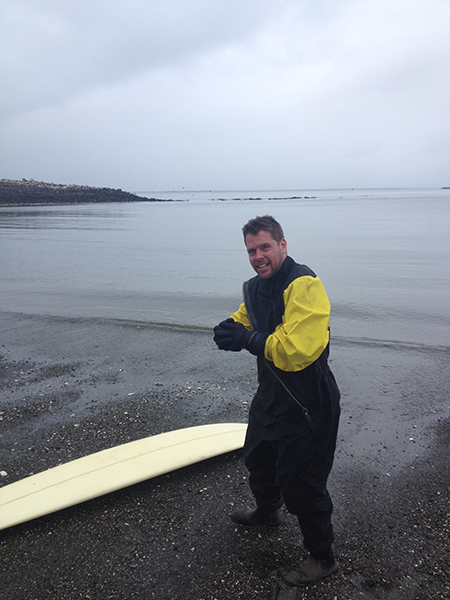 Where to Go: Westport's West Haven State Park has a large jetty that deposits sand and provides ideal conditions for learning. Free of urchins, stingrays, and sharp corals, Westport's waves break in shallow water and roll in along a sandy, uniform bottom creating a perfect set up for a new surfer to catch waves. Everyone starts out on whitewater waves. Essentially just wait for the wave to break, in about chest deep water. The rush of whitewater will push you toward the beach and as soon as you feel stable, 'pop-up' to your feet and ride your first wave. Stay low and experiment with turning the board and adjust your position to trim the board out. As your ride comes to an end and you are jumping/falling off the board, be smart and never enter the water head-first; always fall flat to prevent head and neck injuries.
Perfect Practice Makes Perfect: Surfing has never been easier to learn with the availability of in-person lessons and how-to-videos on YouTube. You can have a firm grasp on the basics of wave catching, paddling, and 'pop-ups' long before you make your first safari. Be sure to enter the water with the right attitude: "Practice does not make perfect. Perfect practice makes perfect," said Vince Lombarti Jr. Remember that you are there to learn: self-examine what you are doing right and wrong and make improvements with each subsequent wave. The stoke in surfing is getting the best ride of your life, which is all relative to your learning and progression.
The first time you paddle a board should not be the day you arrive in Westport. Conditioning and working on some basic moves beforehand will go a long way. With the availability of SUPs, you can always be refining aspects of your surfing, no matter how far you are from the beach. River surfing is the best complement to ocean surfing, and the Inland Northwest has some of the best river waves. Paddling, wave catching, popping-up, turns, trim, and board walking are all completely transferable between ocean and river surfing. Conditioning can take the form of SUP prone paddle workouts, thus making you a wave-catching beast. Surfing does not stop when you leave the sand; it's your unique interaction with the sport, the lifestyle, and the natural environment that will define your experience.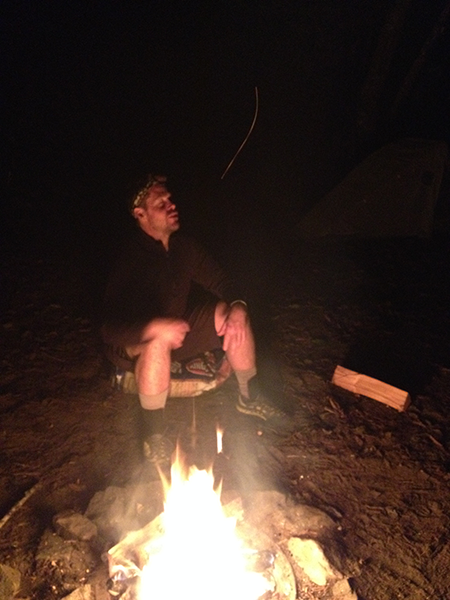 Gearing Up: Having the right gear is so important, and the right wetsuit is key. Personally I like to surf with boots, gloves and hood in addition to my wetsuit in the cool water of the Pacific Northwest coast. I don't want my session limited by getting cold. Westport has a few different surf shops where you can rent boards, wetsuits, and other gear and inquire about lessons. During the summer the shops are open seven days and week. Off-season conditions and shop hours make contacting the shop before you make the trip a necessity. Come winter, large pacific storms can make conditions deadly, complete with large waves, drift logs, and dangerous riptides, so always be aware of what you're getting into. (PL) // (Phil Linden & Derrick Knowles)
Upcoming Westport Events
September 2: 71st Annual Seafood Festival
September 9: Brady's World Famous Oyster Feed
September 16-18: 20th Annual 30 Miles of Junque massive yard sale
September 22-23: Westport Maritime Festival (music and salmon!)
September 22-24: 16th Annual Cleanwater Classic Surf Contest
September 30: 1st Annual Reach the Beach Race
October 14-15: Cranberry Harvest Festival