If you own a mountain bike, and have been thinking about a trip up to Fernie, this is the weekend to do it. June 27-29 is the opening weekend for the Fernie Alpine Resort Bike Park; the weekend of Fernie's biggest all-mountain stage race, a 3-day bike race called the Fernie 3; and the dates of the multi-day community celebration of all things cycling, hiking, running and trail related known as the Roll & Sole Trails Festival. Despite all the events and activities packed into one weekend, when we rolled into town on Friday last year, we were still able to find a room (reservations are highly recommended though!), and the trails around town and up at the resort bike park were still uncrowded even as the town was buzzing with bike-inspired energy and commotion.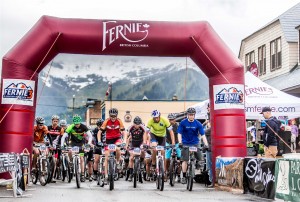 Fernie 3 All-Mountain Bike Race
Fernie's biggest cross-country all-mountain bike race, the Fernie 3, features three days of riding the epic trails surrounding town. This three-day stage race caters to new and experienced racers with a focus on fun and providing racers with the best singletrack experience including exhilarating climbs and epic flowy downhills on an all-mountain course of trails built by mountain bikers for mountain biking. The distances for the 3 day stage race will be moderate with an average of 35k per day with attainable climbs. The popular one-day category (June 27) is a great option for those who want to mix it up with one day of racing and the rest of the weekend to explore other rides and recreational options. There are also several kids' races. If you're relatively new to riding in Fernie, signing up for the Fernie 3 is a great way to get to know the trails, as the three-day course covers many of the premium local trails. Taking on the Fernie 3 also comes with these race perks: a sharp-looking Fernie 3 race jersey, finishers t-shirt, professional timing, start/finish/and mid-way aid stations, local hospitality with food and beverages at the finish each day, and a day-three awards celebration and banquet. Cost in Canadian dollars (keeping in mind that the exchange rate is in our favor): $399 for all 3 days, $199 for the single day option, and $50 for the youth U16 and U13 races. More info and registration: Fernie.com/transrockies/fernie-3.
Roll and Sole Trails Festival
Celebrating all things summer-trail-related in Fernie, the Roll and Sole Trails Festival is a weekend of biking, hiking, running and fun events and challenges for all ages and abilities. Visitors are encouraged to get involved in the action and antics by signing up for fun, light-hearted competitions like the bike toss (sort of self-explanatory) or slow bike race (where riders compete to finish the short course the slowest). But just hanging out in the peanut gallery on the main drag watching it all go down is pretty entertaining too. We showed up just in time to watch a contest that had riders (kids and adult versions) racing down the street in slow motion as they struggled to keep forward momentum up with a log strung behind them. The festival also includes biking and hiking trail tours for different levels of riders and hikers, which is an awesome option for out-of-towners looking to dial in a slice of the Fernie trail network with the help of friendly locals eager to share their favorites. Roll and Sole also includes a downtown beverage garden and live entertainment and music. Tourismfernie.com/events/roll-sole-trails-festival.
Fernie Alpine Resort/Bike Park Opening Weekend
June 27 will be opening day of summertime operations at Fernie Alpine Resort and their lift-access Bike Park, which means the lifts will be running and the trails, from wide machine-made flowing trails for beginner and intermediate riders to challenging steep and technical trails for experts, will be buffed and ready for another season. With 37 lift-access trails to choose from, there are trails for all abilities. The Fernie Alpine Resort Bike Park is considered one of the best in Canada, with new trail additions and improvements happening all the time. Bike rentals are available too. For non-bikers in the group, the resort's zipline, aerial park, chairlift rides and hiking trails will also be open as well. Tourismfernie.com/activities/mountain-biking/fernie-bike-park. //