Last February (2013), Adventure Cycling released the maps for a new bike packing backcountry experience, the Idaho Hot Springs Mountain Bike Route. There are two maps. One covers the main route, which is a 518-mile loop of mostly dirt and gravel roads. The second map covers four single track sections that will take you to even more rugged backcountry.
The main loop is challenging enough. First of all, it's 518 miles. And there are a few 3,000 plus foot climbs. There are many places to stop and refuel, but you're traveling through pretty remote country in between. There is one 75-mile stretch where there are no services. You need to plan your trip to take into account the distances between towns and the climbing. On the bright side, water is plentiful for the entire route. The main loop is bisected by the Lowman Cutoff, so if you need to cut your trip short, or if you're running late, you can shortcut across the middle and return to your starting point.
The singletrack, about 150 miles worth, provides alternate routes to continue on the loop, but they are much more challenging. There are places where you can expect to hike your bike up steep ascents and across fallen trees and rivers. A dual suspension bike is highly recommended. There are no services on the singletrack sections, and you can expect any of those sections to take up to four days, so plan accordingly.
Greg Schäuble of Spokane caught the bike packing bug after watching the documentary "Ride The Divide" a couple of years ago. When he heard about this new route, he was keen to check it out. Schäuble would like to do the Great Divide Race some day, and he thought the new Idaho hot springs route would be a good precursor. He enlisted his friend, Jeff Donovan, who Schäuble says is the only other person he knows who is crazy enough to do this, and they started preparing for the trip in the spring of this year. Both of them bike commute to work, and they trained by taking longer commute routes and doing some trail riding on weekends. Various constraints affected their preparation. Schäuble loaded his bike with his gear to make his training more realistic. Donovan did not. Donovan had time for some 60 and 80-mile rides. Schäuble had to settle for 20 and 30-milers. Regardless, they both made it work.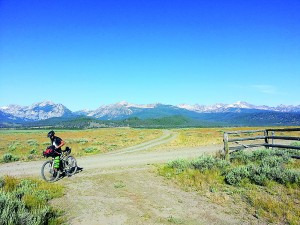 In July they drove to McCall, Idaho, parked their vehicle, loaded up their bikes, and were on the route at 1 p.m. Their goal was to get to Warm Lake before dark, which Schäuble admits was pushing it since it's about 70 miles. It would have been better to drive down the night before and start riding in the morning, but their time off work was limited. Schäuble and Donovan returned to McCall in six days, stopping near Warm Lake, Stanley, Ketchum, Featherville, Idaho City, and Cascade along the way. Everyone they met along the way was taking two to three weeks to do the same ride.
Regardless of how quickly they rode around the center of Idaho, they say the trip was amazing. The mountains and surrounding scenery, especially coming down the high descents, were breathtaking. Going from snow on the mountains to desert in an hour made for a unique riding experience. The more than 50 hot springs along the way were fun to see, but they noted how much more refreshing the springs would have been in cooler weather. They didn't see as much wildlife as they would have liked, but they were not disappointed by what they did see.
Schäuble and Donovan have some recommendations for anyone attempting a ride like this. First, load up your bike, put in a long day of riding and camp out overnight. This will help you get familiar with using and packing your gear and get you used to riding a loaded bike. And practice on some real hills – like Mount Spokane.
Schäuble would do one thing differently. He would put front suspension on his bike. He rode on a rigid frame, and that took a toll on his wrists as he squeezed the brake levers while descending 10 miles of washboard gravel road. Jeff rode a dual suspension bike, which was more comfortable and faster on the descents. One of the interesting aspects of the trip for them was seeing the variety of bikes, how they were packed, and learning how people decided on both.
Are you ready to see some wilderness by bike? Go to www.adventurecycling.org for more information and start planning your trip on the Idaho Hot Springs Mountain Bike Route. //