Body Positive Hiking Community
By Amanda V. Mead
When Summer Michaud-Skog began hiking with her girlfriend in the Oregon wilderness in 2015, she couldn't help but notice the stares of passersby. Skog knew they didn't look like the stereotypical hikers seen in outdoor magazines, athletic campaigns, and gear catalogues—she was covered in tattoos, her girlfriend was a woman of color, and they were both queer and fat. But she was certain there were others like her out on the trails across the United States. 
Skog decided to find them. That spring she created the hashtag #fatgirlshiking on Instagram to document her outdoor adventures. She encouraged others to use it as well in an effort to connect to each other. The hashtag quickly caught on, and Michaud-Skog's following grew. Soon, people began to ask her to take them on hikes around Portland. Initially, she had no idea how to lead a hike, but she did her best. Now, four and a half years later, running Fat Girls Hiking (FGH) is Skog's full-time job.
Since May of 2015, 29 chapters of FGH have been established. While the majority of chapters are located in the United States, there are six international chapters. "As long as people keep wanting chapters, and people are stepping forward to build community in those areas, I'm willing to work with people and teach them how I lead group hikes," Michaud-Skog says.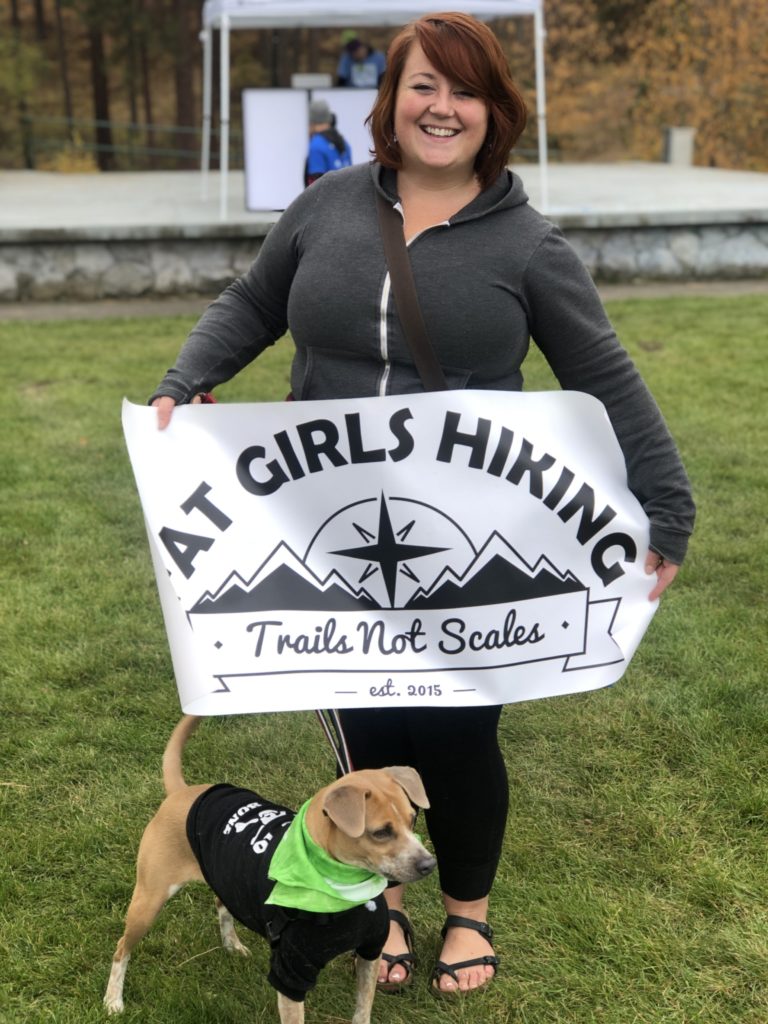 This is exactly what Andrea Shroter wanted to hear when she asked Skog if she could start a chapter in Spokane. Skog gave Shroter her stamp of approval, and in October of 2018, the Spokane chapter of Fat Girls Hiking was born.
The Spokane chapter tries to have an event at least once a month. Events range from hikes in Riverside State Park to yoga sessions at FatGirl Yoga, where Shroter is an instructor. To improve accessibility and inclusivity, Shroter and her fellow Spokane ambassador, Megan Cuilla, do their best to create events that are ADA accessible.
From the start, FGH's mantra has been "Trails, Not Scales." There is zero diet or weight talk and no body shaming. One of the hallmarks of a Fat Girls Hiking event is that the ambassadors lead from the back. Hikes are done at a leisurely pace, with plenty of time to take in the scenery and snap photos. This also allows for one of the other central tenets of FGH to emerge—community building. "Fat Girls Hiking is about making friends and building community and family, and providing a safe space for everyone," says Shroter.
This past October, the Spokane chapter joined forces with the National Eating Disorders Association (NEDA) on their annual walk to raise awareness of eating disorders and recovery. Korrin Fotheringham, a sponsor of the event and an avid Fat Girls Hiking enthusiast, explained that she often refers her clients to FGH. As a registered dietician, Fotheringham touts the group as a "great resource for community members and is a comfortable environment for people to get to know one another and move their bodies in an enjoyable way."
The message seems to be working. Even though the NEDA walk was a special event for Fat Girls Hiking, folks who weren't affiliated with NEDA and who hadn't been to a previous FGH event showed up to walk with the group. When asked why she decided to attend, first-timer Tracey Rice said, "I love to hike, but I hate hiking by myself. I love that the motto is about no judgement, but to come out and enjoy the outdoors and not be judged by your abilities."
If you're interested in joining a Fat Girls Hiking event, you can find their events posted on Facebook. For further information, check out fatgirlshiking.com. //
Amanda V. Mead is a writer and teacher who co-hosts the podcast "I Don't Know Her." She is a running, biking, and hiking enthusiast.