Camping days stretch long for children to immerse themselves in nature and enjoy time free of schedules and technology. Camping is as transformative as it is fun. Make one of these Inland Northwest campgrounds the new happiest place on earth for your kids this summer.
Sam Owen Campground 
Located near Hope, Idaho, this semi-rustic campground sits on a peninsula of Panhandle National Forest land on the northeast side of Lake Pend Oreille. One of the best amenities is the dog-friendly beach. (There is another beach where dogs are not allowed.) While the bathrooms don't have showers – only flush toilets and sinks – when you're swimming every day, who cares? Bring blow-up floatables and kayaks or stand-up paddleboards and enjoy the ocean-like expanse of Idaho's largest and deepest lake and the wilderness views across the water. Don't miss: Sunset view from the beach or dock. Watch out for: Black bears – keep a clean campsite and secure your food. Recreation.gov.
Beaver Creek Campground 
Located near Nordman, Idaho, off Highway 57 about 90 miles northwest of Spokane, this rustic campground is on Priest Lake's northwest shore. This U.S. Forest Service campground is known for being well-maintained with clean vault toilets. Kids will enjoy riding their bikes around the campground loops, swimming, playing at the beach and hiking in the woods. Don't miss: Hiking or mountain biking either the northbound Navigation Trail or southbound Lakeshore Trail.
Bonus adventure: Hanna Flat Cedar Grove Interpretative Trail to see 200- to 800-year-old western white pine and western red cedar trees. Fs.usda.gov and recreation.gov.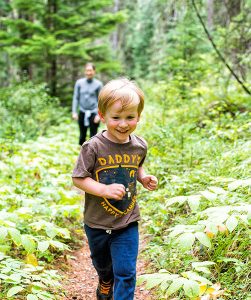 Edgewater Campground
This rustic campground within the Colville National Forest provides a base camp for exploring north Pend Oreille County. Situated on a 2,000-foot bluff of the Pend Oreille River's east bank, Edgewater Campground provides opportunities for hiking, boating and fishing. In July, September and October, the North Pend Oreille Valley Lions Club hosts scenic 90-minute train rides that will make everyone in your family feel young at heart (Lionstrainrides.com). Don't miss: Visiting Box Canyon, Boundary Dam Vista House or Gardner Cave at Crawford State Park Heritage Site near the Canadian border (tours available Memorial Day through Labor Day). Look for: Wildlife – you might see moose, deer, elk, bears and many species of birds and other wildlife. Recreation.gov.
Heyburn State Park
Located 37 miles south of Coeur d'Alene, between the towns of Plummer and St. Maries, Idaho, Heyburn is the oldest state park in the Pacific Northwest. It encompasses over 5,000 acres and includes waterfront on Lake Chatcolet and Benewah Lake – two small lakes located south of Lake Coeur d'Alene. Choose from three campgrounds within the park. There are also rental cabins and cottages available. Amenities include a marina and boat launch, docks, playground and restrooms with showers. Rocky Point Marina rents canoes, kayaks, paddleboats and rowboats. Don't miss: Trail of the Coeur d'Alenes for biking or walking. Watch out for: Mosquitos. Parksandrecreation.idaho.gov/parks/heyburn.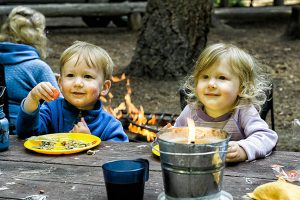 Farragut State Park
Located at the southern end of Lake Pend Oreille near Athol, Idaho, 20 miles north of Coeur d'Alene, Farragut is a long-standing summer camping tradition for many Inland Northwest families. This 4,000-acre park, converted from a World War II naval training station, has four campgrounds. Whitetail is the primary one for tent camping and is geared toward families with its playground suitable for small children. The small lakefront town of Bayview and Silverwood Theme Park and Boulder Beach Water Park are both only minutes away, in opposite directions. Don't miss: Playing at one of the three disc golf courses and touring the Museum at the Brig. Watch out for: Crowds at Beaver Bay Beach. Parksandrecreation.idaho.gov/parks/farragut.
Riverside State Park
Washington's second-largest state park is a short drive from Spokane's urban core. There are four campgrounds within its 14,000 acres, the most well-known being the Bowl and Pitcher campground. It offers tent and RV campsites. There are also the Equestrian, Nine Mile Recreation Area and Lake Spokane campgrounds, the latter having 11 primitive campsites and two boat-in only sites.
Don't miss: Mountain biking or hiking the park's trails, especially in the Deep Creek Canyon area. Look for: Wildlife, including osprey birds and their nests in trees along the Spokane River. Parks.state.wa.us/573/Riverside. //
Tips For Fun Family Camping
Travel Time and Location: A seemingly short road trip can morph into one that takes twice as long when traveling with young children. This can complicate your entire schedule, especially with meals and recreation. Other important considerations when camping with kids include access to grocery stores and urgent care clinics near your final destination.
Reservation Options: There is no greater disappointment than getting to a campground only to learn that all the sites are full. It's best to choose one that allows you to reserve a campsite online or by phone; many popular campgrounds fill up during the summer, especially on weekends.
Bathrooms: Flush toilets vs. vault toilets? Hygiene routines can make or break a camping trip. Warm showers are nice but not always essential. Vault toilets are not too bad, despite their ominous descriptor.
Safety: Campgrounds aren't childproof; there are always inherent risks. Establish and communicate physical and behavioral boundaries for your children, and get to know your campsite neighbors. Camping provides practice in fresh-air parenting – giving your kids freedom to explore and experience appropriate risk-taking, like climbing and jumping off big rocks.
Recreation Opportunities: Pick a campground that offers activities you know your kids enjoy, like swimming and biking, and ones you want them to try, such as fishing and geocaching.